There is a newer version of this software
.
Get the details here.
Adobe Photoshop Elements Adds Object Search, Facebook Integration
The newly released Adobe Photoshop Elements 10 is not a big overhaul of their excellent version 9, and there are no new "gotta have-it" features like Spot Healing Brush using image intelligence that was added in the previous version. But there are some helpful new features, mostly in the Organizer, and it still delivers amazingly robust editing power for novice to intermediate photo enthusiasts at an affordable price (approx $99.99/$79.99 upgrade). It is still our top choice for non-pros.
New Organizer Features
Facebook Friendly
Enhancements to the organizer including the ability to connect to your Facebook account, with your authorization, and download your Facebook friends list and use it to tag people in your photos. You run a visual search and it will open a dialog box with people's faces. You can apply tags to people's faces and if you upload any of those photos to Facebook the tag will be there too. Another new feature is the ability to upload your videos directly to Facebook or YouTube from within the Organizer.
Object Search enables you to specify an object in photos such as a boat or a dog and the software will scan your library for other images containing the same subject. The organizer can also detect duplicate or almost-duplicate images with Visual Search. I tried this feature out for this review. However, this process was hit and miss and did not always do a good job finding similar photos. Some of the matches it came up with were strange. I also found the auto analyzer required a substantial amount of CPU power while it was performing these searches.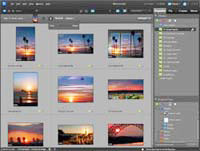 Enhanced visual search makes it easier to find similar images.
© adobe
Starting with PS Elements 9, the Organizer became available on the Mac platform as well as Windows.
New Editing Tools
Cropping tools now come with a choice of overlays such as Rule of Thirds and the Golden Mean to help you compose your images more effectively.
Guided Editing Effects - There are three guided editing tools.
Depth of Field adds background blur to enhance a subject in the foreground, however, using the quick selection tool, which is what the guided edit requires, made it hard to select just the area I wanted. There are other ways of doing this other than the guided mode that may work better for you.
The Orton effect will add a dreamy diffused glow and
Picture Stack will make a photo look like it is composed of a series of separate photos. It's kind of cool, but not something you want to over-use.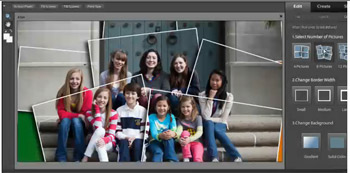 Picture Stack makes a photo look like is it composed of a series of separate images.
© adobe
There is also the somewhat gimmicky Smart Brushes which allow you to paint on special effects using array of 30 brushes such as oil pastels, pencil sketch simulated rain. I am not sure why you would want to do this, but some people will find it useful.
Another new feature is the capability of drawing text around objects on a custom path. It works fairly well but sometimes letters hug an image or object too closely, and hand-drawn lines or curves can cause letters to bunch up  and you can't adjust it or kern the letters. This custom path feature will be useful for scrapbookers, greeting cards or photo books as long as it's not overdone.
Go to page 2 for the rest of my review and info on my favorite features

Also available at:
Buy.com - approx $91 including shipping