Personalized photo calendars are on my gift-giving list every year. In fact, I have been making custom photo calendars for family members since calendars have been available on line and they are always a big hit. It has become a tradition and the kids in my extended family look forward to receiving them every year (boy have I created a monster, there's no way out for me now!). They see their cousins only once or twice a year so they enjoy seeing photos of them all together in their special calendar.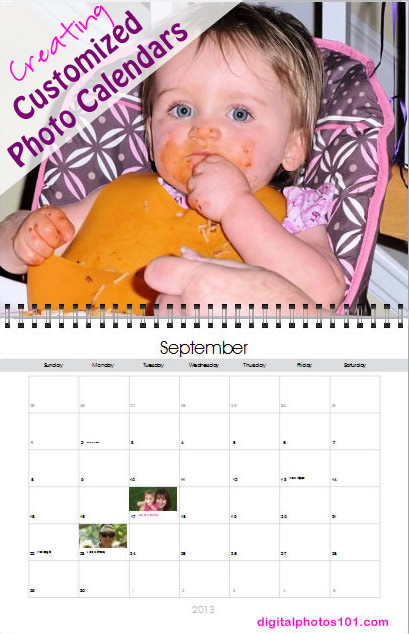 Great Gift For Kids and Teens
Kids, especially teens, are so hard to shop for that is has become a lifesaver for me. I can give them a gift they will actually like and use!  It is also a great Christmas gift for my parents, who enjoy having photos of their grown kids plus their grandchildren adorning their wall. It is the best gift you could give for a very reasonable cost. If you plan ahead, my favorite deal is with Shutterfly, who usually offers a buy one get additional calendars for half price some time in November. So I can make my calendars for about $10. What a deal! How else can you get a fun, personalized gift for ten bucks? Here is a link to Shutterfly's specials page
so you can keep an eye out for it.
Customize For Each Recipient
I like to customize the calendars for each recipient and end up making close to a dozen in all. I start by making one calendar and then copy it and change some of the photos to include some of that particular person and their immediate family. I try to put a photo of that person on their birthday month, the kids in Halloween costumes for October, etc. Of course you don't have to go to the extreme that I go to, that's just my craziness. You could make one really cool calendar and give the same one to everyone on your list. No kids? How about featuring 12 months of family pets? My dog just loves to pose – I swear she knows what taking pictures is all about – and she is always features in my calendars.
Secret to saving on calendars:
Lots of companies extend deep discounts and buy 1 get 1 free offers for Christmas (hint: Shutterfly). Like us on Facebook to be sure to get the latest deals as soon as they are announced. You can also find the latest promotions on my photo discount page.
Customize With Holidays and Special Events
In my calendar-making process  I add all the major holidays. Most photo companies have a master list and you just check off the holidays you wish to include, which makes it very easy. I also add birthdays, anniversaries and special events. Shutterfly
in particular makes this easy because they keep a list of important dates in my account and I just check off the boxes for the dates key to a particular person. Easy peasy. They, as well as Mixbook, Picaboo and Snapfish
also let you add small photos to individual date boxes, so in addition to putting "Madison's birthday" in the square you can add a photo of the birthday girl (or boy) to the box as well.
Calendars are also easy, useful and inexpensive gifts not just for family members, they are also great for groups, clubs and schools and gifts for clients, so think outside the box.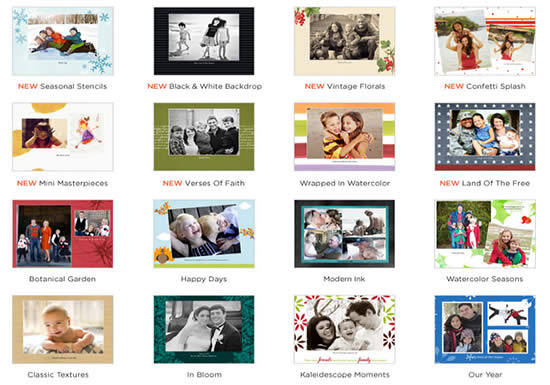 The chart below lists calendar data for major companies. They all do a good job with printing and I have found the photo paper  to be sturdy and the date area easy to write on. Mixbook offers the  most customization –- you can literally do anything you want on the page, even upload your own stickers and embellishments if you wish, and move everything around as your heart desires. Picaboo also offers very good customization as well as  Shutterfly
. Smilebooks is kind of unique; within the classic 11×8 wall calendar design you can choose a variety of layouts for the date section, but they don't have as many customization choices as the others for the photo section.
Use Your Own Software
As an aside, you don't have to use the company's calendar maker for the photo section. You can also use your own design software such as My Memories Suite (my favorite) or Photoshop Elements, Photoshop, Corel Paintshop Pro etc. and upload finished pages.
Here is a roundup of popular photo companies that offer calendars:
Photo Company
Sizes
Cost
*Cost for Regular Shipping
Start on Any Month
Noteworthy Features
Mixbook
11.8.5
12×12
14×11
$19.99
$29.99
$34.99
$5.99
$7.99
$7.99
Yes, up to Jan 2015
Customize everything, add stickers and embellishments. Add text and photo to date boxes.
Picaboo
11×9
14×11
$24.99
$34.99
FREE
FREE
Yes in 2014
Fully customizable. Add text and photo to date boxes. Premium calendar has laminated, glossy photo pages/matte date pages.
Snapfish
11×8.5
12×12
14×11.5
$19.99
$24.99
$27.99
$5.99 for 1st, $1.99 each additional
Yes
18-month, desk and poster calendars available. Can get in-store pickup.
Shutterfly

11×8
12×12
$21.99
$29.99
$5.99
Yes, thru 2015
Add text and photo to date boxes. 18- month calendars, desk and calendar posters available.
Smilebooks
11×8
8×11 portrait
12×16
$19.95
$19.95
$29.99
$5.99
$5.99
$7.99
Yes thru 2016
Offers calendar posters, kitchen, appointment and desk calendars. Premium templates + $3.99.
Viovio
11×8.5
13.5×19
$9.79 ($4.99 + $.40/page)
$22.99 ($4.99 + $1.50/page)
n/a
Yes, any dates
You can use your own photos or buy a pre- designed calendar. Free templates and premium for extra cost.
* Standard shipping cost based on one 12-month calendar. When ordering more than one the shipping cost is usually reduced on the additional quantity. Two-day and overnight Fed Ex service is available for extra fee.
Calendar Sales
Getting a good deal on a calendar is pretty easy this time of year. Be sure to visit my photo discounts page because all the latest deals are listed there and I constantly update it.
Related Pages
Holiday Photo Book Ideas Your Family Will Love
Six Tips for Creating a Holiday Photo Card to Be Proud Of
Start Planning Your Holiday Photo Cards Now to Save Money
Christmas and Holiday Photo Card Preview 2013