I love canvas prints, and I'll bet your gift recipients will love them too. It's a great way to decorate your house without spending a fortune and they look quite classy and more expensive than they actually are. My one-year-old niece will make a great subject for canvas prints this year in her parent's house as well as grandma and grandpa's home.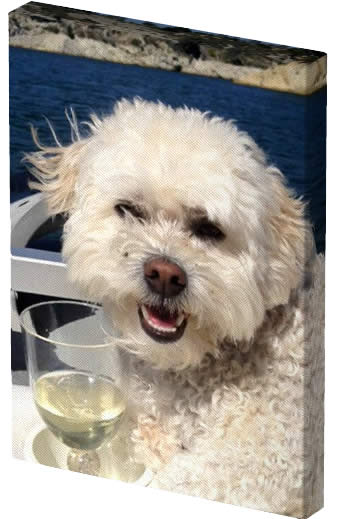 So what's so great about canvas wall art?
You can turn virtually anything into a canvas print –  a favorite photo of your children, your child's artwork, a photo commemorating a special event such as a special birthday or anniversary, a photo you took on vacation, a portrait of your dog, a dramatic landscape,  an amazing macro photo, an engagement or wedding photo, a hobby you enjoy, the possibilities are endless.
It's a great way to personalize your home. While fine art certainly has its place and may have special meaning to you, nothing could be more personal than having a  photo that you or a family member personally snapped enlarged and printed on canvas.
They only take a few minutes to make. You just need one good photo, then upload it to the photo site, select your size and wrap style (gallery wrap is the most popular) and place your order. Done.
Canvas prints are lightweight (I like that idea, as I live in  earthquake country) and easy to move around, yet more durable than paper photos or even photo books and not prone to ripping, creasing or fading.
You don't have to worry about an expensive frame, which usually costs far more than the print, you don't have to put them behind glass, and they are ready to hang right out of the packaging.
It's an inexpensive way to decorate your walls compared to fine art. You can get canvas prints from dozens of companies – even Walmart offers them – for a very reasonable price, and choose from a variety of sizes.
Tips on Printing Your Canvas
You  have a single canvas printed or have several similar prints made for a grouping. For example, one of each of your children, or a series of travel photos or nature images.
Gallery wrap is the most common style. This means your image is wrapped around the edges of the frame so your photo shows on all sides. Make sure that you center your image the way you want so important stuff is visible on the main canvas versus on the sides.
Upload your photo first, then crop if necessary. Make sure the photo you want to use is high resolution, so it will print sharp when enlarged. For example, for a 16×20 canvas print your  image should be at least 2000×1600 pixels, but I prefer larger than that, 2400×3600  (equivalent to 8MP) when printing canvases 16×20 or more to ensure sharp reproduction. All companies will give you a warning on the screen if t your image resolution is too low for satisfactory printing.
Below is a chart of some major companies offering canvas prints. Since 16×20 seems to be a popular size that most companies offer, that is the size I am using for this chart.
Company
Sizes offered
Cost for 16"x20"
Standard Shipping
Special Features
My Publisher

8×10, 11×14, 16×20, 24×36, 30×40
$99.95
$11.99
1" gallery wrap
Shutterfly

12×12, 10×14, 16×20, 20×30, 24×36
$89.99
$12.99
1.5" gallery wrap. Nice matte finish, excellent quality. Can add background or text.
Smilebooks
8 x 10, 8 x 12, 12 x 12, 16 x 20, 20 x 24
$79.95

30% off sale

$13.99
You can add text and make collage or add themed background
Snapfish
8×8, 8×10, 11×14, 12×12, 16×16, 16×20, 20×24
$79.99

30% off sale

$5.99
Museum wrap (black edges) also available. Satin finish. Pick-up in-store may be possible
Walmart
8×10, 11×14, 16×20, 20×24, 24×36
$29.96
Free home delivery for limited time
1" gallery wrap. Same store  pickup
Other types of Wall Art
You are not limited to canvas prints. Some companies offer additional types of wall art including life-size peel-and-stick wall decals, which are great for a child's bedroom or a dorm room. Shutterfly
offers decals as well as murals and three-dimensional wall art, which is crafted from wooden block.
Saving Money on Canvas Prints
As of this writing, here are the current sales from various companies offering custom canvas prints. Since the deals change frequently, you can always find the latest on my photo discounts page.
Snapfish – Snapfish – save 30% on home décor products with code 30HOME by 12/31/12
Smilebooks – Save 30% on canvas prints through Dec 31, 2012. Use coupon code CANVAS30
Walmart
– Get free shipping to your home for a limited time.