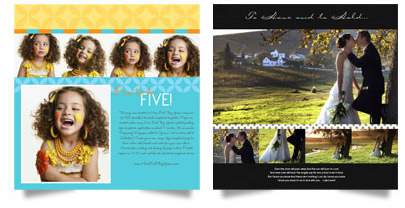 MyPublisher is reprising its most popular promotion, the Free $20 Gift Card
for new customers. New customers will  get a special coupon code via email after they sign up, and may use it towards any of MyPublisher's hardcover photo books. The code is valid for 30 days after original receipt.
My Publisher recently upgraded their online software to make it more flexible and customizable and they also introduced digital scrapbook pages. It's a great way to design a memory book and you can add additional pages as you go. The drag-and-drop format makes it easy. Scrapbook pages are the standard 12×12 so they will fit nicely into standard scrapbook albums inside clear plastic sleeves.
Learn more at My Publisher.