If you are into making photo books, have I got a deal for you. My Publisher is having an awesome sale on custom photo books: a whopping 68% off Flat Rate photo books promotion!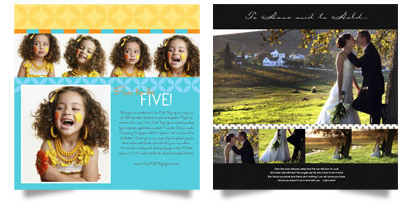 You can choose from:
$30 for a Classic hardcover 8.75″ x 11.25″ photo book with a value of $96 or
$60 for a large 11.5″ x 15″  Deluxe photo book valued at $190
Both options include up to 70 pages, super glossy printing and either a custom photo imprinted on the cover or a book jacket cover. This is a really great deal. For example, most photo books at the majority of companies start at $30 for a 20-page book. Here you get 70 pages for the same price.
So what's this about "super gloss printing?
According to My Publisher, the super gloss printing gives your pages a high gloss finish like a traditional photo and offers richer, more vivid colors as well as a protective finish that is scratch and spill resistant. The paper is thicker than most standard photo books as well.
Photo Finish Cover
Your favorite photo can be imprinted on the cover in what My Publisher calls a "photo finish. With the photo finish cover you can customize the front cover, back cover and spine. The cover is laminated in gloss or matte finish and it is scratch, tear- and smudge-resistant.
Book Jacket Cover
You can also choose a book jacket which is a removable cover just like you find on books in the bookstore. It can also be customized on the front and back covers and the spine. With this cover you may also customize the flaps. The dust jackets are laminated so they are scratch-smudge-and tear-resistant.
This is a great opportunity to get those summer travel photos organized into a beautiful book to show off to your family and friends. The offer is good until September 20, so get started planning your book now.
My Publisher is one of the better photo book companies with free downloadable software that allows you to completely customize their book. You can customize the layout, background, spread a photo across two pages, add text anywhere, and choose from a variety of nice fonts and colors. There is a great selection of pre-designed templates that you can work with and customize to suit you.  You can choose from themes such as travel, wedding, baby boy or baby girl, just photos, vintage, collage and others. The photo book quality is very high and My Publisher is one of the few companies that offers lay flat pages for special books like wedding albums or portfolios where you want the pages to lay completely flat with nothing obscured in the center gutter.
The free software is pretty flexible. You can create panorama-like two-page spreads, put as many photos as you want on a page, wherever you want, use photos as backgrounds, design your own backgrounds. I also like that you can move, re-size and layer both photos and text. There are numerous fonts and a huge array of colors to choose from so you can really get your own custom look.
Another thing I like is you can change the photo book size without starting over. The software also has editing tools allowing you to crop, adjust the brightness/contrast, remove red-eye, and convert images to B&W. Plus the software is free.
There is nothing not to like (OK, Mixbook does have really cool themes and stickers for a real scrapbook look), and with this great deal you can be sure I am going to be making my own photo book with my summer photos with My Publisher. Make your summer photo books for 68% off!