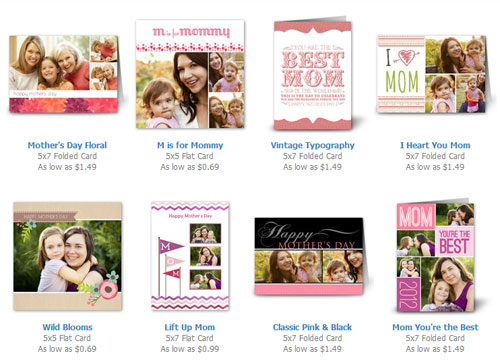 Time to make your Mother's Day Card! In preparation for Mother's Day, online photo companies are coming out with some great promotions on greeting cards, prints, photo books and gifts. This is a good time to get started, get your Mother's Day card and order your gift for mom.
As the years go by, it's often hard to come up with gift ideas for our mothers. In the past few years I've been giving my mom photo-related gifts, and they are something she always appreciates and loves to display. I've made regular photo books, and I'm considering a family recipe book this year. Mixbook has some nice templates for recipe books. I also like to make my greeting cards on line using photos of our family with my Mom. A framed picture is also a nice idea.
I also like to make my own Mother's Day photo greeting cards, especially at Mixbook because you can customize everything. You can change the layout, the background colors, the font, etc. I really love their site and can't say enough good things about it.
Be sure to take advantage of these coupon codes because these deals are short-lived.
Mixbook
This week, Mixbook is offering $10 off orders over $49 OR $25 off orders over $99 site wide! Create the perfect mother's day card or capture your spring break memories in a special photo book!a href="http://www.shareasale.com/r.cfm?b=213162&u=127549&m=19751&urllink=&afftrack=">$10 off orders over $49 OR $25 off orders over $99 with code: SPRINGSAVE
at Mixbook.com
Shutterfly
Enjoy free shipping and free cards from Shutterfly.com!