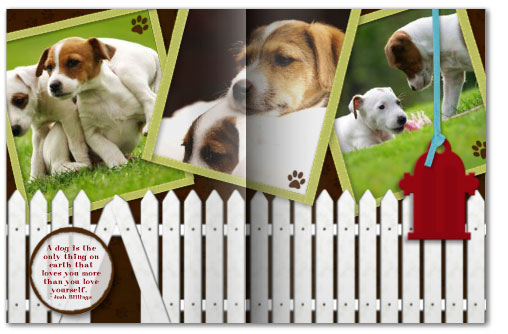 If you do a web search for photo book reviews, Mixbook comes up repeatedly as one of the best. To see why, I made a book with Mixbook and found the ratings were on target. There are many reasons why this service is so highly regarded; here are just 10 of them.
1. The book editor is extremely flexible. If you have ever been frustrated with an online photo book service because you really wanted to move a photo over just a bit or resize it but the software wouldn't let you do it, you won't find that with Mixbook. You aren't limited to static designs; you can customize everything. This means you can add, delete, move, resize, rotate and re-color everything on the page. You can also add shadows, transparency, reflection, borders, and cut photos into shapes.  There are also unlimited color choices using the color dropper.
You can start with pre-designed template pages and then customize the layout, change backgrounds and themes, change the size of the photo frames, add or delete them and move they around anywhere on the pages. You can also add text wherever you want, choosing from a wide selection of fonts. If you don't want to use a pre-made template you can create your own pages from scratch. There is also an auto-mix feature whereby the software will create a book layout for you based on the photos you uploaded. You can keep it, remix it or customize it.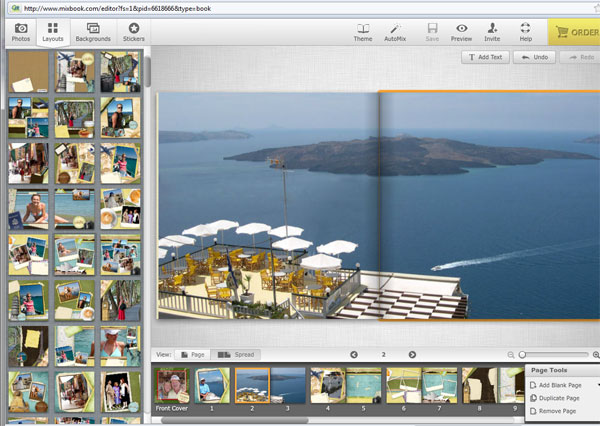 2. It's easy to use a photo as a background across two pages. Mixbook makes this simpler to do than with other services, just click "span photo." Either use your own photos as backgrounds or choose from their huge library of backgrounds
3. Collaborate with friends. The company offers unique social collaboration whereby users can pool their photos and create a book together.  After scanning numerous photo book conpanies, Mixbook seems to be the only one offering this feature. Further, you can use photos from Facebook, Flickr, Smugmug  or Picasa.

4. The paper, bindings and printing are very high quality. Books are printed on archival-quality silk 100 lb. paper with full photo wrap covers. The paper is acid and lignin-free so the pages won't yellow over time.
5. You can make your photo book look like a scrapbook using themed backgrounds, embellishments and stickers; use your own scrapbooking templates that you downloaded elsewhere and even  scan and upload your own memorabilia to create your own stickers.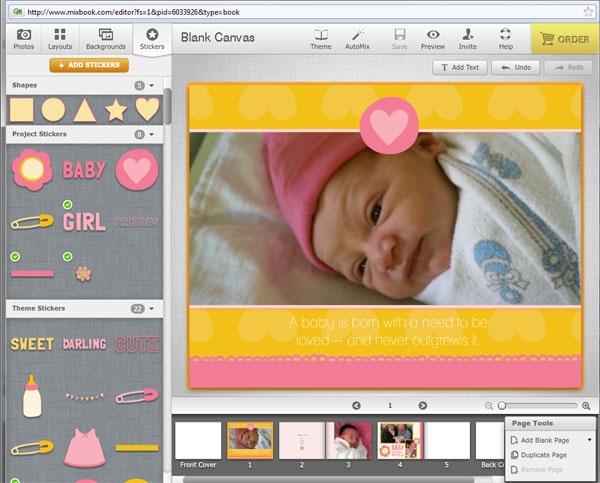 6. You don't have to download any software. The editor is web-based so you don't have to download software, worry about compatibility or take up storage space on your computer. The software has an auto-save feature to prevent the loss of a photo book in-progress. The only downside to online software is if you have a slow connection.
7. The software is easy and intuitive. Everything is drag-and-drop and you don't need any special skill or knowledge to use it.
8. Environmentally-friendly: The service uses photo book paper that is ethically sourced from sustainable forests and certified by the Forest Stewardship Council and the Rainforest Alliance
9. Photo books are free to create and share. You don't even have to print them if you don't want to (but why wouldn't you want your special photo book sitting on your coffee table?).
10. You aren't limited to photo books. Mixbook recently added custom photo cards and calendars with the same design flexibility as their photo books.
A review wouldn't be complete without mentioning that it is just plain fun to use their software. The creative options are endless and the photo editor is friendly enough that even the design-challenged or technically-challenged will find it easy to use. Go to Mixbook now.