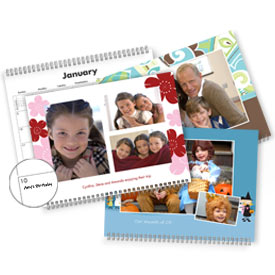 If you haven't made your photo calendar for 2012 yet, what are you waiting for? You can make your calendar to start on any month you want, so you don't have to worry about missing January, just start with February.  If you are stumped for ideas, here are some suggestions to make your calendar special:
Baby Milestones
If there is a new little one in the family, make a calendar highlighting important milestones, such as sitting up for the first time, first steps, first words, first haircut, etc. You can make a photo calendar with all your favorite baby photos and add notes telling just where and when these big events took place. Also, the calendar squares are big enough so you can write in new milestones as they occur during the current year.
Birthday Calendar
On your children's birthday month, place photos from their last birthday party. Have more than one child born in the same month? No worries, because all the major photo sites allow you to add multiple photos so you can customize as you like. I especially like Mixbook for this because you can add embellishments and stickers such as balloons to make it extra special.  Also, both Mixbook and Shutterfly calendars let you make each page in a different theme, you are not stuck with the same theme for every page. For example on the December page you can use a Christmas theme and for another month you can use a birthday theme, etc.
Recipe of the Month Calendar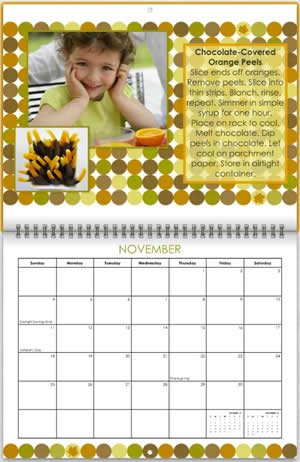 I am sometimes stumped on what to make for dinner or a special occasion, but there would be at least one night a month where I would just have to look at my calendar for inspiration. You could make a recipe calendar featuring favorite family dishes and add a photo of the dish and perhaps a picture of the person who gave you the recipe.
Calendar Formats
Most photo printing services offer both 12-and18-month calendars. Here is a roundup of some popular photo sites' calendar offerings:
Shutterfly has  traditional wall calendars, desk calendars, calendar mousepads and a simple year-at-a-glance poster calendar with one special photo.
Snapfish has a great selection of sizes, from classic 8.5×11, 12×12 or glossy 11×14 wall calendars to desktop, collage poster and 5×11.5 planning calendars. In addition to standard and oversized wall calendars
Mixbook has 11×8.5, 14×11 and 12×12 wall calendars.