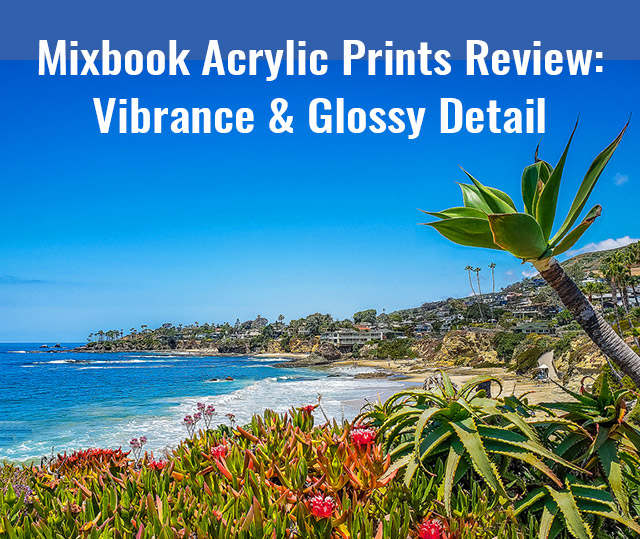 If you've read my earlier posts on canvas and metal print wall decor, you know that I like using my own photos to create inexpensive, unique artwork for our house. One medium I had never tried before was acrylic, sometimes referred to as Lucite or plexiglass. So I decided to make my first-ever acrylic photo print with Mixbook and all I can say is if you haven't tried acrylic before, you need to give it a shot.
Acrylic Makes a Statement
Acrylic is modern, classy, and long-lasting; the surface is highly glossy so it gives eye-catching substance and 3-D depth to your images, almost like you're right there in the scene. It's much lighter than glass and pretty sturdy, although it can scratch. While acrylic photo prints aren't as ubiquitous as traditional canvas prints, I'm finding more and more companies, like Mixbook, offer this format. It costs a bit more than canvas, but for the right photo, it's totally worth it.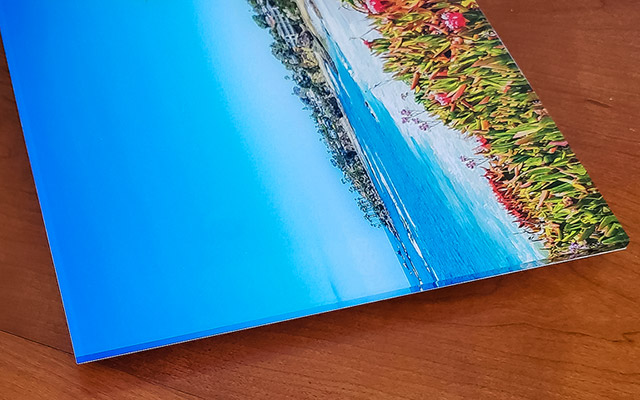 Mixbook's Acrylic Prints
After some deliberation, I decided to print a photo I took at Laguna Beach on a brilliant spring day when the water sparkled and the sky was very blue. Mixbook makes the order process easy and it's the same as for their canvas and metal prints: I simply uploaded my image and placed it into the page layout in their editor.
Mixbook's website has very easy navigation; the product creation and ordering process are straightforward, and their array of tools for designing and editing projects is top-notch with lots of options. Had I wished, I could have used multiple photos in the layout or added text, background, and stickers. Since I had previously done my retouching in Lightroom before uploading my photo, I just chose my print size,  previewed my image in 3D, and ordered.
Barely a week later I received a very sturdy box with my acrylic print safely inside. I must say, it was packaged extremely well, including shrink-wrapping, and it probably took me 10-15 minutes to just get the box open. But it was worth the effort – my print looks stunning! The colors appear extra vibrant and the detail is crisp, in fact, the vibrancy is much more apparent than on canvas, my usual medium of choice. I can't wait to hang it!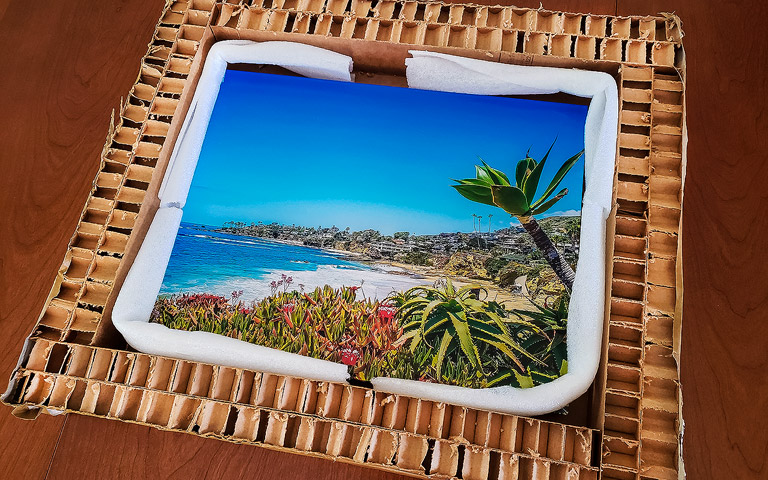 Mixbook prints on ¼ inch acrylic, which is a fairly standard thickness. My print came with pre-installed hidden French Cleat Mounting hardware, screws, and drywall anchors, plus hanging instructions. So for hanging my print, all I need to do is mount a small cleat to my wall with the included screws, then attach the print to the cleat and it will stay in place.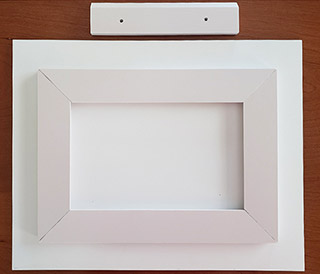 This kind of mounting makes the image look like it's floating off the wall and nothing obstructs the face of the photo. Other companies I looked at like Snapfish and Zno use chrome or aluminum posts, which are round pegs that stick out the front and back of the four corners. I much prefer the hidden hardware look vs. those metal posts because the posts obscure small parts of your photo.
Mixbook's Acrylic Print Sizes
Prints are available in 14×11", 20×16" and 30×20" both landscape and portrait, and you can also order 3/4" thick free-standing, 6×6" photo blocks. I ordered a 14×11" print, priced at $99 before promos. I snagged 50% off on a sale so, at $49 it was a pretty decent price. Mixbook has weekly promos; the current one through July 1 is 40-50% off. With discounts, the cost is pretty competitive with other companies. Keep in mind that in general, acrylic will likely cost a bit more than canvas no matter where you order your print, but the result pays off.
What Kind of Photos Make Good Acrylic Prints
Acrylic is an amazing medium and quite versatile. It can really make a statement. If you have a photo with rich colors spanning the color spectrum it will look terrific on acrylic because it enhances detail and highlights contrast and color on a smooth, glass-like surface.
Travel photos, landscapes, marine life photos, and casual portraits of kids work especially well on acrylic. Macros would look great as well.  I've also seen family photos and even wedding photos that look fabulous on acrylic. If you want to print a formal portrait, though, I think canvas is a softer, more classic medium for this type of photo. But hey, rules are meant to be broken, right?
A Bit of Background on Acrylic Printing
I should mention that there are two kinds of acrylic printing. The first method is the face mounting method where the image is printed onto photographic paper and then mounted behind the acrylic. The second way is direct printing, where the image is printed directly onto the acrylic. While face mounting can be even more vibrant and is often the preferred way for pro photographers who are making high-end gallery prints, it's labor-intensive and often quite expensive, and it may not last as long as direct prints. Mixbook prints directly onto acrylic with a layer of white backing which adds a translucent effect.
What Home Styles Do Acrylic Prints Work Best In?
Most people think that, because of their sleek, polished look, acrylic prints look best in more modern style homes or room décor. A cottage-style shabby-chic décor, a very traditional décor, or a rustic cabin ambiance may not work as well, though it could depend on your photo's subject. If your home is one of those styles you might be happier with a traditional canvas print.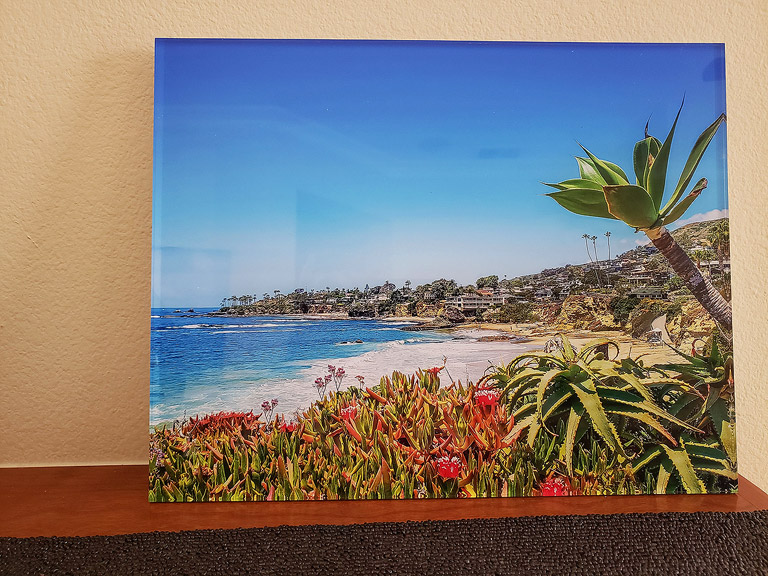 Decorate Your Enclosed Patio Walls With Acrylics
Want to jazz up your patio for summer? Think about using acrylic outdoors in areas that don't get direct sunlight or rain, such as an enclosed or covered patio. Direct prints, like those from Mixbook, would work fine because they can tolerate humidity, though I would put them in an area protected from the elements. According to their customer service, Mixbook's acrylic prints can be used outdoors as long as you ensure they're properly and securely installed.
Do your photos justice. Try making acrylic prints from your favorite images, and you won't regret it. Have you ordered an acrylic print? What did you think? Let me know in the comments below.
To help defray my website operating costs I belong to several affiliate programs.  In some instances, I may receive a  small commission for products viewed or purchased via my referral. Opinions are solely my own and I try my best to write honest reviews and only recommend products I use myself.