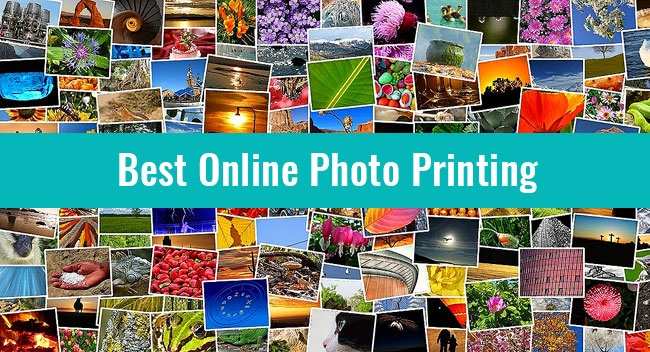 It seems like, with all the digital/social sharing options, many people don't bother printing their photos anymore. But I still like to see my pictures on paper, whether as a print or in a photo book or calendar, rather than just storing everything on my smartphone.
This is especially true around the holidays when there are so many fun things you can create for gifts, whether it's Christmas or Hannukah or Mother's Day or Valentine's Day.  I've tried out many different photo printing services and while none were terrible, there are some that have really stood out for me and I go back to them frequently.
Apps and Perks
It's easier than ever to order prints or photo books etc. Most online services have handy apps so you can upload photos for printing right from your phone. Many photo companies offer free prints or other specials when you join and some have great perks like free permanent online photo storage.
If you don't want to pay shipping charges for the convenience of home delivery, several services such as Shutterfly and Snapfish offer the option of ordering online and picking up your prints at their local partner drugstore. Walmart and Walgreens also have online ordering with in-store pickup. I've found this usually works best when you're just ordering prints, though in some cases you can pick up your printed photo cards at your local drugstore's photo department.
A note about prices: virtually every site offers frequent sales and discounts. You can get my list of the latest coupon codes for major sites here. A number of services including Shutterfly, Picaboo, and Snapfish offer a prepaid bulk plan that can significantly lower the per-print cost. If you take a lot of photos, you may want to consider this option.
I experimented with a number of photo printing services and checked out their ease of use, and print quality including color and tone accuracy, and queried customer service. Here are my favorite companies, in no particular order.
Best Online Photo Printing Services
Printique (formerly Adoramapix)
Printique is tops in quality. It's the printing side of Adorama, a pro photography shop based in New York. You have a big array of options here from printing snapshots to printing high-end photographic art on fine art paper.  They use silver halide paper which provides a wider color gamut for richer, more vibrant colors than mass production photo services and drugstore prints. While it's not cheap, the quality is so high you still get very good value. You can create photo books, wall decor (canvas, acrylic, wood, giclee), greeting cards, and calendars in addition to prints. The photo book I did with Printique (it was Adoramapix then) is one of the best-quality books I've had. They offer fast turnaround and fast shipping, though shipping is fairly expensive. Visit Printique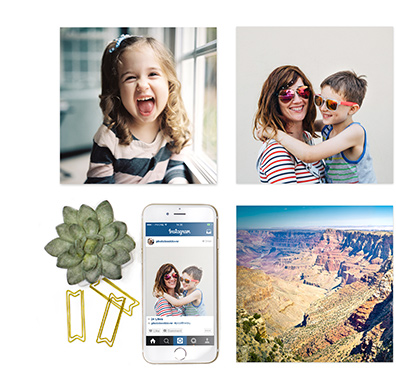 Mixbook
Mixbook is one of my favorite online photo printing services and I use them a lot. The quality is very good and they're fairly affordable, with frequent discounts and sales. Print prices start at 15 cents. While there are no wallet-size prints, they do offer 5×5 prints. You can also get large format prints up to 36×24.
While the photo editing app is pretty good, where Mixbook excels is with the customization of photo projects like books and cards. You can pretty much change and customize anything and they have a really nice array of templates and themes.  Mixbook makes really beautiful photo books including ones with lay-flat pages, as well as canvas, acrylic, and metal prints, calendars, and photo greeting cards. They do not offer a big array of photo gift merchandise like mugs and blankets, but what they do offer, they do extremely well. You can upload photos from your social media accounts, Google Photos, Smugmug, or desktop (no mobile app as of now) and you can organize your photos into albums or view them on a timeline. Visit Mixbook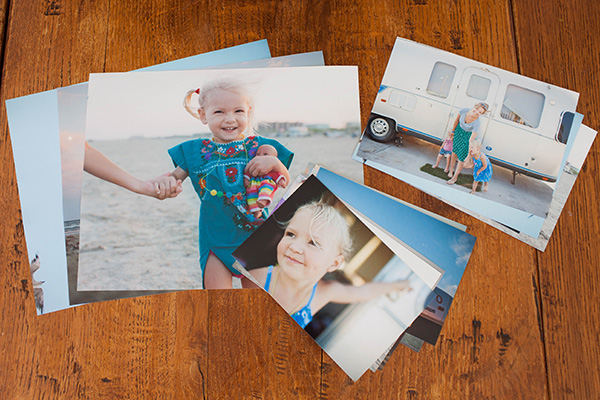 Picaboo
Picaboo offers some very good prices on prints and the quality is pretty darned good, with accurate colors. Photo prints 4 x6 are 0.13 cents and they have excellent bulk print plans — often at 60% savings. Their printing software automatically removes red-eye. There's an option to add captions to the front of your photos in a variety of fonts and colors.  Beyond prints, Picaboo offers photo books, calendars, canvas prints, greeting cards, and photo gifts like photo crystals, coasters, ornaments, blankets, pillows, tote bags, and mugs. They have easy-to-use web-based software to create your project.  Visit Picaboo
Shutterfly
This service offers great color reproduction, though prints aren't quite as sharp as some other services. Shutterfly offers 4 photo finishes: glossy, matte, pearl, and cardstock. Print sizes include new panoramic sizes 5×15, 8×24, and 12×36. You can crop, rotate, add classic b&W borders, and print text on the back of images for free. The site is very easy to navigate and its editor offers excellent customization.
I particularly like Shutterfly for photo books and greeting cards because their software is very easy to use and they have nice templates and themes. There are tons of photo gifts you can create, from the aforementioned books and cards to canvas or metal prints, calendars, mugs, iPhone cases, blankets, pillows, ornaments, candles, jewelry, playing cards, magnets, water bottles, desk accessories, and much much more. Check out the rest of their photo gifts here.  There's a mobile app and you can also upload photos from Flickr, Instagram, Facebook, Google Photo, and Smugmug. Shutterfly offers free unlimited photo storage. Their photo editor is fairly good though still somewhat basic. You can order online and pick up prints and some cards and other items at your local Target or CVS to save on shipping, which is on the high end. Their super discounts and deals make up for the shipping fees, though you will sometimes find free shipping offers as well. Visit Shutterfly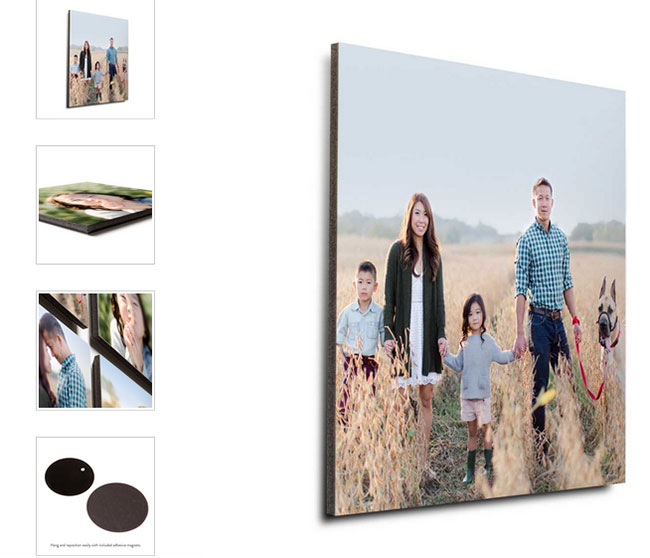 Snapfish
Snapfish has the lowest per-print price (along with Walmart)  at 9 cents each and you can get same-day pickup at their drugstore partners, CVS, Walmart, and Walgreens. The service offers square prints in 4×4 and 8×8 as well as standard sizes from 4×5.3 up to 20×30 inches. The image quality is good and they have a fast, well-designed website. Where they excel is with photo gifts. They have tons of items from the usual books, cards, canvas, metal prints, and other wall décor to photo tiles, puzzles, iPhone cases, ornaments, tea towels, placemats, coasters, pot holders, wall clocks, leatherette desk sets, necklaces and charm bracelets, t-shirts and more. I think only Shutterfly offers more gifts. Visit Snapfish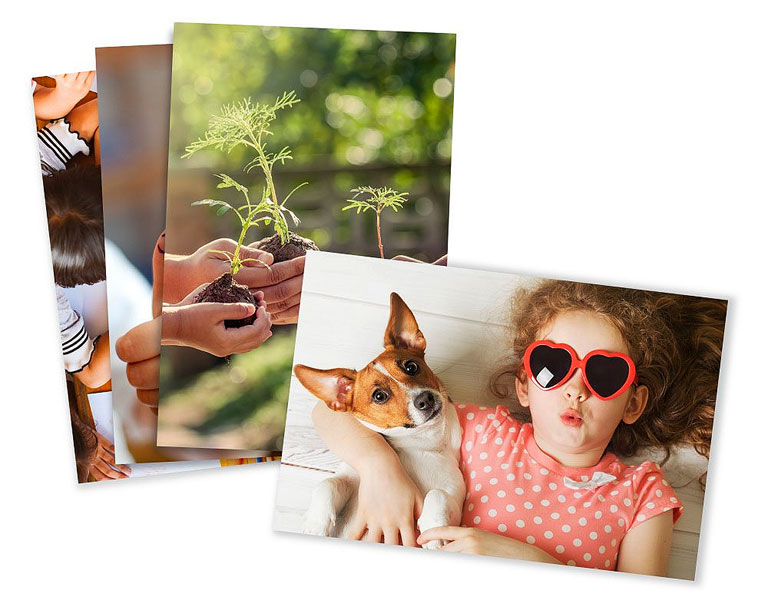 Amazon Prints
If you're a Prime member, this is a great printing service for you. Not only are the print prices cheap — 0.12 cents for 4×6 and 0.58 cents for a standard 7×5 print — you get free shipping to boot (provided you're a Prime member). Their photo printing is quite good with accurate colors in a glossy or matte finish and plenty of fine detail. Lustre and Pearl photo prints are also available, as are high-resolution posters (8 x 14 up to 41 x 81 inches),  canvas, metal, wood, and acrylic prints, and custom-mounted wall decor. When you add photos to your print project, they're backed up in Amazon Photos. Visit Amazon
York Photo
This is my choice for excellent quality at an inexpensive price. Prints are sharp and the colors are right-on with beautiful color reproduction in both glossy and matte prints. There's a mobile app so you can upload directly from your smartphone, as well as via desktop. York offers basic editing tools except there's no red-eye removal tool. You can get unlimited photo storage. Aside from photo prints, you can create photo books, calendars, cards, canvas prints, mugs, ornaments, blankets, and other photo gifts. Visit York Photo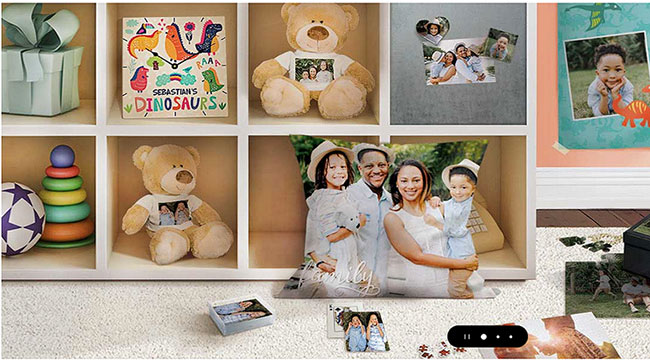 Walmart Photo Center
While Walmart's photo prints are cheap (9 cents for 4×6) and decent quality but not great (colors not as brilliant or images quite as sharp as some other services), they do well at offering a wide array of photo gifts at very reasonable prices. You can order customized canvas prints, photo books,  greeting cards, posters, tote bags, jewelry, ornaments and holiday-related merchandise, pillows, blankets, phone cases, and many other gifts. In some cases, you can order gifts online and pick them up at your local store within 24 hours.  Prints are ready for pickup in as little as 1 hour. There's a mobile app for fast uploading and you get free unlimited storage. You can upload photos from your social media or desktop. Visit Walmart Photo
Walgreens Photo Center
Walgreens has fast service, easy ordering, and a mobile app. Prints start at 23 cents for 4×6. Their prints' color accuracy and clarity are very good and you can make basic adjustments like brightness and contrast using their photo editor before you order. In addition to prints, Walgreens offers photo books, greeting cards, canvas prints, blankets, and other photo gifts. There is free online photo storage. Visit Walgreens Photo
What's your experience with these online photo printing services? Tell me in the comments below.
To help defray my website operating costs I belong to several affiliate programs.  In some instances, I may receive a  small commission for products viewed or purchased via my referral. Opinions are solely my own and I try my best to write honest reviews and only recommend products I would use myself.