My husband and I recently returned from an amazing trip to Croatia. From the gorgeous Dalmatian Coast to the waterfall-laced Plitvice National Park, it's a photographer's dream! I'm still going through all the photos I took, but one I snapped on the island of Hvar immediately stood out and I thought it would make a great canvas print.
Hvar Town, the main village on the island, has a reputation as a party town. While not undeserved, there's much, much more to the town and the island than that. We loved the picturesque harbor and the beautiful stone buildings and as we were strolling along a walkway just above the promenade, we stumbled upon a stone stairway with a view of the ocean. It just had to become a canvas.
After making some minor adjustments in Lightroom, I uploaded my image to CanvasontheCheap.com. This Austin, TX-based company offers canvas prints in seven sizes from 8″ x 8″  up to 30″ x 40″ at very reasonable prices.
I'll start off by saying don't let the name fool you. Canvas on the Cheap does a massive volume of 1 million+ photos on canvas a year, so they have the process nailed. My 20″ x 16″ canvas came out beautifully with rich colors and a nice semi-gloss finish and it was firmly wrapped around the wood frame with tight corners. Seeing as I try to maintain a toxic-free household as much as possible, I like that the company uses non-toxic inks: All canvases are printed with UL Ecologo and UL Greenguard Gold Certified 1 Water-based HP Latex inks.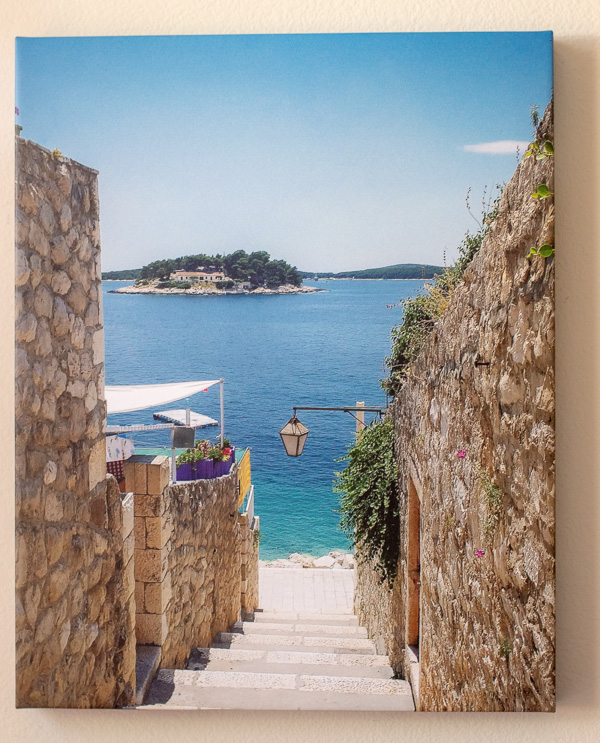 Wrap and Frame Options
You can choose from the standard .75-inch wrap or for a small upcharge, a 1.5-inch gallery wrap, which is what I chose. I think the deeper wrap adds a touch of elegance, though the thinner one would be better if you wanted to frame your canvas. There are five optional framing choices if you want to go that route. My goal is to have three or four gallery-wrapped canvases to arrange above our bed, so I decided against frames.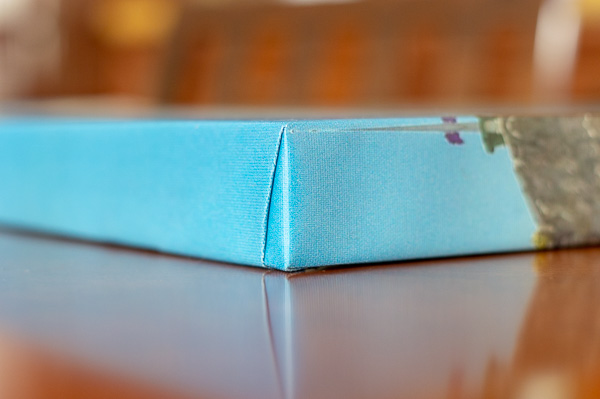 A mirror wrap (meaning that whatever is on the edges of your photo is repeated on the sides) is standard but you can also select a solid border color for no extra cost. The one thing I didn't get that I will do next time, is the optional dust cover for the back of the canvas. While my canvas edges look fine and I don't see any fraying, having the dust cover would make it look more finished and it would be easier for hanging.
Ordering and Shipping
Ordering was easy. You can upload photos from your computer/mobile device or Instagram (but not Facebook). PNG, JPG, GIF, BMP, and TIF files, up to 20MB, are accepted. I liked that on the preview of my canvas I could drag the image to see the edges and see how it would look at various angles (see below).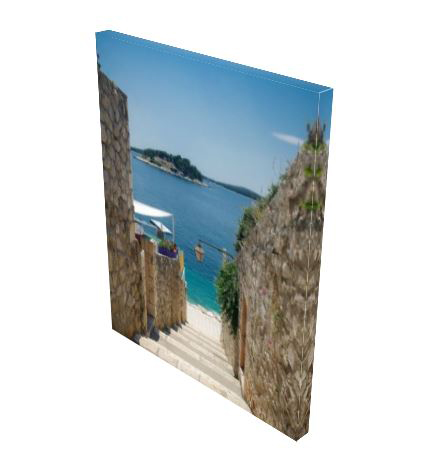 The site is easy to navigate and just takes a couple of minutes from uploading your print to selecting any extra options before heading to checkout. Customer service is also very fast. I had a question and someone got back to me in a few minutes. From start to finish, I ordered my canvas on Sunday and received it the following Saturday.
Final verdict: CanvasontheCheap has affordable prices, beautiful reproduction, and fast turnaround. I'll be ordering again, once I finally decide which other Croatia photos I want to showcase on our wall.