Designing a digital scrapbook page layout is fun and easy plus digital scrapbooking is a lot cheaper, less messy, and takes up a lot less space than traditional scrapbooking methods. Just think, no more stickers, paper, or other supplies to buy and store.
Digital Scrapbooking Software
Dedicated scrapbooking software programs like My Memories Suite give you loads of free scrapbook templates, background papers, embellishments, word art, etc. My Memories Suite is my go-to software for creating beautiful scrapbooks because everything I need is already there in one package for me to work with, plus I can download additional scrapbooking theme kits from their website.
While using a scrapbooking kit is a no-brainer because you basically just have to drop in your photos, it's also simple to create your own layouts.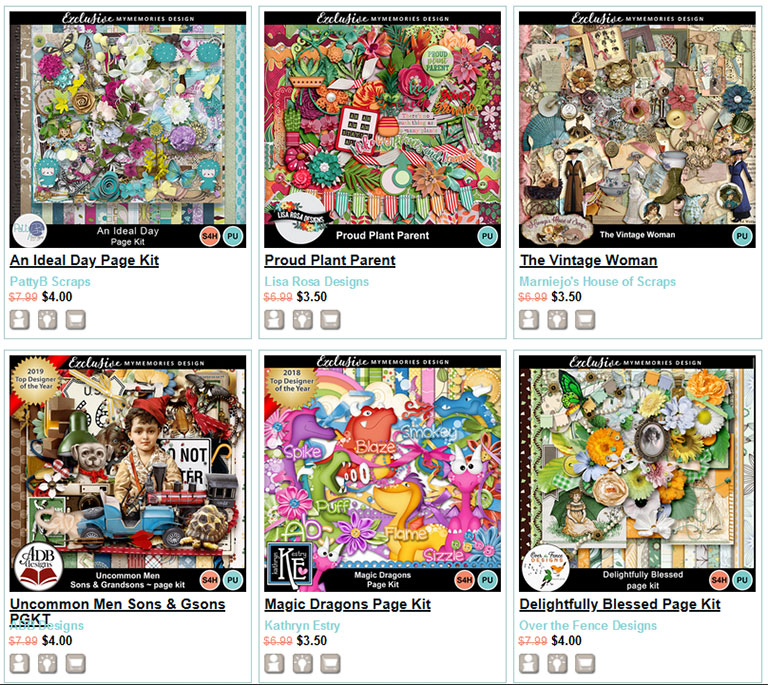 Photo Book Companies
Mixbook
If you want to take the super easy, no-learning curve way, check out Mixbook. This is an online photo book service/scrapbook online maker. They have the most flexible software and there is a myriad of scrapbooking-style backgrounds, embellishments, stickers, colors, themes, etc. You can truly make a beautiful scrapbook with them online. It has a powerful editor and there is no software to download, you do it all online. As with most companies, Mixbook uses acid- and lignin-free archival paper so your scrapbook pages won't yellow or fade over time. Their scrapbooks/photo books are available in 6×6, 8.5×8.5, 10×10, and the traditional 12×12 with four paper choices.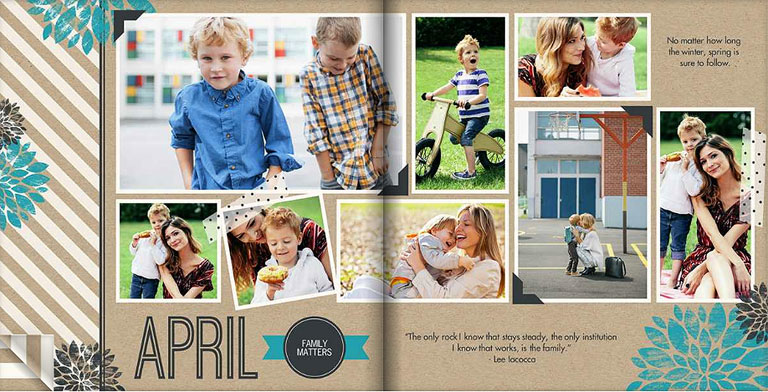 Above is an example of one of the beautiful scrapbook-style themes available at Mixbook. This happens to be the Kraft Year in Review theme but there are many others to choose from, including the new Martha Stewart design. You can move any element anywhere on the page, change fonts and colors, and add embellishments — even upload your own — to really make it your own personalized scrapbook design. I think it's simply awesome for scrapbooking and best of all, you don't have to pay for software.
Shutterfly
Shutterfly is another one of my favorites. They offer 12×12 and 8×8 digital scrapbooks/photo albums and if you created your project in other software you can upload the jpeg pages to Shutterfly. There are also Photoshop format scrapbook page templates that you can download from their site.
Of course, you can create your entire scrapbook from scratch right on Shutterfly's website. Their editor allows you to place photos, text, and stickers anywhere on the page. There is a wide range of embellishments, many of them free, some for an extra charge. They also feature Idea Pages that you can use to help develop your pages.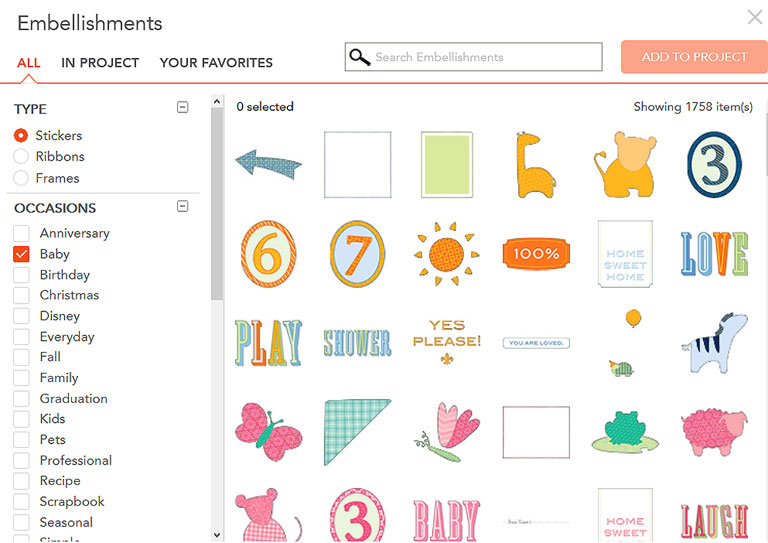 Snapfish
Snapfish offers unique scrapbooking products for your digital scrapbook. They're a great resource for embellishments — 3,000-plus, as well as photo borders and thousands of backgrounds. In addition to portrait and landscape books, they have 8×8 and 12×12 scrapbook-style photo books. Their editor is easy to use to customize your scrapbook design. You also get free online storage so you can share your scrapbook pages with friends and family.

Have you made a digital scrapbook? Are you a convert over the traditional paper, scissors, and stickers route? Tell me in the comments below.
To help defray my website operating costs I belong to several affiliate programs. In some instances, I may receive a small commission for products viewed or purchased via my referral. Opinions are solely my own and I try my best to write honest reviews and only recommend products I would use myself.