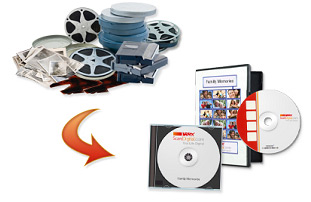 I was just contacted by ScanDigital scanning service to offer an exclusive voucher for Digital Photos 101 visitors only! From now until Sep 30, you can purchase a $100 voucher for scanning service for only $70.
ScanDigital is a top-rated company that, you guessed it, scans photos, negatives, 35mm slides, VHS video and film to digital format. They'll convert your photos in whatever format you have them in and put them on CD/DVD, and do the same for your VHS, VHS-C, Hi8, Digital 8, MiniDV or BetaMax video and 8 mm, Super 8, 16 mm film.
Everything is processed at their Los Angeles facility and they do a great job. In fact, ScanDigital was recently listed in Inc's "Fastest Growing Companies" list, ranking #30 for Consumer Products & Services.
So, if you have been thinking of doing something with all those old photos and film you have stashed away, now is a good time. This special offer is only available until September 30, so buy your voucher now and then send in your stuff when you have time to get it together.
Here is the link: $100 voucher for $70 at ScanDigital
If you want to know more about them, I have a detailed review of the ScanDigital services here.