Father's Day is always a fun time of the year because there are so many great ideas for gift-giving. Whether you are an adult giving to a senior father or you are helping your small children to make something thoughtful for their own Daddy, with today's publishing programs and free online tools, you can create a wonderful and lasting treasure. For this year, I have some ideas for something real special that can be made by young and old children and is perfect for the Father who has everything. Let's look at some unique Father's Day photo gift ideas, and don't forget to check my deals page for the latest promos and coupon codes.
Custom Phone Case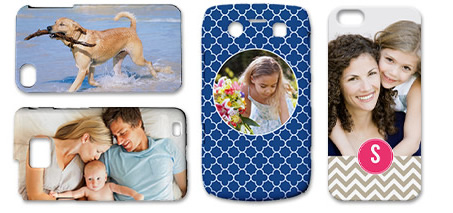 If your dad or grandfather is connected with a mobile phone or another gadget, why not order a customized skin or case? Nowadays, you can choose your best pic and get it imprinted right on the case. You might not even choose a pic of yourself. You might search through his photos and find a picture of his dog or him playing with his four-legged buddy, or with your kids. Snapfish
has a great selection of case and skin designs for iPods, iPhones, Blackberry, and laptops. Shutterfly has 20% off iPhone Cases Valid 5/30-6/5
Custom Card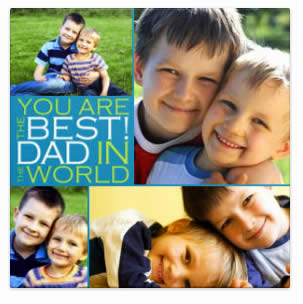 One of the neatest things I did some years ago was make a custom card for my Dad. I searched through all my old photo albums and found some fun pics from when I was a child. I tried to find ones of my Dad and I doing things together. Then, I put them into a large frame and stenciled out the year and Greatest Dad. But, what is even easier now, you can make your card on line. Just scan a few old photos and upload them to a photo site like Snapfish
or Mixbook and you can create a unique card for about the same or less as you'd pay at a card store, including shipping. That's what I'm doing this year.
Photo Book
Photo books always make great gifts. You could pick a theme such as photos of your kids with their dad as he is teaching them things like tying their shoes, riding a bike, etc., or photos from your own childhood with your dad. You could do a book telling your Dad's life story or best moments. Use your imagination and customize your book to your liking, using various themed backgrounds and your own notes and anecdotes. This would be a terrific gift for your Dad. So professional and personal, and yet, so inexpensive if you take advantage of all the great Father's Day photo deals (remember to check my deals page for the latest coupons).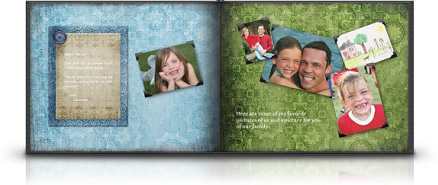 I know my own Father would love pictures of my niece and nephews and things that they do or create. My sister and her children live farther away, so my Dad rarely gets to see the kids' school projects and such. You could scan the paintings, drawings and various artwork into your computer and upload the pictures to a photo book service and create a book. If artwork is too big or awkward, take photos of it. The kids can tell their story so that Grandpa stays in the loop and keeps up with their growing stages. Picaboo has some really nice Father's Day book themes, including "Letters and Art for Dad," as does Mixbook.
Custom Canvas Print
Father's Day is also a good reason to get the family portrait done. You can have it enlarged and printed on canvas to hang on the wall. They are lightweight and need no frame and will last forever. These are surprisingly inexpensive and easy to create as sites such as Shutterfly
, Smilebooks., My Publisher  and even Walmart Photo Center
.
Photo Collage
Gather your favorite prints and place them behind a collage matting Once it is ready, before you frame it, you can have everyone write a note to Dad or Grandpa and sign their names on the matting. The kids will love doing this and the gift will last forever. It won't be another tie or box of golf balls sitting in the drawer. You could apply this same concept to a collage photo print (many online photo companies do this, including Shutterfly  and Snapfish
) and use an ultra fine point Sharpie to write a smudge-free note right on the photos.
Indeed, there are many creative ways to incorporate photos into your Father's Day present. With a little imagination and the help of free templates and designs from your favorite photo site, you can easily create a unique gift without any special design skills.