Creating a Memorable Christmas Card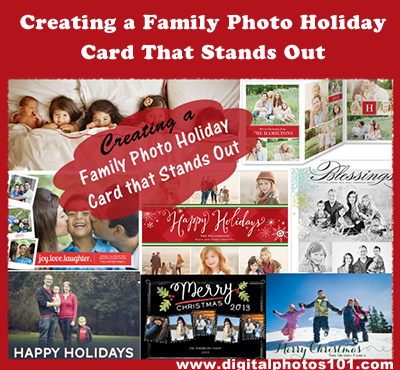 I've heard it said that there are three kinds of Christmas cards: the best ones make it onto the fireplace mantle, the nice-but-not-great ones might be stuck on the fridge, and the rest are piled into a bowl and never get seen again. In my house, it's usually the photo cards that get the prime spot on the mantel. My favorite holiday cards are the ones picturing my friends and their family, and even their fur kids. I think personalized Christmas photo cards make a much better statement and create a deeper connection with your family and friends than the boxed store-bought variety.
Every holiday season do you vow to send out a photo card with your family on the cover only to find that you don't have a great photo of them all together? It's the number one reason why, in spite of the proliferation of digital photos on our phones, Facebook, Instagram, etc., people resort to good old-fashioned, generic store-bought Christmas cards. But if you plan now, this year can be different. How? Plan a Family Photo Day.
Pick Your Card Before Taking Photos
Start Your Holiday Card Right Now.
Play around and browse through some designs now. Click on the blue button right below to start a new card.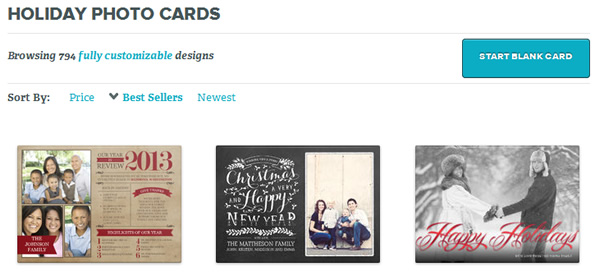 To get ideas on photo backgrounds and composition, scan through some photo card sites and look at their samples. You will find beautiful ideas from professional photographers. It also helps to pick your card first so you can plan the background and outfits that would most complement your card style.
Family Photo Day
A Family Photo Day is, you guessed it, a day when you gather the family at a specified time to take your Christmas card photo. You could make it as simple as corralling everyone in the backyard or making a plan to snap photos at the beach, in a park, or with a backdrop of snow-covered trees if you have early snow. You could even go for a fun photo in the kitchen making cookies with the kids and capture the spontaneity of licking the spoon, rolling dough, etc. If you've got the money, you could also have photos taken by a pro.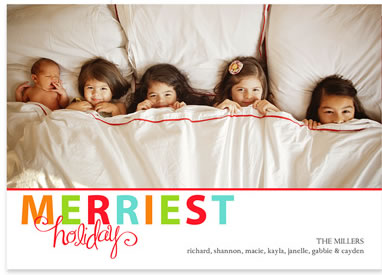 Take Photos Early
The key to pulling it off is to plan it out and take your family picture early. November is a great time, try for no later than mid-November so you are not in a rush to pick your design, order your cards and send them out. Besides, November is the best time to get really great deals from all the online photo services. You should be able to save as much as 40-50%, but you have to be ready to order because the sales usually only last a few days. Be sure to check out my Holiday Card deals page so you can save money. I update the list regularly with the latest coupons.
Wardrobe Suggestions
Don't worry about matching clothes. It can look a little too staged and it's rather dated. Just try to coordinate colors and styles, where they work together but are not all the same. Have everyone wear something they look great in and feel comfortable in (I'm not saying clothes they love because you could end up with one in footsie jammies and another in their favorite worn-out t-shirt!). On the other hand, how cute would it be to have all the kids in their footsie jammies? If coordinating colors is just not working and you're worried about color clashes, think about making a statement in black and white and use a bright splash of color in the card design and text like this one: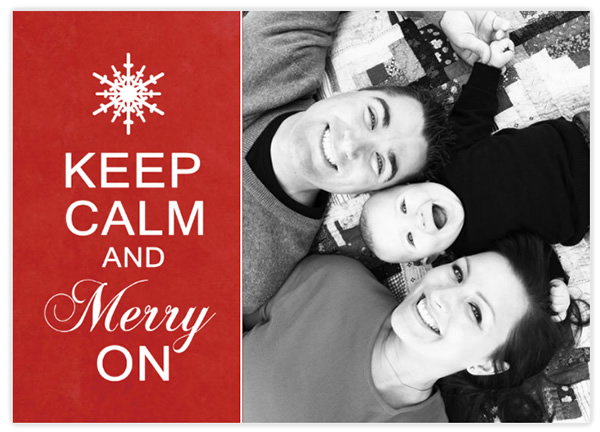 You'll also note from the photo above that you don't need a fancy background. The mom, dad, and baby are laying on a quilt on the floor. You could hang a light, solid-colored sheet if you wanted to create a backdrop.
Take Lots of Photos
You know how it goes, someone has their eyes closed while another child is making a goofy face, or the baby starts crying. The more photos you snap, the better chance you will get several photos to choose from where everyone looks pretty good.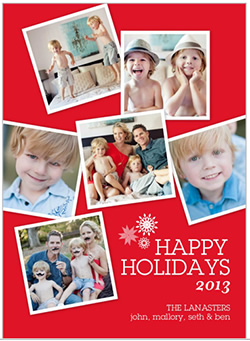 Also, be sure to take some spontaneous moments as well as posed shots. Candid shots speak volumes and who knows, one of them may make it to the cover of your card. I'm thinking of the kids laughing and playing and being in their natural state rather than stiffly posing. In this card sample from Shutterfly
, the kids are jumping on the bed in one scene. I think that's a lot more fun than having every shot posed.
Snap in Natural Light
Shooting outdoors is best, and avoid flash at all costs. You want to have good lighting so your pictures don't look grainy.
Use a Tripod
If you are going to DIY, you will need a tripod or a ledge or something else level to rest the camera on to avoid blur. Then set your camera's self-timer. Or, you could get a friend to come over and help you out. You can reciprocate and help them take their family photo.
Include yourself, too. Often times I receive Christmas cards with photos of the kids, but not the parents. While it's great for your friends and relatives to see pics of your kids, they are your friends or family and want to see you, too. Don't leave yourself out!
What if You Don't Have Kids and Still Want to Send a Photo Card?
Don't be bashful. If you don't have kids, or they're all grown up and you still want to send a photo holiday card, go for it. I have received cards from childless friends with a collage of photos of them in various locales from trips they took during the year. Another idea is to include a photo of you and your significant other and share a favorite holiday recipe or something else. Think outside the box.
Holiday Card Styles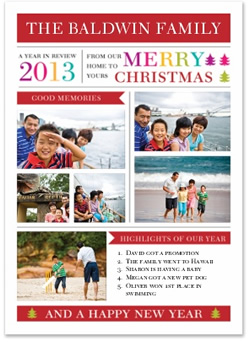 I've got a big post with examples of holiday photo card styles and trends, so I won't repeat it all here. But there are a couple of things I want to highlight:
Trends – Cards are getting more colorful and decorative. In addition to the traditional forest green and deep red, you'll find splashes of lime and raspberry. Glitter is big, and so is pearly-finish paper stock, gold embossing, and rounded corners.
Story Card – These are photo cards with room for a bit of text, so you can add brief highlights. Shutterfly
has some nice designs and so does Snapfish
.
Year in Review – Highlight your favorite or best memories or events of the year. Mixbook has these, as well as Top 10 Moments designs.
Collage – Instead of fretting about getting one perfect shot of the whole family, you could make a photo collage using your favorite pic of each person.
Typography – This can really make a card stand out from the rest. Different fonts, sizes, and colors can really accent a card. While Mixbook already offers a pretty cool selection of cards with interesting typography, their online editor allows you to change the font as well as the size and color so you can get your own unique look. Other card companies usually only let you customize your personal message, not the entire card text.

Adding Your Message
After you've found the perfect photo or photos and picked a card design, the last step is adding your personal message. You can add a simple "happy holidays" or "Merry Christmas,"  or if you chose a "Year in Review" or "Top 10 Moments" style card, have fun with this. Share the big moments but also include some lighthearted ones. Even if you have had a difficult year, try to focus on the positive and how your family came together.
What are you doing to create a mantel-worthy holiday card? Tell me in the comments below.