Photo Books With Lay Flat Pages
Lay flat photo books are becoming mainstream as more and more photo book services come out with this style. It used to be that they were primarily for the wedding album market because they were so monstrously expensive. I love that now there are affordable lay-flat books for all of us. They're a spectacular way to showcase special photos and I especially love them for travel, baby, and wedding books, as well as portfolios.
There are several different styles of lay-flat books, but first I wanted to give you the basic definition. In general, it means that when you open your book the pages lay completely flat, they don't flip back up, the pages don't wrinkle or crease, and most important of all, nothing gets lost in the gutter down the middle. One of the main advantages of lay-flat photo books is that you can spread a photo so it flows across two pages in a panorama. It also means a step up in paper. It's usually thicker and heavier than standard photo book paper, but the firmness and weight vary quite a bit from company to company. Sometimes these books are entirely separate products, other times they can be an option you can add on during the order process.
It can get a bit confusing because there are several book styles that "lay flat."  One isn't necessarily better than the other, because there are so many variables between paper and printing as well as binding among online photo book services. It comes down to what is best for your specific book and your pocketbook. Having said that, there are three main categories
Seamless Lay Flat Binding (gutter-free) – These have facing pages (two-page spreads) that are printed on one continuous sheet, there is no gutter or break in the center. There will be a slight crease in the center because, after all, you need to be able to close the book. The paper weight and thickness vary between photo services.
Hinged Lay Flat Binding – This is a flush mount with a hinge in the binding that enables the pages to lay flat, but there will be a tiny gap in the center, usually about 1/16" and it really doesn't interfere with the spread, other than you may not want to put text right smack in the middle. The paper will be sturdy enough to lay flat and can vary depending on the company.
Flush Mount Album – This is the traditional style used for high-end wedding albums. The images are printed on very high-quality photographic paper and then mounted on super thick mat board and there is a very small gutter, or space down the center, about 1/16". These albums are usually hand bound with leather covers and are so thick there are maybe only 10- 20 pages, not 100. These tend to be extremely expensive ($300 and way up). You can often get upgrades such as silver or gold stamping and gilded edges.
Below is my survey of popular photo book services that offer lay-flat books. While most companies offer multiple sizes, I am using 11×8 (or closest size) for my examples. In this post I am not going to cover the super high-end flush-mounted wedding albums, I will save that for another post.
Product: Premium Lay Flat Classic Landscape 11″x8.5″
Price:  $89.99 for first 20 pages + $1/page for additional pages
Max pages: 99
Sizes: 8.5″x8.5″, 12″x12″, 11″x8.5″ Landscape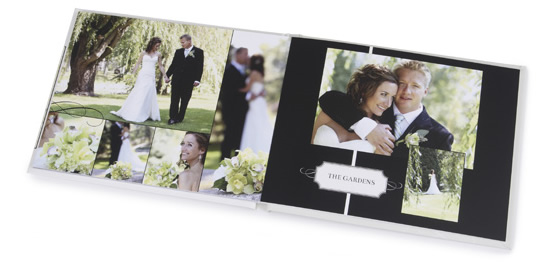 If you're looking for a custom photo book with hard, super thick, sturdy pages, Mixbook is for you. While it's a considerable step up in price (a standard 20-page 11×8.5 book is $34.99 vs $89.99 for lay flat) it is well worth it for a special occasion book. These are true lay-flat pages, where the two-page spreads are printed on one large, continuous sheet so there is absolutely no break in the image. You can put photos, text, or embellishments in the center without losing anything when printed. This is a pretty unique feature offered by just a few companies. Each spread is printed on premium, acid-free and archival paper (65# cover Mohawk Navajo Brilliant white, semi-gloss finish) and mounted on a 12pt board.
This makes the pages very thick: a 20-page book will be  5/8 inch thick and a 50-pager will be a whopping  1 1/8 inches. It's heavy, too!  A 50-page 11×8.5  lay flat book will weigh several pounds (thank goodness shipping is a flat rate and not based on weight!).
The image-wrap hardcover is printed on SoftTouch Matte which has a matte, almost velvety finish. Due to the page style, there are no endpapers. These books come in a nice presentation box. While not cheap, Mixbook's lay flat books are economical alternatives to high-end flush-mount wedding album-style books, which are printed on photo paper and can run hundreds of dollars.
I love Mixbook for many reasons besides their books with hard pages, most especially for the total customization you get with their web-based photo book creator. There are frequent photo book sales that can help with the cost.  I've reviewed all of Mixbook's features here.
Product: Classic Hardcover 8×11 with lay flat upgrade
Price: $69.99 for first 20 pages ($39.99 + $30 upgrade per book for lay-flat pages – the upgrade is $25-50 depending on the book size), $1.00 each extra page
Max pages: 100
Sizes: 8×8, 8×11, 10×10, 12×12, and 11×14
Premium Line with hand-stitched leather cover from $124.99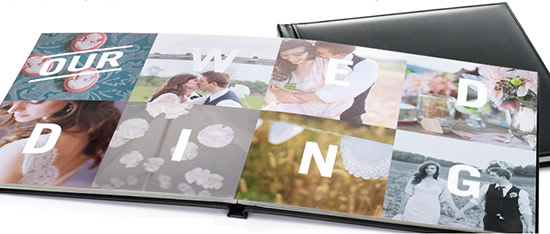 Shutterfly
has two separate lay-flat options. The first is an upgrade to their standard book available through their Custom Path photo book creator, and the second is their Premium line with a genuine leather cover.
During the photobook-making process, you can add lay flat pages as an optional extra for a flat rate of $25-50, depending on book size.  The paper is described on their site as "double thick, premium professional-grade paper with a satin finish" and is seamless across the pages. The pages are thick and firm but they do have some give. Customers say they appear to be of higher print quality than the standard books; you don't see the dots and the images reproduce nicely with vivid color.  There is no gutter in the center so you can span an image across two pages without losing any portion of the image. Shutterfly recently improved its photo book-making software to make it easier to span images. The cover is the standard glossy hardcover with image wrap.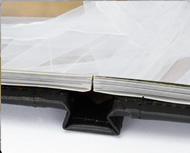 Shutterfly also has a line of premium photo books
that come with lay-flat binding, as well as a hand-stitched genuine leather cover, starting at $124.99 for the first 20 pages. These impressive books are assembled by hand and are perfect for weddings, portfolios, and special occasions.
You can read more about Shutterfly's photo books
and Custom Path book creator in my detailed review.

Product: Classic Hardcover 9×11 with Lay Flat pages
Price: $69.99 for the first 20 pages,  $1.00 for each extra page
Max pages: 90
Sizes: 8×8, 8×11, 11×9, 12×12, 14×11
Free shipping on all products
Prestige Line available with lay-flat pages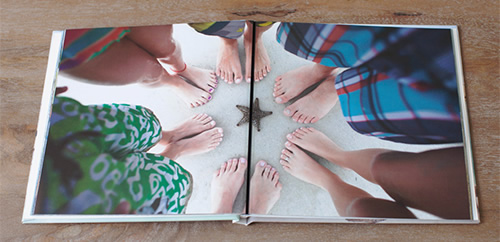 Picaboo has hinged lay flat photo books plus a line of high-end Prestige books
Picaboo has a Classic line and a high-end Prestige line and both offer lay-flat photo books. The paper includes an integrated, flexible hinge that allows your book to lay flat. There will be a very narrow gutter. You can add the lay flat option to your Classic book after you choose a book size. Picaboo uses heavy-weight, glossy paper described as 100-lb, archival-quality, acid-free text stock.
The Prestige line is meant for really special books, such as wedding albums or portfolios. The Madison style is an intermediate product printed on a heavyweight museum quality page with lay-flat pages, starting at $199.99 for an 11 x 9 20-page book; $2.00 for each additional page.
Picaboo also offers high-end, flush mount lay flat albums that are bound on the edge of each page so there is no gutter. They are "hand mounted on thick gilded masonite board printed on Kodak Endura paper" and start at $399.99 for an 11 x 9 book and $10.00 for each additional page.
Picaboo is now offering free standard shipping on all its products, which translates into nice savings. They also offer frequent sales of their photo books. You can read my full review of Picaboo here.


Product: Standard Custom Hardcover 8×11 with Lay Flat upgrade
Price: $69.99 for the first 20 pages,  $1.00 for each extra page
Max pages: 90
Sizes: 8×11, 11×14
Product: Premier Lay Flat 8×11
Price: $69.99 for the first 20 pages,  $1.00 for each extra page
Max pages: 100
Sizes: 8×8, 8×11, 12×12, 11×14

Snapfish
is a newer entry into the lay flat photo book arena. They offer two different lay flat products and they are quite different. The Standard Custom books are offered with optional lay-flat binding. They are hinged papers so you will see a slight break down the center, but they are still great for a two-page spread. The paper is 100 lb. Snapfish has upgraded its book-making software to make it easy to span an image across two pages.
The new Premier lay flat book
has extra thick, premium paper and a matte photo paper cover. They're printed on continuous sheets, so the spread is seamless without a gutter in the center. The pages are printed on premium heavyweight paper with a luster silk finish. This offers super-saturated color, so images will be really vivid. The matte photo cover doesn't have a bar code on the back, which is great if you are making a wedding book.
Product: 8×10 hardcover photo book
Price: $56.95 for 26 pages
Max pages: 76
Sizes: 6×4.5, 6×6, 6×7.5, 6×9, 8×6, 8×8, 8×10, 8×12, 10×12.5, 10×10, 12×15, 12×6, 12×9, 12×12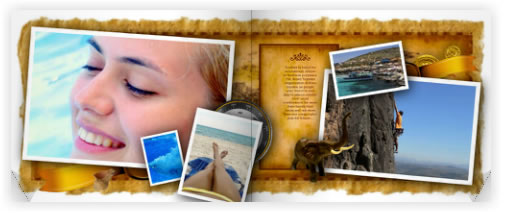 Printique is a higher-end photo book maker. All their books are printed on real photographic silver-halide paper with a lustre finish, which offers brilliant saturated color and natural skin tones. There is also an option for fingerprint-resistant HD Glossy Album Paper. All their books come with gutter-free lay flat pages using a Leporello binding system, which is an accordion-like binding. Each spread is a single continuous sheet of archival photo paper, it does not use two separate pages with a hinge.
Printiques's online book creator software makes it very easy to make an image span two pages. The pages are nice and stiff with a bit of heft to them, and your book will be nearly twice as thick as a standard book. The logo is printed on the inside of the back cover, leaving the outside of the back free for your photo.
These are very high-quality books using real photo paper (most standard companies don't use real photographic paper) so your images will more closely match the originals;  colors will be vivid and pages have that beautiful photographic gloss.  These books are ideal for wedding books and panorama scenic shots. Leather cover books are also available, in addition to optional cover stamping in gold or silver foil. Read my experience with Printique here.
How to Get the Best Deal on Photo Book Printing
Lay-flat photo books are definitely more expensive but can be well worth the extra cost. The good thing is all of these online photo services have frequent sales, so you should be able to save some money, at least 15%.  To help you save money and get the best photo book price possible, I track and post all the sales and promos I can find, including coupon codes, on my photo deals page. Be sure to bookmark it so you can check the latest offers when you're making your next book.