My husband and I find ourselves talking about our dog Toby more than ever these days, especially with staying closer to home. We're laughing over his silliness, snapping more photos and videos of him, and taking him for longer walks. Of course, he's lapping up all the extra attention. He's such a ham, we decided to print one of our favorite photos of him on canvas. A pet portrait that we can put on our wall where we can see it every day and smile.
You don't need to have a professional pet portrait taken to make a beautiful canvas print. In fact, it seems to me that the photos we take of our pets ourselves are often the best ones. We're right there on the spot to capture something especially cute or fun. I don't know about you, but our dog Toby seems to know what the camera is all about and he's quite cooperative (usually!) when we try to snap his pic.
Where I Made My Pet Portrait Canvas Print
While I've created canvas prints at various photo printing companies, I chose CanvasPrints.com for my dog portrait. Canvasprints.com offers pet portraits on canvas as one of their specialties. I really like that everything is sourced and produced in the USA, including the cotton canvas blend, waterproof UV inks, handmade frames, and the printing process itself. They also offer a 100% money-back guarantee. Best of all, their inks really saturate the canvas. My dog portrait came out with extremely rich colors; it almost looks like an oil painting on canvas.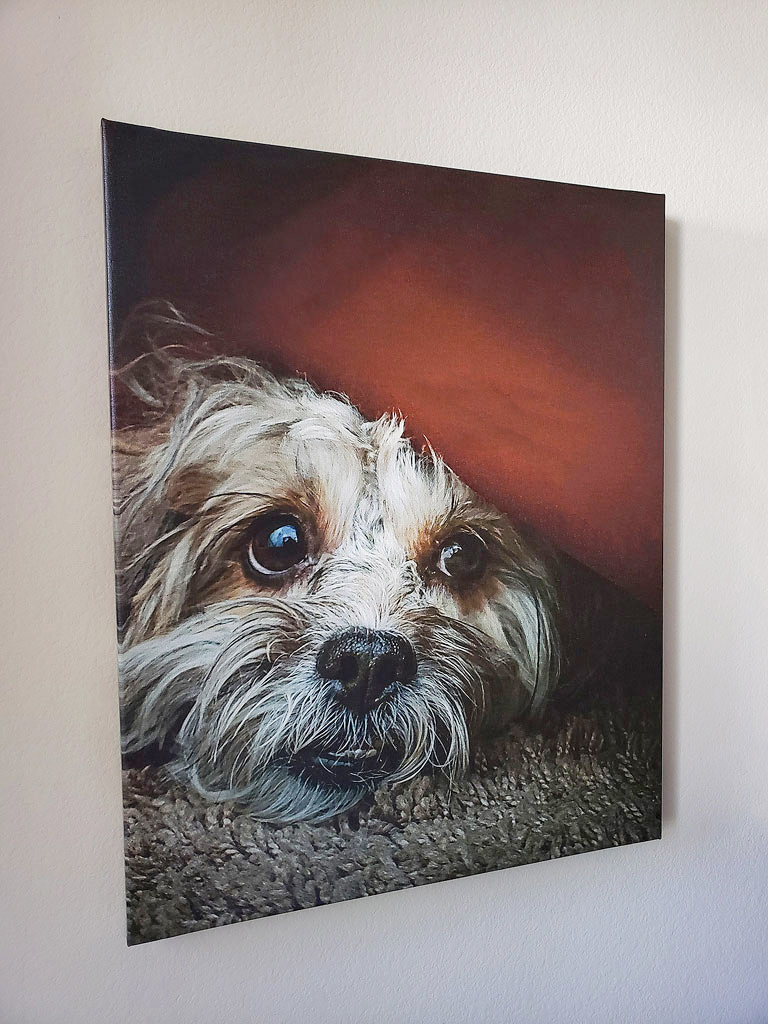 Tips for Taking the Best Pet Portrait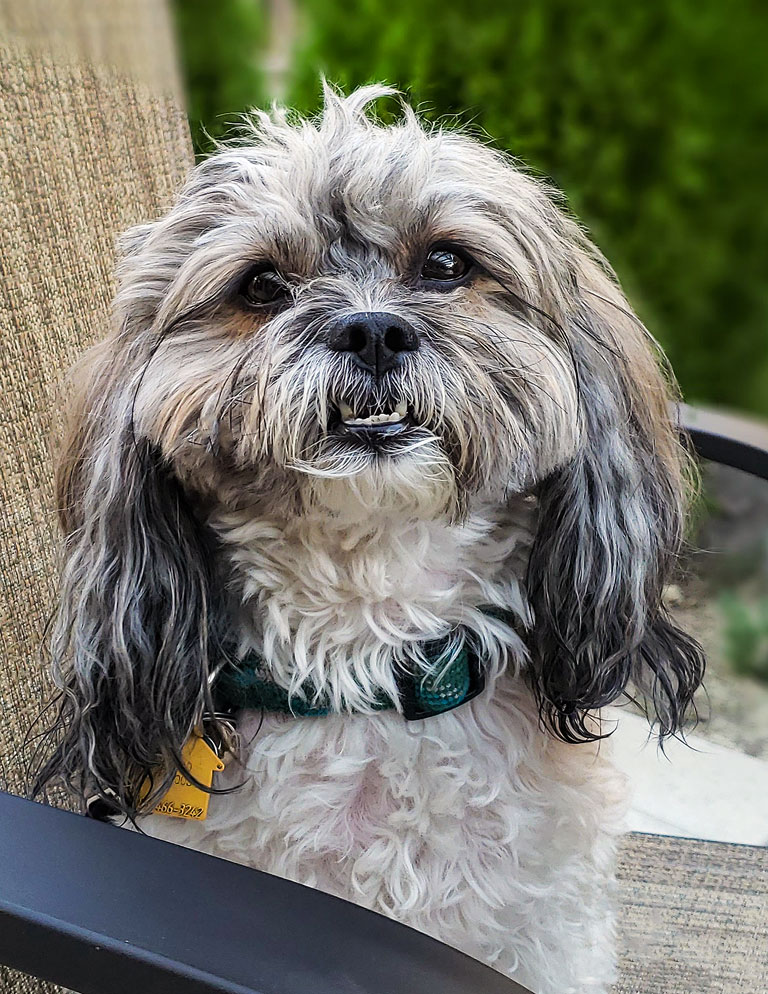 Your pet portrait on canvas all starts with taking a really good photo. You don't need a special high-end camera or DSLR, you can take a great photo with your smartphone camera. But you want to make sure the image is sharp, you have enough light and you get close enough.
Use Natural Light – Whatever you do, please don't use flash because it can cause terrible red-eye or yellow-eye or some other weird color in dogs and cats. It can be hard to fix in editing. Also, the flash may scare your pet. If you're outside, move so the sun is behind your back. This will help avoid glare or deep shadows across your pet's face.
Focus on the Eyes – Looking into Toby's eyes just melts my heart. They're so soft and warm and loving. So you'll want to make sure you clearly capture your pet's expressive eyes. Focus on their eyes with your camera lens and you will be able to keep them sharp.
Move in Close – Get down on your pet's eye level. Lay down on the floor on your stomach if you have to. You're putting your pet's portrait on canvas, so you want him or her up close and personal. Get in tight and take your photos from his eye level. Try different angles and compositions.
Shoot in burst mode if you can – This will give you multiple shots to choose from, which can be helpful if you have a fast-moving dog or cat.
Have Treats Ready – Like most dogs, Toby will do anything for treats. If you're trying to keep your pet in one place or look in a certain direction, treats will definitely help. It also helps if you can have a spouse, child, or friend to help you either give them a treat or call to them to get their attention.
Use the highest possible resolution – This is important so your canvas print comes out looking sharp instead of soft. To know what image size you need, you would multiply the dimensions of the print size you want by 300 to get the pixels per inch. So if you're planning on making a large canvas, say 16×20: (16in x 300 = 4800) x (20in x 300 = 6000). If you pay attention to the bolded numbers 4800 x 6000, look at the image information for your photo and make sure it's at least 4800px by 6000px and you'll be ok.
Unplanned Shots Are Often the Best
Sometimes the best pet photo is taken spontaneously, it's not planned at all. In fact, the photo I used for my canvas print is one that I took on the spur of the moment. Toby was hiding under the bed and all of a sudden he poked his head out and looked so darned adorable, I grabbed my smartphone and got off a shot. It was as if he were posing for me! My husband and I just love the photo.
Creating Your Canvas Print
Now that you've captured your pet photo, spend a few minutes editing it in your favorite software. I use Adobe Lightroom. Be sure to crop out any distractions and make any general enhancements to the exposure, contrast, etc. as needed. Then you're ready to get your canvas print made. It's super simple, you just choose the size, upload your photo, and reposition it exactly the way you want it.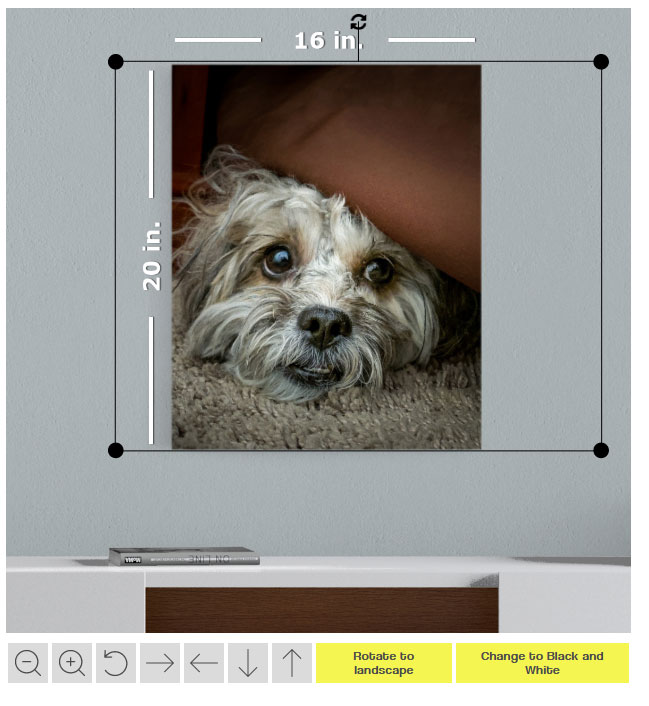 My wall art from Canvasprints.com was the first print I've received that uses additional wood support across the back of the frame for extra reinforcement.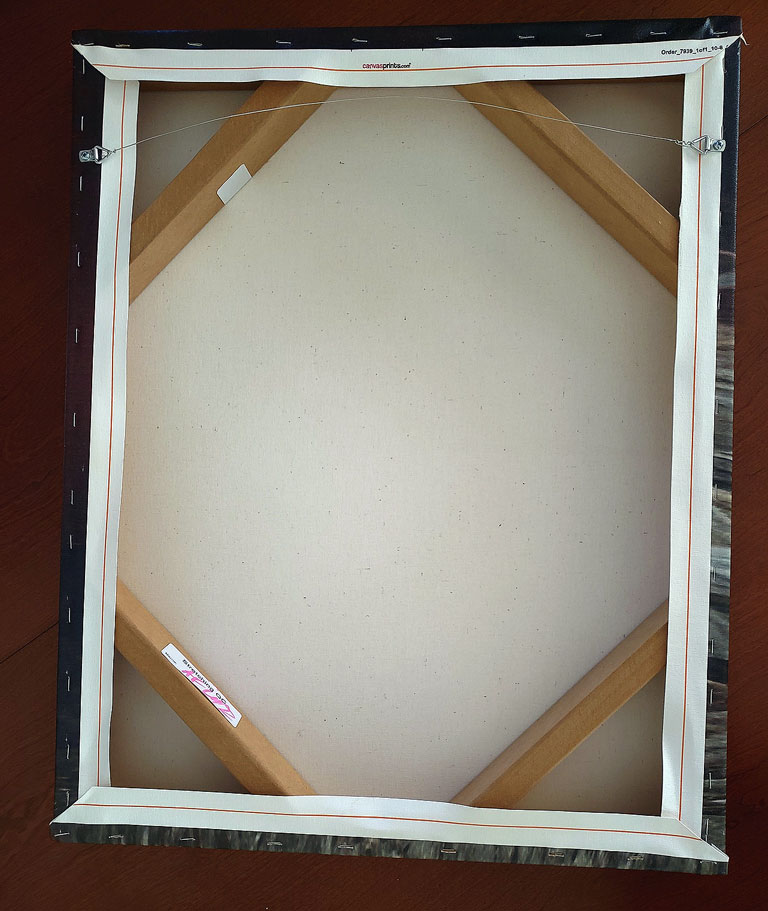 The company offers a variety of border types – blurred, mirror image, color, and either .75-inch or 1.5-inch canvas depth. All prints come with pre-installed hanging hardware and you can upgrade to a premium hanging kit. Pros (or anyone for that matter) can request a digital proof. I got the standard blurred edges and I liked the subtle effect. I also think canvas prints look better with the bigger canvas depth, so I'm glad I got the 1.5-inch depth. Their prices are competitive and the turnaround was very fast, in a little over a week.
On the CanvasPrints.com website you can choose from popular canvas sizes from 8×8 up to 40×40 or use your own custom dimensions. Sometimes it's hard to know how big of a print you can make from your photo, but the company's online customization tool will recommend the best size for the image you've uploaded. Just remember what I said earlier: the bigger the canvas print, the higher resolution or number of pixels you will need in order to get a sharp print.
I hope these tips help you get a great portrait of your pet that you can print on canvas.
Recent Posts:
To help defray my website operating costs I belong to several affiliate programs. In some instances, I may receive a small commission for products viewed or purchased via my referral. Opinions are solely my own and I try my best to write honest reviews and only recommend products I would use myself.