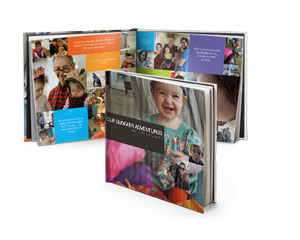 Snapfish has introduced some interesting new features lately, among them SocialPics Books using your Facebook Timeline. If you are a big Facebook user, you will probably like this.
You just connect to Facebook via Snapfish's SocialPics Book feature (it is not an app), then select a date range. Snapfish will automatically get the most popular photos, updates and comments and fashion them into a 20-page photo book. You can go through your book and remove or reorder anything as you want.
For trying it out, Snapfish is offering Get Free Shipping on the new SocialPics photo book

If you want to learn more, take a look at this brief video to see how it works.
Snapfish has introduced a number of other new features lately. Here are highlights:
Layflat Photo Books – They are now offering premium 11″ x 14″ Lay-flat Photo Books. The larger size and lay-flat binding can accommodate up to 90 pages and are perfect for showing off weddings, favorite vacations, and even personalized recipe books.
Martha Stewart CraftStudio app for iPad – If you enjoy paper crafts you might like this. Download the free app and use the all the one-of-a-kind creative scrapbooking tools. You can embellish photos and design custom art with themes, stamps, stickers, and more. Fort example, you can layer paper, punch designs, add glitter, etc. When you are done, upload your creations to Snapfish into a special crafts folder and you can make unique cards and invitations.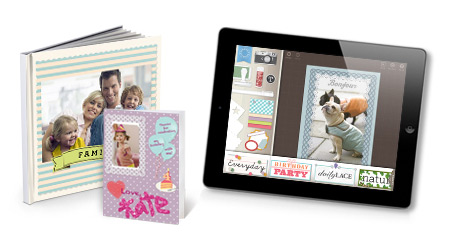 Photobook Design Service – I haven't seen Snapfish talk this up much, but it is an interesting idea and one I tried with Smilebooks, and I was very happy with my book. Snapfish has a team of professional designers to create your book for you, if you are feeling a bit creatively challenged. You select a photo book size, type, number of pages, and background theme. The you select the photos you want to include and list any special instructions. A Snapfish designer will create your book and email you a link within three business days. You review the book, give feedback and add text and titles as desired. They will make the changes and send you an updated book. You can repeat the process until you are satisfied.  The design service fee starts at $20 and you don't pay unless or until you are happy with your book. Sounds like a win-win to me.