More and more we are relying on our phones instead of cameras to take pictures. Smart phones are great, but the cameras are still somewhat limited and often times you are going to want to tweak the color or exposure or other aspects of the images before you share your pictures.
For making fast and easy automatic corrections to fix faded color, poor exposure or  white balance or unwanted tints and have your photos come out looking great, Athentech Imaging's new Perfectly Clear for  Android  app  is one you will want to download.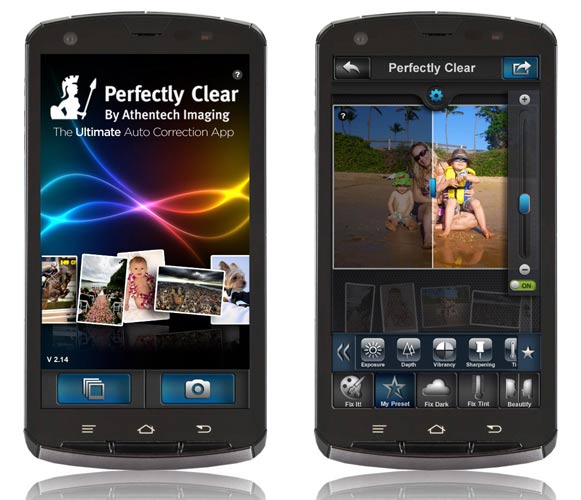 The app for image processing from your smart phone or tablet has a new interface from the previously released iPhone and iPad version with an improved workflow and faster processing. The icons are large and easy to read and the app works in the portrait as well as the landscape mode.
One Touch Auto-Correction
After launching the app, you open the picture or pictures you want to improve. With the tap of one button  Perfectly Clear will automatically correct your image in a few seconds. There is a sliding window that lets you view your original and corrected version. You can also slide open the Corrections tray to make additional, individual corrections, though usually the default pre-set does the trick.
Presets
There are five pre-sets available, four are pre-defined and one customizable:
Fix – The default preset which will correct images in one step.
Fix Dark – Used to correct dark or poorly lit images, which is a big help for camera phone photos taken without a flash.
Fix Tint – gets rid of unwanted tints such as a blue or yellow cast
Beautify –this  enhancement set is available as a separate in-app purchase for 99 cents and with this you can make adjustments including  teeth whitening, eye enhancement, eye enlargement and skin smoothing.
There is also a preset called "My" where you can set your personal preferences using intuitive sliders.
Corrections
The main Fix preset will apply  a series of automatic corrections to your image, including adjustments to the exposure, color vibrancy, tint removal to get rid of color casts, depth/contrast to make images look more three-dimensional, sharpening, skin tone, and red-eye removal and dynamic range. The one thing that is missing that would be helpful, however, is the ability to zoom in on an image during the editing process so you can more closely see your corrections.
The app offers multiple-photo workflow which allows you to load a group of images for correction. After you are done with the first image, you select the next image and then apply the pre-set or other corrections.
When you are done editing, you can save your corrected image and change the size of the photo using the settings wheel. The plug-in has a variety of share options which you can access via the share icon. You can export your photos direction to Facebook, Twitter or email.
Note that what you are getting with Perfectly Clear is easy auto-correction to make your photos look better; there are lots of other apps that offer tools like special filters and effects. The app  is available for download at the introductory price of 99 cents through August 31; the regular price will be $1.99 which I think is still a bargain for all it can do.
Other Perfectly Clear Products
I've been using Perfectly Clear's Photoshop plug-in, which is a huge time-saver, for several years. In addition to that and the new Android version, Athentech also offers apps for the iPhone, iPad, a Photoshop Lightroom plugin, and they have a standalone product currently in beta. You can check out all of the Perfectly Clear products here. Free trials are available for all except the apps.