After a summer filled with vacations, family gatherings, days at the beach and more, you have probably accumulated a lot of photos, sitting there, ready for something to be done with them. You have a lot of flexibility these days for printing your digital photos. Perhaps the fastest and easiest is printing them at home on your own printer. You can also take in your SD card to a retail store or photo kiosk and get your photos printed while you wait, or you can upload your photos to an online photo service such as Shutterfly or Snapfish and either have your prints mailed to you or pick them up at a retail partner. Let's look at how each of these methods work, including the pros and cons.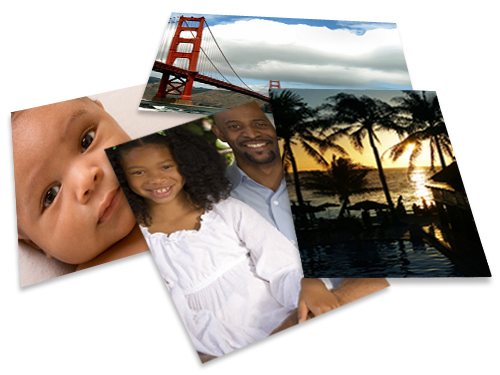 Printing photos on your home printer
If you are in a rush, this is a good bet. You can either print from your computer or in many cases you don't even need a PC and you can print directly from your printer. You can make minor photo edits on your printer without using your PC, or of course you can make major edits using your own photo editing software. Printing at home works best if you only have a few photos to print, not your 500 vacation photos, because printers suck up ink like you wouldn't believe. We all know it can get awfully expensive to constantly have to replace ink cartridges. Further, you are usually limited to printing 4×6 prints and perhaps 5×7 pr 8×10 depending on your printer. Printing at home tends to be the most expensive option.
Getting Prints Made at a Retail Outlet or Photo Kiosk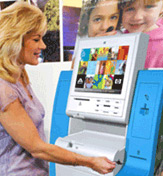 Lately there have been many improvements to the photo options at retail outlets such as Target, Walgreens, Walmart Photo Center  and CVS. In many stores you can use a touch-screen photo kiosk to upload your photos from your SD card, make edits and order prints and gifts. In some cases prints will be spit out directly from the machine, in other instances prints are available in as little as an hour from the photo service department, even photo gifts like calendars and albums are often available for same-day pick-up.
Using a kiosk works well if you have the time and patience to go through the process and don't have hundreds of prints to make.
Some people simply drop off their photo card at the photo service desk to have prints make. You won't be able to do any cropping or special effects in this case, although the store's photo  software will make automatic corrections to improve color and exposure. If the retailer offers special photo products such as canvas prints, enlargements or collage, it can be a good choice. You can either wait for your order if you have shopping to do or you can drop off your order and pick up your prints or gifts another day.
There is yet another retail store option. Many drugstores such as CVS, Target and Walgreens have online photo services where you can upload your photos from your home computer, edit them and place your order for in-store pickup. The cost per standard print from a retailer typically ranges from about 19-29 cents for each 4×6 print. Read more about online photo companies below.
Order Your Prints From an Online Photo Printing Service
Ordering online from companies like Snapfish.com
and Shutterfly.com
offers the most flexibility and is ideal when you have a large number of prints to make. The per print cost is generally less than via retail stores. You never even have to leave the house; you upload your photos from your computer to the company's website, where they are stored in your free password-protected account.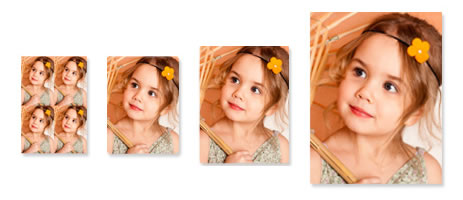 Before uploading your images you can edit and enhance them as you wish using your photo editing software. You can also make basic edits such as crop, red-eye removal, enhance the color and contrast, rotate and flip, and add captions or decorative borders. Online services often automatically correct for color and exposure to your photo order even if you don't make individual corrections. You can choose to turn this off if you made your own edits.
There are lots of options for print sizes, ranging from the standard 4×6, 5×7 and 8×10 to wallet-size , large format prints and collage posters. You also have a choice of glossy or matte prints.
Delivery Options
You get the added convenience of having your pictures delivered to your doorstep, or, in some cases, you can upload them to the online service and pick them up in as a little as an hour or the next day at a retail partner store. For example, Snapfish has several partnerships with local retailers, so you can order your prints online and then pick them up at Walmart, Walgreens, Duanereade or Meijer. Shutterfly has a similar partnership with Walgreens, Target and CVS.  At the online Walmart Photo Center you can order online and pick up in the store as well. With in-store pickup all service may not be available, such as back-of-print messages and matte finish.
To make matters more confusing, in addition to the online retailer partnerships, the retailers themselves frequently have their own full-service photo center (think Walmart, CVS, Walgreens) on their own website.
Photo Gifts
Ordering online is also the way to go if you want to make photo gifts such as photo cards, coffee mugs, photo books, calendars, posters, notebooks, stationery, puzzles, t-shirts, playing cards, mouse pads and a myriad of other photo gifts. Using the service's web-based software you can place your favorite photos into a choice of templates for the gift you want to make and customize it.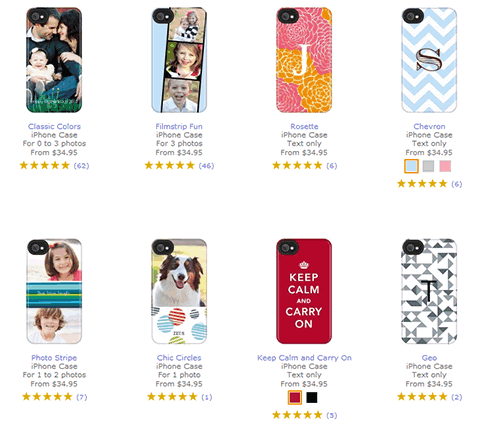 Cost Savings
It can also be quite a bit cheaper to use an online photo company. For example, Snapfish charges 9 cents per 4×6 print and at Shutterfly standard prints cost 15 cents. Both companies offer frequent sales and free  prints for new members. The downside is that you will pay a shipping charge.  If you choose the in-store pick-up at a local retailer option, you will avoid the shipping fee but pay a higher print cost, but the price is still competitive. For instance, you can order online at Snapfish and pick up your prints at Walmart Photo Center for 13 cents each, or 19 cents at Walgreens. With the holiday season coming, there will be a gazillion promotions offered by online services and you can definitely get some great discounts.
With all these options, there is no excuse to let your memories linger forgotten in some file on your computer. Go on now, get them printed.