Making a family tree/family history photo book is a big challenge, but it's certainly rewarding when you get to share it with your family. A lot goes into the process. You have to contact family members, collect photos and stories, scan pictures, and perhaps the biggest challenge of all, try to repair or restore old damaged photos.
When creating my own genealogy album, the most tedious and time-consuming task was restoring and repairing damaged family photos. Some had really weird color casts, and several black and white pictures of my grandparents were torn or had parts missing. I managed to do a decent job in Photoshop, but it wasn't an easy task. Unless you've taken a course in photo restoration (I did, but I'm no expert) and have advanced Photoshop skills, repairing damaged photos probably isn't a DIY.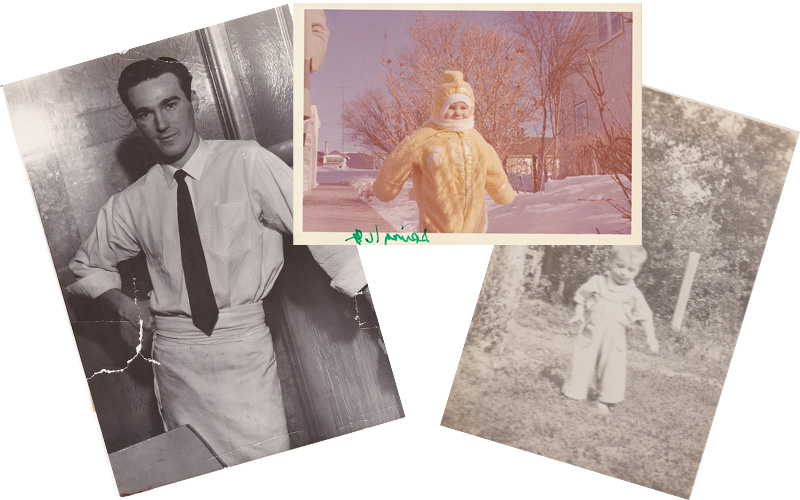 Benefits of Using a Photo Restoration Service
In the past, you could go to your local photo store or even the photo department of a big box store and drop off your images that needed repair. But it's become harder and harder to find local photo places that will do the work. Luckily there are online photo restoration services that can do the job. Recently I learned about PhotoRepairPro.com, a 13-year-old company based in Hollywood CA that provided photo repair services to major warehouse membership clubs. Now Photo Repair Pro has its own online photo restoration studio, direct to consumers. 
Simple Flat Rate Pricing
For a flat rate of $39.99 ($34.99 sale price thru 5/31/21), they'll do all the restoration for you, no matter how complex. Basically, the only thing they can't do is make a badly out-of-focus image miraculously become tack-sharp, though they say they can improve it.
After comparing their services with several other online photo repair companies, I found that Photo Repair Pro offers a pretty good deal. Most companies charge up to $50 and even $79 per image for complex repairs. Others only do restoration, they won't do retouching like blemish removal.
Repairing, Restoring, Color Correcting, Retouching and More
Repairing rips, tears, and creases, restoring a fading photo, color correction, colorizing a black and white photo, reconstructing detail, and recreating missing pixels are common tasks they can handle. Photo Repair Pro also does retouching such as removing blemishes and smoothing wrinkles on portraits. Plus they can change backgrounds and remove unwanted objects. Another service they offer, which I think is quite nice, is recreating snapshots into portraits for a memorial service or home display.
Looking at their before/after examples, it's pretty amazing what they can do. Here are a few samples from their website: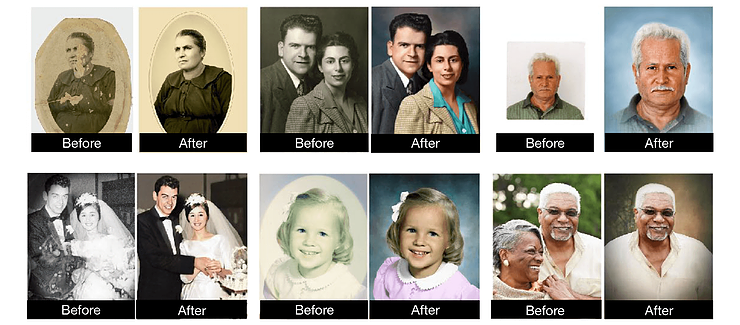 It looks like a great option for affordable photo repair. I wish I'd known about Photo Repair Pro sooner. The flat rate of $39.99 gets you the photo restoration, an online proof, a JPEG download link within 7 business days, two 5×7 glossy prints, plus free worldwide shipping. If you have a whole shoebox of old photos that are in bad shape, yes, it will be pricey. But if you're making a family heritage album, you really only need to include the most important photos, not the "kitchen sink." So you may only need to have a small number of key photos professionally restored.
If you have moderate Photoshop or Lightroom skills, you can use the software to fix images with mild fading or discoloration yourself. Some home photo scanners like the Epson Perfection V39 Color Photo Scanner will even auto-correct faded images and remove dust specks as images are scanned.
Scan and Upload JPG Photos for Repair
Like most online restoration services, PhotoRepairPro.com has you upload digital JPEG images to their website. You can get the JPEGS from paper prints in several ways, either by scanning or taking pictures of them. If you haven't scanned photos before, it's really fairly easy.
Here are the options Photo Repair Pro recommends:
Scan your photos with your home scanner, such as the one that comes with an all-in-one printer.
Take a picture of your old photo using the camera on your cellphone. Set up in a well-lit spot with natural light (no direct sunlight). Be sure to turn the flash off so you don't have any glare, and fill the frame with the image.
A great alternative and perhaps the best option is to scan your photo with an app. For prints, try Google Scan. It's free and it boasts automatic edge detection, perspective correction, and smart rotation. If you have slides, give Slide Scan a shot. Finally, for film try Film Box. All three apps are available in Google Play and the App Store.
PhotoRepairPro.com has more tips on their website.
Bottom line: Photo Repair Service or DIY
You have to judge whether you have the time and skill to DIY vs. using a company like Photo Repair Pro to fix your photos. For me, while I do have some knowledge of the process, having a pro handle to tough ones is a no-brainer. For me it's definitely worth the cost vs the time I'd have to spend.
To help defray my website operating costs I belong to several affiliate programs. In some instances, I may receive a small commission for products viewed or purchased via my referral. Opinions are solely my own and I try my best to write honest reviews and only recommend products I would use myself.