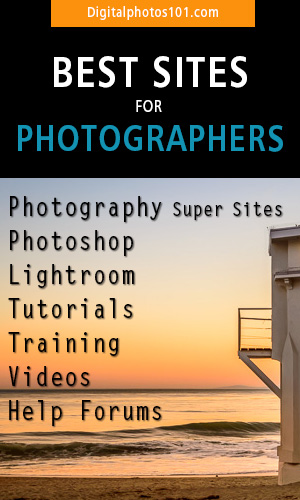 –UPDATE Nov 15, 2018 –I've received so many great suggestions for additional resources, especially for books (thanks everyone!), that I've broken my list into separate pages. In all I've got  300+ great links for you! You'll find all the  Adobe Lightroom books here and Photoshop books here. There's also a page dedicated to general Photography books here. And I've got a big new page with everything related to Lightroom.

If you're into digital photography, you know it's a continual learning process. You're always looking for ways to improve your photography and post-processing skills.  So I've been scouring the internet, including forums and discussion groups, to find the answer to this burning question: what are the best photography links on the web? And I've uncovered some amazing sites to help you expand your skill set, whether you're just starting out or a serious enthusiast.
You'll find great Photography sites as well as the best ones for Photoshop and Lightroom including tips, tutorials and paid training. YouTube is another excellent resource, so I've  included top channels. Don't miss the forums and discussion groups because these are also good places to learn, ask questions and get help.
There are tons of great sites here and most of these resources are free (and the paid ones are well worth the small cost), so now's the time for you to take your photography and post-processing skills to the next level.
So, here's my list, in alphabetical order within each section. Did I miss a great site? Please tell me about it in the comments so I  can check it out.
Photography Super Sites
Amateur Photographer – U.K.-based site with tips and techniques, reviews, forums, interviews, shooting guides, and buying advice. There's also a good technical help chat in the forum.
Aperture – Venerable multi-platform  publisher and photographer's community whose founders include Ansel Adams. There's a blog, gallery, traveling exhibitions, workshops, talks, youth programs and internships, all geared to learning and supporting photography.
Cambridge in Colour -Sean McHugh's excellent online learning, reference-style site, plus interactive visual tutorials and forums. Want to know all about the color of light or need a focal length calculator, this is the place.
Digital Camera World Detailed how-to articles, gear reviews, tips and techniques, and lots of handy photography cheat sheets.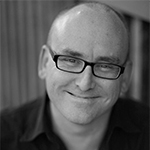 Digital Photography School – Darren Rowse's very popular site is loaded with tips, techniques, and tutorials to help photographers of all levels improve their photography and post processing skills. Plus it's got a busy forum. This is one of my main go-to sites.
F-stoppers – Patrick Hall and Lee Morris started this community. You'll find tons of tutorials on photographic and lighting techniques, post production, gear reviews.
Luminous Landscape – Michael Reichmann, Kevin Raber and Chris Sanderson's site.   In-depth essays, "rantatorials," tutorials and reviews. Plus amazing images.
Outdoor Photographer – Online magazine about outdoor photography, from wildlife to sports and travel. You'll find articles on techniques, equipment and reader's input on their favorite photography locales. And, of course, stunning images from renowned photographers like David Muench and Frans Lanting.
PopPhoto – Jammed with how-to's on lighting, shooting, processing,  plus gear reviews and extensive buying guides. A terrific all-around photography site.

Photography Talk – Huge photographers community founded by Alex Schult with 2.4 million subscribers, dedicated to helping people become better photographers. More than 3700 articles plus video tutorials from experts, photo gallery and video interviews, forums, and  an excellent newsletter. Google+ even put the site on their Suggested User List. Basic membership is free; 2 premium options get you unlimited photo uploads and albums, 250-350+ premium lessons, Photoshop and Lightroom lessons, e-books and other perks.
SLR Lounge – A must-visit for its articles, news, photography, Photoshop and Lightroom training, videos, gear reviews, forums, photo critiques.
500px – Photography community with stunningly beautiful images. Showcase your own or admire other people's photos.
Photoshop & Lightroom Training
Photoshop
Adobe TV – You'll find hundreds of excellent videos, especially for beginners, all free. Many are by Julieann Kost, the Adobe Evangelist for Photoshop and Lightroom, and a superb teacher.
Craftsy – Offers a nice selection of reasonably priced photography courses for all levels including landscape, portraits, wedding, lighting techniques, dogs, flowers and wildlife.  Also several Photoshop and Lightroom courses that are good for beginners.
CreativeLive.com has a huge offering of Photography, Photoshop and Lightroom courses by well-known pro photographers. Take them free when they're live or buy them later.
KelbyOne – Scott Kelby's premium training site for Photography, Lightroom, Photoshop, and more, taught by some of the best pro photographers in the world (including himself). Well worth the membership and you'll love the easy-going,"plain English" teaching style.

Julieanne Kost – Julieanne is Adobe's Principal Digital Imaging Evangelist for Lightroom and Photoshop so you know you're learning from the best. She's great at explaining complex things in a way that you can easily "get it." Get more training on her Adobe blog.
Lynda.com – World class instructors, 368 Photoshop courses,  72 Lightroom and 501 photography courses to keep you busy. Many free videos plus paid training from $25/mo.
Mark S. Johnson Photography – Great  learning site with hundreds of in-depth Photoshop and Lightroom video lessons by Mark Johnson and David Marx. Free tutorials and premium membership ($39.95/yr) plus books and DVDS.

Phlearn – Aaron Nace's site with premium lessons and free videos, all made fun to watch by Aaron's outgoing personality. One of THE places to learn Photoshop and advance your skills. The premium tutorials are well worth it. They're extremely in-depth and detailed and easy to follow.

PhotoshopCafe – One of the world's most popular Photoshop (and Lightroom) resource sites, run by Colin Smith. Free tutorials, premium training, reviews, forum and more.
Photoshop Essentials – I love this site for the detailed, step-by-step lessons. It's especially good for beginners. 1000's of free and paid tutorials.
Kelby One Webcasts – Scott Kelby's weekly show with tips and tutorials with Scott,  Corey Barker, Pete Collins, and RC Concepcion.
Photo Tuts+ – This network of tutorial sites covers lighting, composition, retouching, post-processing and everything else photography related… almost 20,000 tutorials!
Planet Photoshop – Another of Scott Kelby's sites. Wonderfully detailed tutorials, tips, effects, and videos geared to Photoshop for photographers.
2 Minute Design – Most of these tutorials are two minutes or less. Short and to the point yet engaging and informative.
Lightroom

Cole's Classroom – Cole Joseph's 8-hour video series gives you an in-depth look at Lightroom. He's easy to follow and gives you images to edit.  He's got lots of free tutorials too.

George Jardine on Adobe Photoshop, Lightroom and Photography – George played a leading role on the development team for Adobe Lightroom and was the first Pro Photography Evangelist for Lightroom. His premium video workshops are exceptional (get a free sampling here) and he leads awesome small-group photographic tours to exotic locales. Want to shoot black lava beaches in Iceland, he's your guy.

Laura Shoe's Lightroom – Laura's blog has tutorials, tips, videos, and training. She's got a great teaching style and her tutorials are very detailed. Her "Fundamentals and Beyond" course is 12.5 hours of training, so you get a lot of bang for your bucks.
Lightroom Killer Tips  Photoshop/Lightroom guru Scott Kelby of KelbyOne.com gives you daily Lightroom tips/tutorials. It's one of my regular go-to sites to learn new things. Or re-learn what I forgot.

Lightroom Queen – Brand new to Lightroom? Go to Victoria Bampton's site and download her free Lightroom 5 Quickstart Guide. You'll be up and running in nothing flat. Victoria also runs the Lightroom Forums and there's pretty much nothing she doesn't know about Lightroom. Check out her book, too, filled with tips and tricks.
Lightroom Secrets – Photographer Gene McCullagh, an Adobe Certified Expert in Photoshop Lightroom, runs this site. You'll find tips, tutorials and news and occasionally articles on photography as well.
Lightroom Solutions – John Beardsworth's site is filled with news, articles and blog posts to help you use Lightroom more efficiently.
Blogs
Canon Rumors – Latest news and reviews on Canon cameras and lenses plus forum, and gear deals.
David duChemin – A world and humanitarian photographer, David's numerous books have been a huge influence on photography.

David Marx – David teaches digital photography and Adobe Lightroom workshops in addition to some great free tutorials on his blog. If you get a chance, check out his field workshops for landscape photographers.
Digital Black & White – Ian Barber's site dedicated to fine art Black & White Photography has dozens of video tutorials covering Photoshop, Lightroom, Black and White printing, Nik Silver Efex Pro, monitor calibration and other topics.

Digital Photo Secrets – Dave Peterson has a wealth of information here, not just for newbies. He's got over 900 tips and articles and counting. He also has a monthly Photo Dash to help you learn new skills by practicing something new.

Digital Photo Mentor – Darlene Hildebrandt's educational blog has photography tips, flash tutorials, online workshops and courses, including one on portrait lighting, and photo travel tours. You may know her from her frequent contributions to Digital Photography School.
F Stop Lounge – You'll find detailed reviews and tutorials, articles on the latest trends, inspiring images and a busy social community in  this site founded by André Appel and Leigh Diprose.
Foreground Blog –  In-depth articles about building photography websites.
FroKnowsPhoto – Jared Polin's hugely popular site. He's got free DSLR camera set-up guides, video guides, lots of videos on technique, reviews, forums, news, image critiques, tutorials and more, all delivered in an honest, no-holds-barred manner.

Improve Photography – Jim Harmer's top-rated blog with tips and techniques, gear recommendations and reviews, podcasts, and Lightroom training.

Scott Kelby – Scott is founder of KelbyOne.com, Editor-in-Chief of Photoshop User magazine and he hosts KelbyTV including Photography, Photoshop and Lightroom shows. He's also got numerous #1 selling books. Just a few reasons why you should check out his blog.

Matt Kloskowski – Matt's blog is another of my go-to sites for his beautiful landscape images, gear reviews and photo tips. He's a superb teacher; if you get a chance take one of his in-person or online workshops.
LensCulture – Inspiring community that highlights the best in photography from around the world including fine art, nature, street photography, sports, abstract, fashion and more. A good resource to dial into the latest trends in photography.
LensScratch – Daily in-depth articles on contemporary photography featuring different emerging and renowned photographers.
Lighting Essentials – Don Giannatti's site, all about lighting your shots.
Lighting Rumors – news, reviews and everything else about lighting equipment.
Light Stalking – Forums, articles, tutorials and how-to's, and photo gallery.
Joe McNally – National Geographic, Life Magazine,  Time, Newsweek, Sports Illustrated… a major player in the photography world for 30+ years. To say he takes amazing photos is an understatement.
On1 Blog –  Patrick Smith and Peter Kinnan show post-processing techniques using Lightroom and Perfect Photo Suite in free videos tutorials.
Precise Moment – Weekly online magazine with thoughtful articles that examine the stories behind the photographer and image. Editor Adam Crawford showcases emerging as well as iconic photographers.
Neil  van Niekerk – When it comes to lighting, Neil is your guy. He's got tons of tutorials on flash photography techniques, studio lighting, wedding photography;  books on lighting, off- and on-camera flash, and direction of light; workshops, behind-the scenes videos, forum, gear reviews, store, and an awesome gallery of his work.
Nikon Rumors – Latest news on Nikon cameras and lenses, buying guide, reviews, book store and forum.

Petapixel – Michael Zhang's blog with great tutorials, reviews and product news. Good site for newbies.
The Phoblogger – In-depth articles, gear reviews, photography tips and news by a top-notch staff of writers.
Photofocus – Chock-full of news, review, tips and tricks for serious enthusiasts and professional photographers. It's got a very active community of followers.
Photographer Adventures Club – A collaborative international network that connects you with local chapters and photographers of all levels in your community for photo walks, adventure and studio  workshops, plus online community, forum, and classes.

Photography Concentrate – An educational website and blog on photography and post processing with articles on lighting, posing, composition, and free and paid tutorials.
Photography Life – Nasim Mansurov and and Lola Elise cover pretty much everything from composition NS  techniques to photography tutorials, camera and lens reviews and post processing.

Photo Naturalist – Nature photographers Steve and Vic Berardi post articles on how to improve your nature photos, including wildlife, landscapes, macros, post-processing and gear. Check out Steve's ebooks on Wildflower Photography and Examples. A new one on nature photography is coming soon.
Picture Correct – Full of tips and tutorials to help you improve your shooting, for all levels. Also a gear guide.
Ian Plant – Ian  contributes to several photography magazines and his Dreamscapes project is something to see. He uses long exposures, unusual perspectives and unique lighting to create images somewhere between real and surreal. You have to check them out. He's also authored numerous books and videos.

StuckinCustoms – Trey Ratcliff has one of the top travel photography blogs in the world and some of the most beautiful images you'll ever see. He makes nice presets too.

Strobist – Renowned photographer Dave Hobby started this community for discussing lighting techniques and tools. If you want to learn all about using off camera flash, this is the site for you. Start with Lighting 101.
The Discerning Photographer – Andrew Boyd created this blog with stories and insights on photography with an excellent beginners section, plus one for advanced shooters.
Ming Thein – Great site for inspiration. Posts on techniques, photo essays plus gorgeous images by commercial photographer Thein.
TipSquirrel – Well done blog by Eric Renno and Michael Hoffman with written and video tutorials on Photoshop and Lightroom, Adobe news and book/software reviews.
Finding Your Inner Photographer: Making the Most of Your Camera – This comprehensive article for beginners and amateurs covers everything from how to create interest through composition to taking better portraits and self portraits.
Forums & Help
Adobe Community – Lots of help resources on Photoshop and Lightroom. Start with this link and it leads to various forums including ones for newbies.
Canon Rumors Forum – Active discussions on everything  about Canon cameras and printers, gear talk, cinema and video, photography and post-processing techniques, image galleries.
Digital Grin – Photography forums hosted by Smugmug, including Gear, Shots (weddings, travel, people, wildlife, sports, travel etc), video, technique, tutorials, plus photo challenges.
DPReview – The granddaddy of photo forums…since 1999. Mainly discussions on cameras and gear and photographic techniques.
Digital Photography School Forum – 1500+ users online as I type this. Share your shots, critiques, and techniques.
Lightroom Forums – This is THE place to go when you have a pressing Lightroom problem. Victoria Bampton, "The Lightroom Queen," runs this forum (19K members) with the help of some excellent gurus.
Nikon Cafe – Geared to Nikon users with boards on different photography genres, gear, post processing, and special sessions galleries for members only.
Nikon Rumors Forum – Robust community with discussions on Nikon cameras and lenses and  general photography talk.
Photo.net – 44 photography forums from beginners to business, plus techniques, critiques, equipment, post processing.
Photo Camel – A photographic community with discussion boards covering photography by genre plus tutorials, lighting, editing, challenges, blogs, camera, lens and lighting reviews, member image galleries
The Photo Forum – Photo contests, beginners forum, photo assignments and discussions, camera talk by brand, business section.
Photography on the Net – Photo sharing, gear talk and reviews, post-processing, lots of lenses discussions. 17+ million posts and 92 forum sections.
Photography Forum – For amateurs and pros with tips, competitions, advice and critiques.
Photography Talk – Big community with forums on taking the photo, editing, photography challenge and contests, photo galleries for display or critique, camera brands, equipment research, general photography discussions and a beginners forum.
Photoshop Gurus – Talented people here…troubleshooting, showrooms and contests, tutorials and tips, great newbies area.
Steve's Digicams – Camera and gear help, DSLR and point-and shoot forums, even mobile devices. Critiques, software and printer discussions.
Talk Photography– Large community with forum, gallery, tutorials, challenges. Discussion groups on nature, sports, landscapes, people, post processing, equipment.
Facebook Discussion Groups
Photography
I Love Photography – For anyone who likes taking photos, beginner or advanced.
Fstoppers – With critiques, questions and conversations run by Fstoppers.
Photo Help  Group – For beginners through pro to ask questions.
Photoshop and Lightroom
Lightroom Help Group – Administered by Lightroom Queen Victoria Brampton. For anyone wanting to learn Lightroom and get help.
Adobe Lightroom on Facebook – Adobe's official Lightroom page.
Adobe Photoshop on Facebook – Adobe's official Photoshop page.
Other Discussion Groups
Lightroom Groups on Flickr – Start here to find all the groups. Presetting Lightroom with 12k+ members is the most popular.
YouTube
Adorama TV – Daily tutorials, workshops, gear guides and reviews from Joe McNally, Gavin Hoey, Mark Wallace, Tamara Lackay, Bryan Peterson and other pros.
B&H Photo -1000+videos with tips and tricks, product reviews, tutorials and interviews.

Glyn Dewis – Glyn is a photographer, retoucher and trainer and he posts Photography and Photoshop tips, compositing and special effects tutorials plus his weekly podcast.
Kelby Media Group  – Hundreds of easy-to-follow, step-by-step videos on Photography and Photoshop and weekly live talk show The Grid.
Lightroom on YouTube The official Adobe channel features Julieann Kost, Sean Teegarden, and other Adobe experts.

Anthony Morganti – Anthony's very popular channel (106K+ subscribers)  features photography, Lightroom and Photoshop tutorials plus camera and lens reviews. He also hosts photography workshops and even one-on-one mentoring via email with personalized assignments. How's that for service.

Tony Northrup – Tony & Chelsea Northrup have #1 best selling books on Lightroom and Photography. Their channel with 3x/week videos on photography, camera reviews, and Lightroom is another great resource.

Howard Pinsky – 1-minute Photoshop tips to comprehensive tutorials, effects, retouching, tips and tricks with 337K subscribers and 455 videos to date.
Phlearn – over 500k subscribers can't be wrong. One of the best channels for learning Photoshop and Photography for beginners through advanced.
Jared Polin – Jared Polin's entertaining, sometimes hilarious, always informative  channel has lots of good photography info and discussions for all levels. He's got 105 videos just on "Raw Talk."

Serge Ramelli – Serge's Lightroom, Photoshop, HDR, and photography tutorials  are so detailed it's amazing they're free. And you'll drool over his gorgeous Paris images. He also offers excellent paid courses and presets.
SLR Lounge –  Pye Jirsa hosts one of my go-to-channels for Photography, Photoshop and Lightroom tutorials. You'll get lots of inspiration.
Matt Granger – Photography tips tricks and reviews and behind the scenes at photo shoots.
Terry White – Terry, an evangelist (actually THE Evangelist) for Adobe, features Photography, Photoshop, Lightroom and other Creative Suite tutorials plus technology reviews. You can't go wrong with a guy who has 216K+ subscribers!
30 Days to Learn Photoshop – A playlist of 32 videos starting with an introduction to the layout and tools and learning about layers, selections, filters, and other basics.
Weekly Imogen –  Weekly photography tips and lots on portrait photography and lenses.
Services
PhotoTrims – Provides image retouching, enhancing, clipping path, image masking and other image manipulation services
Software & Utilities
Capture One Pro 8 – This raw file converter may prove to be the long-awaited rival to Lightroom since the sun-setting of Aperture.
Templates
Template.net – 5,000+ free, customizable Photoshop .PSD templates for everything from cards and stationary to flyers, catalogs, certificates, family trees, banners and much more. Thousands more are available in InDesign and Illustrator.
Did I miss any? Please leave me a comment with your suggestions, as I will be updating this post regularly.