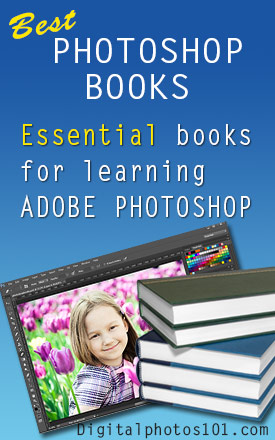 Adobe Photoshop can be intimidating to learn, let alone master. You're gonna need some help. So I've compiled a list of the top books that will teach you all you need to know about Photoshop at your own pace. There are books for beginners who want to learn the basic fundamentals as well as intermediate users wanting to learn more advanced features.
While there is no one best book, many are quite comprehensive, starting with the essentials and moving on to complex functions. Others have a more specific focus such as editing for landscapes or portrait retouching.
As I was compiling this list, which continues to grow as I uncover new books and get suggestions from readers, this page has become more than just a directory, it's also a who's who in the world of Photoshop. There are some amazingly talented authors/photographers here.
Photoshop is used for many purposes, and since this is a photography site, when it comes to more specialized books I've concentrated on those related to image editing. Also, while the latest Photoshop version is the Creative Cloud-based software, a lot of people still use older, perfectly capable standalone versions like CS6, so I've included a few of those books as well as top ones for Photoshop Elements.
Adobe Photoshop (by Version)
Creative Cloud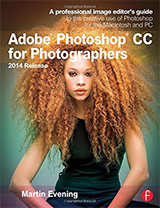 Adobe CC for Photographers, 2014 Release by Martin Evening – Renowned UK-based photographer and best-selling author Martin Evening offers up one of the most comprehensive (750+ pages) Photoshop books for photographers. He goes into detail on each tool and feature. This is a must-have for your reference library. Martin is an expert in both photography and digital imaging and consults with Adobe engineers on Photoshop and Lightroom. As you'll note from his book cover on the right, he does some pretty cool things with hair. You can see more of his work here.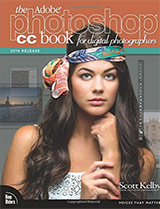 The Adobe Photoshop CC Book for Digital Photographers (2014) by Scott Kelby
Scott is THE Photoshop Guy. He also heads the KelbyOne.com training site and PlanetPhotoshop.com where he provides tons of free tutorials. Plus he's the best-selling photography book author in the world with 50+ books under his belt. His books have won dozens of awards and people love them (including me) because he shows you exactly what you need to know and why. In this #1 best-selling book in Photography, as with his others, he goes straight to the point with step-by-step techniques including exact settings. It's practical and easy to follow with lots of full color screenshots and filled with his humorous asides. Scott's also an amazing sports, fashion and travel photographer; you can see for yourself here.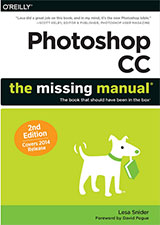 Photoshop CC: The Missing Manual: Covers 2014 release by Lesa Snider
Lesa Snider is an author, speaker, trainer and stock photographer. In this latest book in her best-selling series, Photoshop: the Missing Manual, she's written a conversational, jargon-free "how-to" book that will get you up and running without being overwhelmed. Lesa also does video workshops on Photoshop, Photoshop Elements and Lightroom and other topics and she offers free tutorials on her website (thanks, Lesa, and keep 'em coming 🙂 )
Adobe Photoshop CC Classroom in a Book (2014) by Andrew Faulkner – Andrew's popular book has 14 lessons covering key elements of the Photoshop interface with step-by-step instructions and downloadable project files. He overs much more than just photography aspects, you'll get a lot on drawing as well.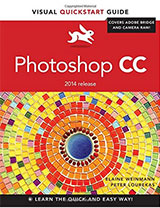 Photoshop CC: Visual QuickStart Guide by Elaine Weinmann and Peter Lourekas – Elaine and Peter continue to offer well-written, best-selling books in their Visual QuickStart series for newbies to intermediate Photoshop users. I like that this book does a good job of also covering Adobe Bridge and Camera Raw.
Photoshop CC Bible by Lisa DaNae Dayley and Brad Dayley This is the latest installment of Lisa and Brad's series of huge, very detailed books covering all aspects of Photoshop. For beginners and intermediate users, it includes retouching, color-correcting, manipulating, and combining images as well as working with camera raw images. It's a great book for learning and quick reference.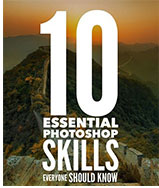 10 Essential Photoshop Skills Everyone Should Know by OnOneSoftware With detailed step instructions and before/after images, this ebook is a good resource for beginners.
Photoshop CC For Dummies by Peter Bauer Introduction to the basics in more of a theoretical approach.

Adobe Photoshop CC on Demand by Perspection Inc. and Steve Johnson Visual step-by-step format with lots of photos and diagrams to help you quickly find what you need.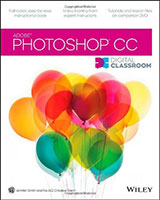 Photoshop CC Digital Classroom by Jennifer Smith and AGI Creative Team 14 detailed lessons suitable for beginners and experienced users who want to learn new tricks.
Adobe Photoshop CC 2014 for Visual Learners: The fastest way to become deadly at Photoshop by Paolo Ocampo 150+ lessons to teach you Photoshop essentials, designed for visual learners with lots of illustrations.

Photoshop CC Top 100 Simplified Tips and Tricks by Stan Sholik Tips and tricks beyond the basics including shortcuts with full color, step-by-step illustrated instructions and screenshots. Many of the 100 "how-to's" are directed toward photography.
Adobe Photoshop Creative Cloud Revealed by Elizabeth Eisner Reding You get comprehensive instructions to learn key techniques.
Photoshop Books for Photography and Retouching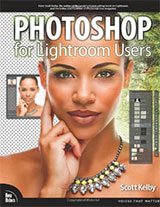 Photoshop for Lightroom Users by Scott Kelby
In this easy, entertaining read, Scott covers what you need to know about Photoshop that a Lightroom user needs: HDR, panoramas, layers, masks, portrait retouching, and special effects. This is a good book for people who don't want to get overwhelmed with all of Photoshop's massive capabilities, but want to be able to do things with their images that Lightroom just can't do (yet). And for a daily dose of Lightroom tips, head on over to Scott's blog, Killer Lightroom Tips.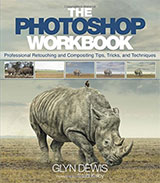 The Photoshop Workbook: Professional Retouching and Compositing Tips, Tricks, and Techniques by Glyn Dewis Glyn's #1 bestseller shows you the how and why as he walks you step by step through composing, special effects, dodging and burning and more for photographers, plus 6 complete projects with image files. Glyn is a professional photographer and retoucher and he also coaches and teaches his own workshops. If you like the cover of his book you can check out more of his amazing wildlife images here. He also offers a weekly Photography, Photoshop and Lightroom video show at youtube.com/GlynDewis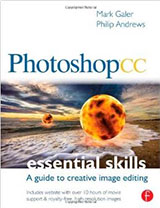 Photoshop CC: Essential Skills: A guide to creative image editing by Mark Galer and Philip Andrews This is a clear, easy to follow, well illustrated book to get started with Photoshop. It takes you through the foundations, on to advanced skills and projects. Mark and Andrew have been writing this successful series for years, in fact it was their Photoshop CS3 book that helped me immensely when I was first learning. Mark is an Adobe Photoshop Guru, and Ambassador, lecturers on photography and has written 30+ books. He's also a terrific photographer; here are some examples. Philip is Adobe Australia's Photoshop and Elements Ambassador and has also written dozens of books on photography.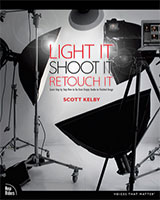 Light It. Shoot It. Retouch It. by Scott Kelby In his #1 best-selling book in Photography Lighting, Scott Kelby shows you everything involved, from the complete lighting set-up, the shoot, through post-processing and retouching in Photoshop. It has clear instructions and an engaging writing style, it's easy to understand, and it covers every aspect of lighting, from layouts to controlling and shaping the light and making the most of one light. What sets it apart is that you see the actual lighting set-up, shot from above, not just diagrams. Then he gets into detail on retouching eyes, lips, hair, skin and other tricks. I recommend this book for both novices and intermediate shooters; even advanced photographers will learn something. I'm a big fan of Scott's books because he writes in a non-technical way that allows you to learn without getting bogged down in theory.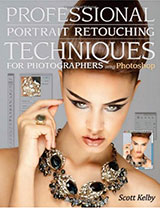 Professional Portrait Retouching Techniques for Photographers Using Photoshop by Scott Kelby Scott gives you detailed yet simple and straightforward retouching techniques to make your portraits look polished, so you can work the quickest, most effective way. The book is sprinkled with Scott's usual humorous touch, making it as entertaining a read as it is informative. Check out some of Scott's portrait work here so you can see the possibilities for yourself. Something to aspire to.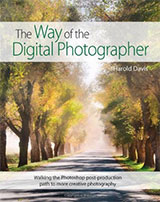 The Way of the Digital Photographer by Harold Davis Specifically written for photographers by award-winning pro photographer Harold Davis, this book is a great introduction to post processing images. In step-by-step guides and multiple lessons he covers layers, adjustment layers, masking, blending modes, brushes, filters, and other techniques used in post-processing. Harold is the author of 30+ photography books, and I hope he keeps 'em coming. He also offers frequent workshops; you can find out more about them on his blog. While you're on his site, be sure to check out his gallery, especially his stunning black and white shots.
Real World Image Sharpening with Adobe Photoshop, Camera Raw and Lightroom by Bruce Fraser A very readable book on a sometimes confusing subject. Bruce de-mystifies sharpening as he teaches you what to sharpen, how much and how to avoid over sharpening.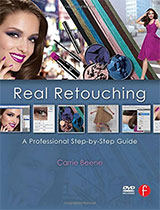 Real Retouching: A Professional Step-by-Step Guide by Carrie Beane Want to get into serious retouching work? This book fits the bill. It's a mid-level to advanced book teaching you how to create a high end, magazine cover style image. Carrie provides step-by-step instructions with provided images. She's definitely got the creds; her work has been published in Glamour, Vogue, Harpers Bazaar, Elle, Cosmopolitan, Marie Claire, and more. Her fashion images are unbelievably gorgeous and a must-see.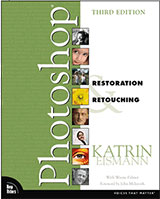 Adobe Photoshop Restoration and Retouching by Katrin Eismann You get ten very detailed, fully illustrated chapters on restoring and retouching for Photoshop users who at least know the basics. The section on restoration is particularly helpful. While it was written for CS2, the techniques are timeless and very powerful. In fact, this is such a valuable book I hope Katrin, a highly respected author and lecturer on digital imaging, restoration and retouching, will consider updating it for Adobe CC.
Bodyshop: The Photoshop Retouching Guide for the Face and Body by Birgit Nitzsche and Karsten Rose Clear instructions on body and facial contouring, refining hands, makeup effects and even how to adjust cloths. Plus a good, detailed section on skin tones.
Layers, Blending, Compositing, Tips & Tricks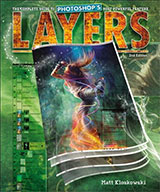 Layers: The Complete Guide to Photoshop's Most Powerful Feature by Matt Kloskowski
Matt's conversational, clear writing style and step-by-step tutorials makes layers a lot less intimidating. He covers building multi-layered images, blending, masking, adjustment layers, and more. While this book was written for CS5 it is still a very valuable book for photographers on one of Photoshop's most powerful features. Matt teaches Photoshop, Lightroom and Digital Photography workshops all over the world. Here's a list of current training sessions on his blog. If you have the chance, try to get to one of them, you won't be sorry. He also has a wealth of free tutorials on his blog. And, if you need further convincing of his guru status, check out his stunning landscape images.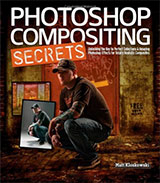 Photoshop Composition Secrets by Matt Kloskowski – Photoshop Guy Matt Klowskoski has a way of walking you through complex stuff and making it sound easy. In this book he covers making tricky selections, lighting and shadowing techniques to make it look real, filters, masks, layer blend modes and other tricks and special effects. Matt explains how and why he used certain techniques and he gives you before and after sample images to work with. This book is especially valuable for photographers doing studio shots, and he gives you studio tips so your images will be ready to bring into Photoshop.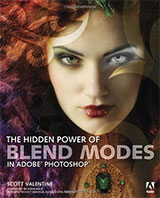 The Hidden Power of Blend Modes in Adobe Photoshop by Scott Valentine If you're already fairly proficient in Photoshop, this is an excellent book to learn advanced techniques and not "cookie cutter" designs. Scott gives you an in-depth understanding of how blend modes work, with numerous detailed examples, so you can take these concepts and incorporate them into your own creative work. Scott also has a new DVD on Adjustments and Blends for Photographers. You can preview it here.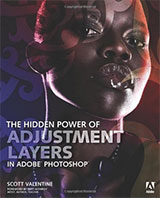 The Hidden Powers of Adjustment Layers in Photoshop by Scott Valentine All levels of Photoshop users will find this well-written book valuable, especially those who really want to take their skills to the next level and go beyond "recipes." In an easy, conversational style Scott shows you specific adjustment layer techniques, why they work and how you can adapt them to your specific project. He covers photography as well as compositing and illustration projects.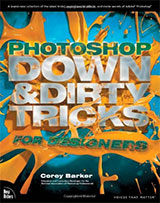 Photoshop Down & Dirty Tricks for Designers by Corey Barker This is a fun book to learn how to create really cool designs like movie posters and special effects. Corey is thorough, covering every step in beautiful color presentation. While not a total beginner's book, it's best to start with this one before you move on to his next book, the more advanced Volume 2. While known as the "3D Guy" from KelbyOne and Photoshop User TV, Corey is much more than that. His designs are incredible. Check them out here on his website. He teaches seminars and has produced numerous online Photoshop training courses and DVDs. Here's one of his recent video tutorials on Advanced Color and Compositing Effects.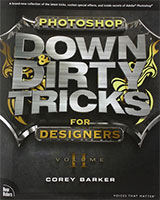 Down and Dirty Tricks for Designers, Volume 2 by Corey Barker In Volume 2 Corey gives you tutorials on creative special effects like 3D, Hollywood effects and more. The book has practical, easy to follow tutorials designed for someone who already knows a little about Photoshop. This is not just for designers, it's perfect for photographers and Photoshop enthusiasts who want to go to a new creative level.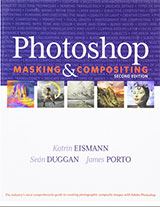 Photoshop Masking & Compositing by Katrin Eismann, Dean Duggan and James Porto This is an excellent book for intermediate to advanced users who want to dig deep into masking and compositing. The instructions are detailed easy to follow; the book is essentially a bible on masking so that once you have nailed the fundamentals you can go on and create your own composites. Katrin specializes in creative digital photography, is the author of numerous books and a popular speaker. You can check out her other books here. I also appreciate that she works with and is a role model for young women who are interested in the field of digital technology and fine art.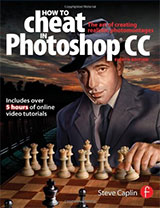 How To Cheat In Photoshop CC: The art of creating realistic photomontages by Steve Caplin
In this project-based book professional digital artist gives you step-by-step instructions, helpful tips, examples and shortcuts for creating photo montages using Photoshop CC.
Adobe Photoshop CS6
If you have not made the move to an Adobe Creative Cloud subscription yet, here is a roundup of the best books for CS6, the last standalone version of Photoshop. These authors have also written updated versions for Creative Cloud, so I'm only including brief summaries here.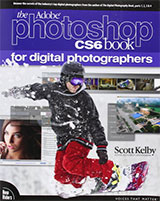 The Adobe Photoshop CS6 Book for Digital Photographers by Scott Kelby Like his follow-up book for Creative Cloud, Scott Kelby teaches you what you need to know and why in this concise, easy to understand Photoshop book for photographers.
Photoshop CS6: The Missing Manual by Lesa Snider
This is a thorough book starting with the fundamentals and building up to more advanced features. Lesa writes in a clear, friendly, conversational style and explains the topic clearly in detail without getting too technical. Lesa also has a Missing Manual for Photoshop Creative Cloud, as noted earlier in this article.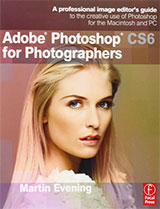 Adobe Photoshop CS6 for Photographers: A professional image editor's guide to the creative use of Photoshop by Martin Evening With color-coded chapters, Martin Evening's book is packed with everything you need to know about Photoshop. This is a great reference book, especially the detailed discussion on Adobe Camera Raw and Bridge. If you upgrade to CC be sure to check out Martin's updated CC version of this book near the top of this page.
Photoshop CS6 For Dummies by Peter Bauer The Dummy series is good for beginners and give you a general orientation. It starts with basics and builds up to more advanced features. It tends to be more theoretical rather than tutorial oriented.
Adobe Photoshop CS6 Revealed by Elizabeth Eisner Reding A good book for beginners, it will get you acquainted with the basics.
Adobe Photoshop CS6 Top 100 Simplified Tips and Tricks by Lynette Kent After you've learned the basics, this is a good book for learning all the little tricks and shortcuts to work faster and improve your workflow.
Adobe Photoshop CS6 Bible by Brad Dayley and DaNae Dayley A comprehensive resource to learn both the basics and advanced techniques.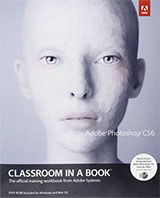 Adobe Photoshop CS6 Classroom in a Book by Adobe Creative Team 14 lessons with step-by-steps details. This is a good book for total beginners.
Understanding Adobe Photoshop CS6: The Essential Techniques for Imaging Professionals by Richard Harrington A good book for people who want to advance their skills and learn not only photo manipulation but web, video and graphic design.
Teach Yourself VISUALLY Adobe Photoshop CS6 by Mike Wooldridge and Brianna Stuart Geared toward beginners, this book is in an easy-to-read format with lots of color photos and detailed tutorials.
Adobe Photoshop CS6 on Demand by Perspection Inc and Steve Johnson Steve provides clear and concise explanations and covers all the tools, with lots of photos. The chapters are color coded so it's easy to jump to the right section and tool to find what you need to know.
Photoshop CS6: Visual QuickStart Guide by Elaine Weinmann and Peter Lourekas This is a good book for absolute beginners through intermediate users.
Adobe Photoshop Elements (by Version)
Photoshop Elements 14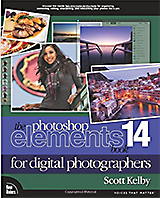 The Photoshop Elements 14 Book for Digital Photographers by Scott Kelby As a leader in the digital photography world, Scott is keyed into what photographers want to know about post-processing. So this book is structured with common tasks photographers want to accomplish, like how to resize and crop photos, retouching portraits and fixing common problems like when your subject is too dark. He covers using layers, Camera Raw for raw and jpegs, organizing your images and there's a whole chapter on sharpening, something many people struggle to understand. He covers all the new features Adobe added to Elements 14 and also shows you the most asked-for photographic special effects. The index is one of the most comprehensive I've ever seen, so you can find what you want to know instantly. All the example images are available for download so you can follow along.
Photoshop Elements 13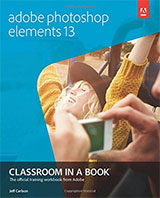 Adobe Photoshop Elements 13 Classroom in a Book by Jeff Carlson This top selling Photoshop Elements book is a project-based, comprehensive guide that builds step by step on the previous chapter. There are review questions at the end of each chapter that help you reinforce your learning. Author Jeff Carlson has written previous Classroom books (and I hope he continues with this series) plus numerous books on using the ipad. He's also a columnist for the Seattle Times and a contributor to Macworld and Photoshop Elements Techniques magazines. He's also active on his blog, writing about Mac and photography topics among other things, and showcasing his beautiful images.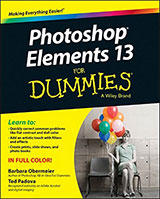 Photoshop Elements 13 for Dummies by Barbara Obermeier and Ted Padova Clear and concise reference that explains the workspace and tools, understanding color modes and file formats, using layers, masks and blend modes to enhance your images, painting and drawing and creative projects.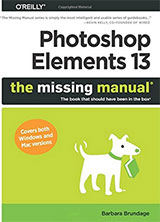 Photoshop Elements 13: The Missing Manual by Barbara Brundage As usual, Barbara does a great job making the book clear and easy to follow and understand. She covers all the functions from the basics of importing and color correcting to repairing old photos, using layers and filters, composites, as well as projects like greeting cards and slide shows. Barbara has been writing the Missing Manual books since PS Elements 3 and it's easy to see why her books are so popular. You can get more tips on using PS Elements on her blog.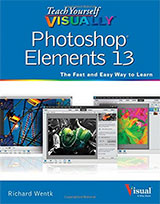 Teach Yourself VISUALLY Photoshop Elements 13 by Richard Wentk Comprehensive and easy to understand, this book gives you short tutorials of 1-2 pages with lots of full color screen shots. There are also sidebars with tips and hints without getting too technical.
Photoshop Elements 12
The Photoshop Elements 12 Book for Digital Photographers by Scott Kelby & Matt Kloskowski
Photoshop Elements 12: The Missing Manual by Barbara Brundage
Adobe Photoshop Elements Classroom in a Book by Adobe Creative Team
Have I missed any of your favorite books? Tell me about them below so I can take a look.
If you also use Lightroom, head on over to my massive list of recommended Lightroom books here. And, don't miss my ever-growing list of top Digital Photography books here. And don't miss my even more massive list of the Best Websites & Blogs for Photographers.