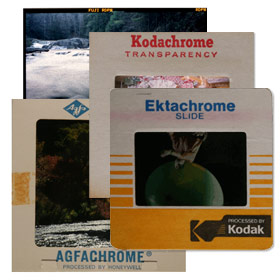 If you are planning on digitizing your old slides and prints, be sure to research several scanning services before you commit. You'll find there are differences in the scanning process, different levels of color correction service and varying turnaround times. It  pays to check around and evaluate the offerings of several companies first.
Doing the Grunt Work Yourself vs Outsourcing
First off, let me stipulate that in my opionion you are far better off letting a photo scanning service do the grunt work rather than scanning a 1000 or more slides or prints by yourself. First off, scanning images one by one takes considerable time, second, you would have to make a hefty investment in a high quality photo, 35mm slide and negative scanner to do a decent job, and third, you'd also have to invest in some quality photo editing software such as Adobe Photoshop or Photoshop Elements in order to make the inevitable color corrections. Plus, you won't easily be able to clean the images of dust and fingerprints that have accumulated over the years. I've tackled this all on my own and trust me, I'd never do it again. It's way too boring and time-consuming.
The beauty of using a scanning service is that they will do all of this tedious work for you. All you have to do is package up your photos, slides and negatives and ship them off. Most companies even accept photos in albums and slides in sleeves or carousels (some do charge a bit extra) and will return everything in the same order they received it.
But before you box everything up you should research several companies and compare them to see what is included in the price in terms of scanning cost, image cleaning, what kind of color correction and touch ups they do,what formats of slides and negatives they will scan and how long it will take.
Cleaning, Color Correction and Blemish Removal
A quick survey will reveal that most companies will clean your photos, slides and negatives to remove dust, smudges and fingerprints as part of their basic service. But there is a little more variation when it comes to "enhancements." Some companies will do scanning, cropping, rotation, color correction and red-eye removal using automated batch corrections. Others will scan and correct color and remove scratches one by one by hand using Photoshop, which will give you superior color correction and enhancement.
How Long Does It Take
If you scanned just 500 photos and slides at home on your own photo scanner, it would probably take you a good 40 hours, including image cleaning and touch-ups. If you could only spend a couple hours a week on your project, this would take months to complete. I can think of better things to do with my time, at least more entertaining things.
When you use a photo scanning service, the turnaround time varies. Some companies will take a full month because they ship all images overseas with door-to-door tracking. Other companies are U.S. based and will still take several weeks turnaround time, also with door-to-door tracking. While comparing turnaround times and shipping outside the U.S. vs domestic, I found that the major companies had excellent tracking procedures and claim they have never lost an order. But the bottom line is, in order to get quality digitized images you are not going to be able to get large quantities of photos scanned, enhanced and delivered in just a few days unless you opt for less expensive bulk scanning with auto corrections.
What Do You Get Back?
A number of companies will simply give you a DVD(s) with your digitized images while others like ScanCafe allow you to review your digitized images online where you can sort, categorize, and delete unwanted images before they are burned to DVDs. Some give you, in addition to a DVD, an online gallery with an archive of your digitized images so you can share pictures with family and friends. This also gives you extra protection against unforeseen disasters. If there were a fire or earthquake and your DVDs were destroyed, you would still have everything safely preserved online.
Done properly, scanning your pictures  will preserve them forever and give them new life so you can share and enjoy them with today's generation. But do yourself a favor and compare  services and features before you send in your treasured memories.
Related posts:
ScanCafe: Reasonably-Priced, Quality Choice for Photo Scanning
Photo Restoration and Rescue Your Old Family Photos
Time to Unearth That Stash of Old Home Movies and Convert Them to DVD