Making a Dog Photo Book at Mixbook
For us pet lovers, our four-legged fur kids melt our hearts, bring us joy, and help us chill out. In these crazy, uncertain last few months, our dog, Toby, has been a wonderful stress release for my husband and me. And what better way to celebrate all his furry friendship and love than with his very own dog photo album, using my favorite photo book service, Mixbook!
Lately, our excursions have mostly been limited to the beach, and we always take our little guy with us. His antics, such as stealing my beach chair for himself, always put a smile on our faces and lend themselves to great photo ops. In fact, when you have a pet any day, any place can make a great photoshoot. So I got the idea of collecting all our favorite Toby photos and compiling them into a special dog photo book.
How to Organize Your Dog Photo Album
To start, it helps to gather all your favorite photos into one folder. Finding and organizing all your dog or pet photos is fairly easy if you use something like Google Photos, which uses AI to auto-tag your pics. Alternatively, you could use Lightroom. I have all my images downloaded and keyworded in Adobe Lightroom Classic, so it was pretty simple to find my favorite dog photos using the keyword "Toby."  As you gather photos for your album, keep in mind that not every photo has to be a major star. Think about photos that would work well on a 3-4 photo page to help you tell your story.
What Story Do Want to Tell with Your Dog Photo Book
Here your imagination is the only limit.
If you have a new puppy, you could make your photo book similar to a baby book, with pictures of his or her first day in their new home, playing with their toys, bonding with you, his first bath, puppy training sessions, etc.
A Dog's Life – maybe you've had your dog for a few years and you can chronicle his/her life from puppy to maturity, using your favorite photos. This is basically what I did with my dog photo album. You could include typical days at home, on vacation, outings to the park, etc.
Kids and Pets – Have you captured photos of your kids and dog together? Pictures of them napping or playing together or just chilling would make a wonderful photo book they'll treasure.
Dog photos that simply make you smile. Maybe he did something insanely cute or mischievous, or you captured an amazing expression that made your heart melt…you get the idea.
After gathering all the photos I wanted to use I made some edits and enhancements in Lightroom, and then I was ready to upload them to Mixbook. You can upload from your desktop or phone, import from Facebook, Instagram, Google Photos or Smugmug, or through their app even invite friends to send photos.
Dog Photo Book Themes
The web interface is really good, with lots of easy-to-use tools including a wide range of attractive templates. Mixbook has several adorable pet-themed photo book templates and all templates are fully editable. Cats & Dogs has a scrapbook feel to it and the colorful Dog Pet Book and Cat Pet Book by Black Lamb Studio have some creative and attractive backgrounds and stickers. You'll find them in the Family Photo Books themes section on Mixbook's website. Below is a sample page: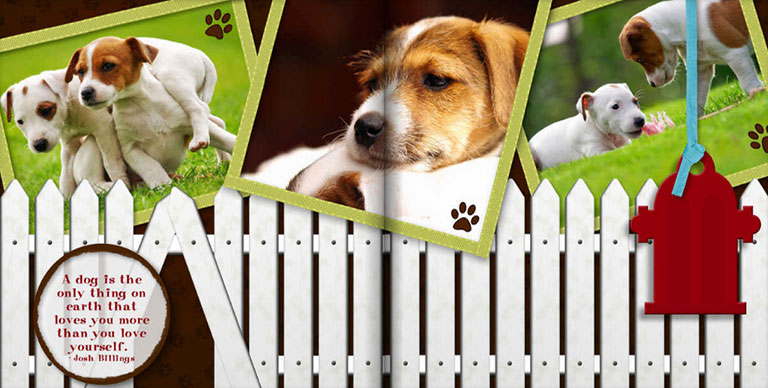 Also, there are cute dog (plus cat) themed stickers and embellishments you can add to your project. The stickers and backgrounds are searchable by keyword and unlike many other photo sites, you can even upload your own.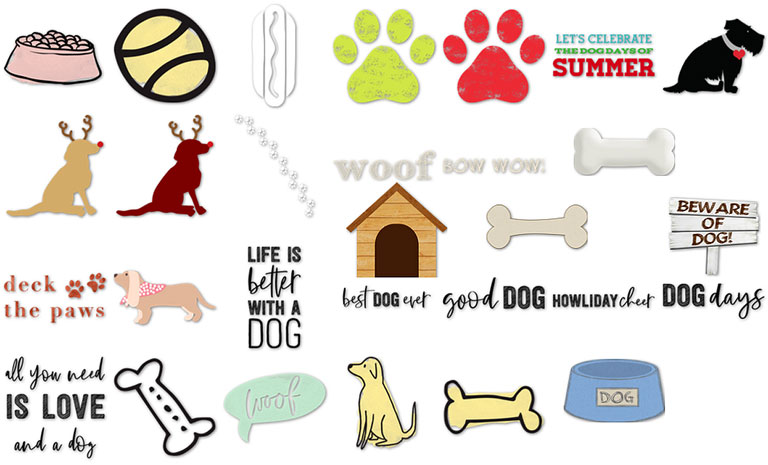 In the end, I decided to go with Mixbook's Minimal White photo book theme so I could focus on my pup. Guess I'm just a classic minimalist kind of girl. Also, I could always add stickers or backgrounds to certain pages later. What's cool about Mixbook is that you can change the theme at any time during the photo book-making process without affecting the pages you already created. It merely adds the relevant theme layout options and theme backgrounds and stickers to the side menu. Then, if you wish to use something from that theme you can click on it to apply it to your page.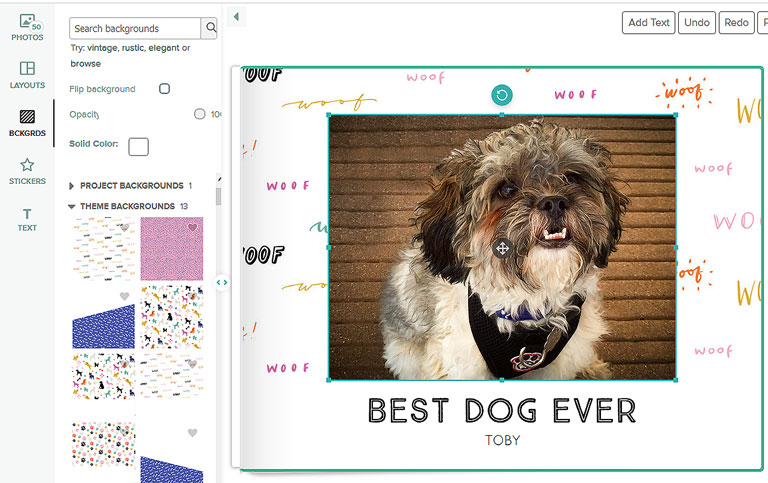 Customizing Your Book
Total Flexibility
The themes have their own set of related stickers that you can resize, move around, flip, and rotate to any angle. You can even use the Edit function to change the sticker's opacity, add a shadow, lighten/darken it, convert to sepia or b&w, or even give an 80's vibe to it.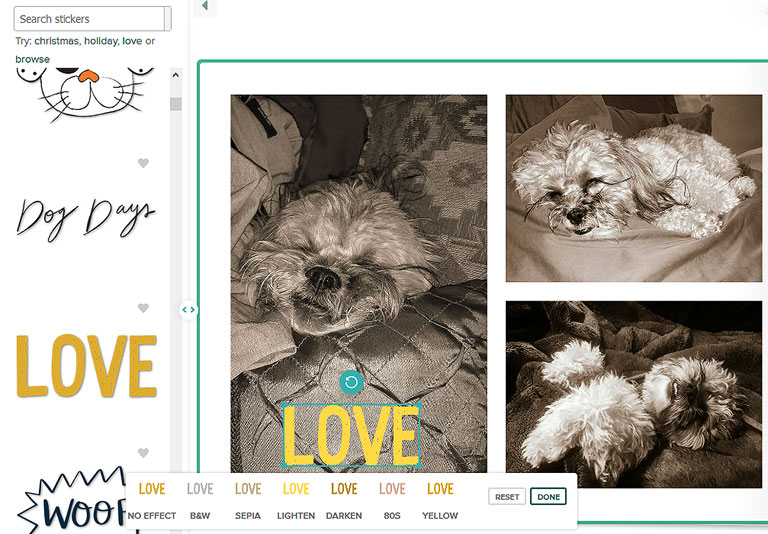 Text & Photo Editing Options
Aside from close to 100 font choices, you can change the text size (max 288) and color to anything you want using the color picker to sample any color on the screen. Also, add a border or background fill color. Further, you can move, rotate, and flip text any way you want, you have total flexibility. Mixbook doesn't yet offer the ability to adjust text transparency or add a shadow or reflection, though maybe someday…
Mixbook gives you the option of auto-filling the pages and then you can go back and make modifications. Alternatively, you can choose to fill every page yourself and customize each page as you wish. Either way, you have complete control to move, resize, flip, change the background, etc. The editor helps you align everything with vertical or horizontal lines that appear as you move around an image or text. The pop-up photo toolbar makes it simple to add a border, or shadow, adjust the opacity, and adjust the image brightness, saturation, and contrast. You can even cut the image into a shape such as a heart or a star.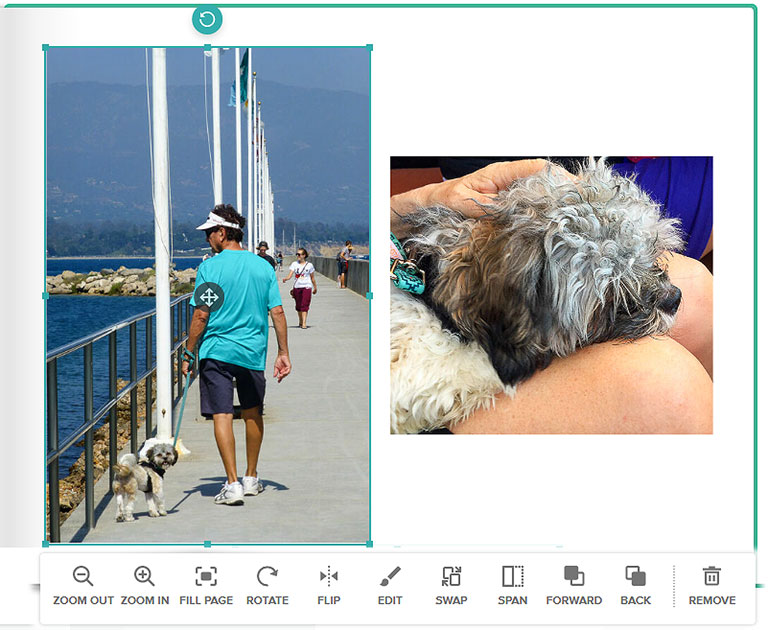 My Dog Photo Album Just Arrived
Toby's dog photo book arrived only 9 days after I ordered it. I even used budget shipping, which is slower and cheaper than standard shipping.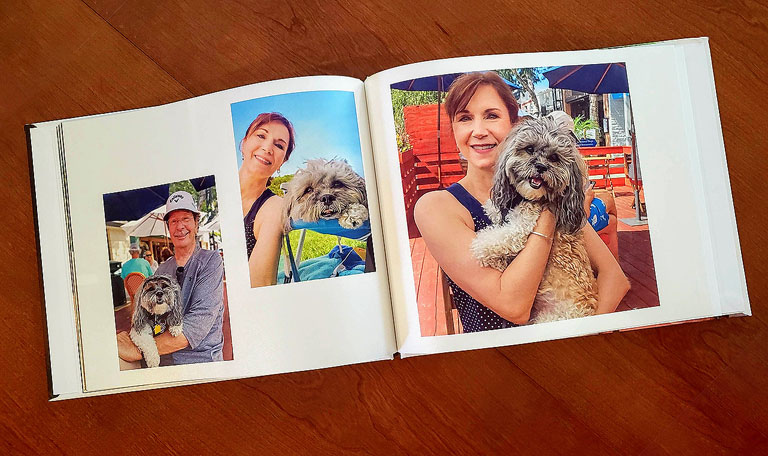 High-Quality Paper and Cover
For the first time, I chose the Pearl Finish paper, a step up from the standard semi-gloss paper. The soft-touch matte hardcover I selected won't show fingerprints or paw prints (couldn't resist!). The pearl finish paper has a faint shimmer and it feels firm enough not to bend easily. Maybe it's a tad overkill for a pet photo book, but it looks great and the images are rich and vibrant. The book also feels sturdy and the pages feel tightly bound. These are the reasons why I prefer Mixbook over some other options. I've printed books with many companies, and I feel like I can count on Mixbook to give me great quality. It just doesn't feel like a mass-print job.
A Great Holiday Gift Idea
A photo book would make an ideal holiday gift, especially for hard-to-shop-for people like older relatives on your list. In fact, my folks love Toby so much – we're not allowed to visit unless he comes too – that I might even give them a copy of Toby's photo album for Christmas.
Save Money on Your Mixbook Photo Book
Use this link to get a discount on your Mixbook photo book or other photo product you make with them. This takes you to Mixbook's website, where they list weekly photo deals. You can often find discounts averaging around 30% off of photo books and other photo items. There will likely be lots of good deals coming as the holidays approach. Get started on your photo book now and you'll be ready to jump on a good deal when it appears.
To help defray my website operating costs I belong to several affiliate programs. In some instances, I may receive a small commission for products viewed or purchased via my referral. Opinions are solely my own and I try my best to write honest reviews and only recommend products I would use myself.