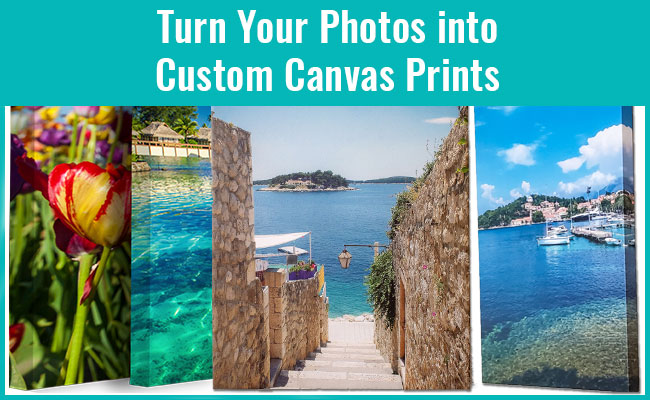 Custom canvas photo prints are a trendy and inexpensive means of decorating your home or office. There are many excellent companies that, using state-of-the-art inkjet print technology, will transform your favorite digital images or actual print photos into beautiful canvas art of any size. The cost is actually fairly reasonable and you can order them online at sites including Mixbook. There are also dedicated sites such as Easy Canvas Prints.
Giclee Prints
This type of print is also known as Giclee (pronounced "zhee-clay"), which is the process of making fine-art prints from a digital source, such as a photo, using ink-jet printing. Your photo is enlarged and printed on special acid-free canvas material. Quality companies will use UV-pigmented inks for long-lasting fade resistance and then spray several coats of lacquer to protect your print from fingerprints and dirt.
The canvas is stretched around a frame so the image wraps around the sides (this is called a gallery wrap). Another popular style is museum wrap, with black edges. Typically the frame has a 1.5″ depth, which makes it ideally proportioned for most size canvases. Most printers offer a selection of sizes, including 2″ depths for a little more substance and even 3″ depths for large canvases, to truly make a statement. You hang it as-is, you do not need a frame.
You can order gallery wrap, where the image extends around the sides of the frame, or museum wrap with a black border.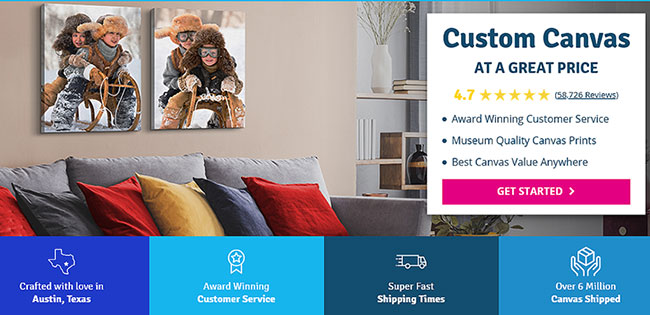 Why You'll Love Them
Your favorite memories will be preserved on a much more durable material than photo paper
Canvas is not prone to ripping or creasing and it doesn't need to be put behind glass
Lightweight and easy to hang
They do not need expensive framing
You are creating a one-of-a-kind work of art
Unlike a flat poster, a canvas print lends a unique 3-D aspect to your artwork.
The cost is surprisingly reasonable, even for large prints.
Unique Wall Decor
Printing photos on canvas is a unique way to showcase your treasured photographs. Favorite subjects are family or individual portraits, vacations, dramatic landscapes, nature scenes, and wedding portraits. How about a big wall print of your new baby, or even your pet? A popular trend is to make a wall collage of a series of small prints, such as a sequence of nature photos, or to take a really large image and transform it into two or three separate panels to hang side-by-side.
How to Create Them
The creation process is simple. Simply upload your favorite jpeg image to your preferred photo service. Choose your print size (most offer a wide variety of small and large size prints), frame depth (1.5 inches is standard), and wrap style, then place your order. Most online printing companies offer fast turnaround and ship almost anywhere.
Canvas photos are a wonderful, affordable alternative to traditional digital prints, posters, and paintings. They lend a personalized touch to your home and make a unique gift as well, for Christmas, birthdays, weddings, anniversaries, graduations, and other special occasions.
Resources for Making Custom Wall Art:
To help defray my website operating costs I belong to several affiliate programs.  In some instances, I may receive a  small commission for products viewed or purchased via my referral. Opinions are solely my own and I try my best to write honest reviews and only recommend products I would use myself.