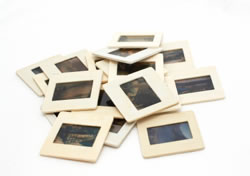 I'm a tad late for spring cleaning, but better late than never, right? In the process of cleaning out the closets I realized just how many old photos and slides I have stored away. Too many. Way too many. I know better than that; I know what happens to old photos shoved away in closets or attics for years on end; they fade and deteriorate over time. I have been putting off dealing with them for far too long and it seems the older I get the fewer hours in the day there are, especially for tedious, boring tasks.  The last thing I feel like dealing with is scanning a bunch of prints  and slides, especially after all the hours I spent a couple of years ago cleaning, scanning and touching up childhood pictures of my husband for a special birthday photo book I made.
Then I remembered about ScanCafe
. Outsourcing is definitely for me. This is a service that will do all the work for me, and the price is pretty reasonable. They have a special package that makes it about as easy as it could possibly be. This  is a pretty good deal. All I have to do is order a Value Kit for $129.99 (plus $19.99 S&H) and they'll send me packing materials and a pre-paid envelope. Then I just fill the box with photo prints, 35mm slides and negatives, seal it and drop it at a UPS store.  I can send 600 images in whatever combination of prints/slides/negatives I want. That works out to 22 cents per image, which is a very good price.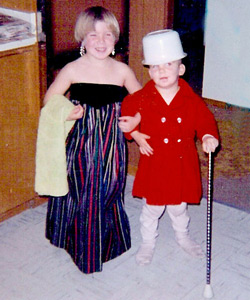 They'll clean them of dust and smudges, scan them and hand-retouch for scratches, fading and color shifting. I took a look at some of my old photos and there is quite a bit of color-shifting. A lot of them have a blue or yellow tone, and if I retouched them myself I would have to spend hours hand-correcting them in Photoshop. Figure 600 images times 3-4 minutes each. That works out to 30 to 40 hours just doing the correcting, not counting the scanning!
So I'm ordering the Value Kit. When my photos are ready ScanCafe will send the scans on DVD along with my originals. This value package differs slightly from their standard service, in which you get to review the scans and pay only for the ones you want to keep. With the Value deal you have to take all of them. But at 22 cents each, it is a bargain, and about 26% cheaper than their standard pay-per-scan service at 29 cents each. The only downside is that it does take a while, from 4-8 weeks from the time you ship them out until you get your DVD. If you are impatient, you won't like that much, but recall how many years you've had your old pictures stored away and then it doesn't seem so bad.
You may be wondering whether just because the scanning is fairly cheap, is ScanCafe any good. Actually, the company rocks. They have a great reputation and have received excellent reviews from Macworld, CNet, CNN Money and others. In fact, I did a review awhile back myself. You can read my photo scanning services review here.
Once I get my photos back on DVD, I can upload them to a sharing site and invite my family and friends to check them out and comment on them in private albums. It will be fun to see ourselves as kids crying as we get our first haircuts, laughing at the horrible seventies fashions and 80's "big hair" days, and reminiscing about college escapades.
Learn more about ScanCafe's Value Package
.