ACDSee Pro 6 Offers Time Saving Tools, Fast Workflow, Affordable Price
The newly released ACDSee Pro 6 offers serious amateurs and professional photographers powerful image editing and cataloging tools.  The major new features include a non-destructive selective develop brush, hierarchical keyword support, native 64-bit support for speedier workflow,  and greatly improved noise reduction and color management.
Over the years, the general consensus has been that Lightroom has an advantage on the processing side while ACDSee had the lead on the organization side. But the improvements in ACDSee Pro 6 have narrowed the gap on the processing side, so when you combine that with its superior organization, it really gives Lightoom a run for its money. At  $99 (full version)  vs.  $149 for Lightroom 4, ACSDSee 6 is a strong contender. There are a few things you cannot do in ACDSee that you can do in Lightroom, however. For example you can't run plugin programs directly from the software and with the geo-mapping you can't get the location info and assign that directly to the metadata. That being said, ACDSee has a lot to offer.
What's New
Workflow
With Native 64-bit support for Windows, performance is very fast. The software runs much faster than Lightroom, which almost seems sluggish in comparison. Images open immediately, there is no delay. When viewing images you don't have to wait for them to load, you view them in real time from their original location, which helps maximize your workflow.
Hierarchical Keywords – you can create keyword hierarchies from general to specific, such as Dogs | Sporting | Spaniels. So when you assign an image of an English Springer Spaniel to the Spaniel category it will automatically be added to the other related keyword levels.  The cataloging is fast and powerful. You can display all of the files assigned to a keyword with one click.
Improved Color Management – ACDSee completely reworked its color management to resolve color matching issues between different devices. There is also now multi-monitor support.
Photo Developing

Non-destructive adjustment brush - The selective develop brush is perhaps the best new feature. It allows you to  "brush on" any of several different basic processing parameters such as vibrance, exposure,  clarity, or color from within non-destructive Develop mode.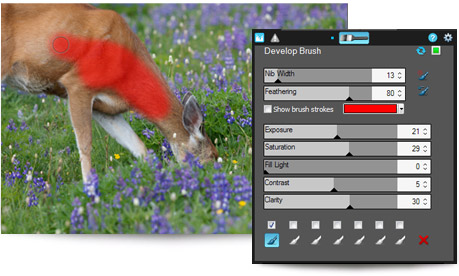 Using the non destuctive selection brush you can selectively adjust exposure, add clarity, and vibrance.
There is improved noise reduction for high ISO images and a slider for added control over the sharpening process by feathering or softening the sharpening halos. It works pretty well to give more natural results and preserve more of the edge detail.
Color Improvement – You can adjust individual or overall color in images with improved Advanced Color tools. There is better fine-tuning or dramatically changing the hue, saturation, and lightness of images.
Photo Editing

Brush on Edits — The Brush on Edits tool enables you to brush on any editing effect or adjustment to a specific area of an image with size and feathering controls. For instance you can add a stained glass effect, blur the background, convert an object to black and white.
Smart Blur — This  filter can be used as a creative editing effect or to reduce the noise in an image. It can smooth out the grain and noise patterns between edges without losing sharpness or detail.


Clarity tool — This tool targets the mid-tones, allowing you to add extra definition or softening while retaining the highlights and shadow areas.


Black and white mode — The dedicated black and white mode offers non-destructive hue-based brightness adjustments. There is also saturation-based tinting that enables you to add a specific hue back to a black and white image.
Manage your photos online

You get a free account with 10 GB of space called ACDSee Online. This cloud storage integrates nicely with the software. You just drag and drop select images or folders directly from  the program to your online space.  You can also set up automatic content uploading from specified folders.  There are also free iPhone and iPad apps to automatically sends your images to your online storage.
Sharing
There are multiple means of sharing your images. You can do it via email, upload to flickr™, SmugMug, and Zenfolio, or and share on Facebook and Twitter via ACDSee Online. You can optimize images for the web and create slide shows. There are also options for archiving your images  to .zip folders, DVD, or Blu-Rays, and backing up to external hard drives as well as online.
Bottom Line:

ACDSee Pro 6 offers robust  developing, editing and cataloging. While some aspects are  not as sophisticated as Lightroom 4, it's easier to use, gets the job done and handles large RAW files fairly quickly. Overall, it's a worthy program at a reasonable price (approx $99).