Most-Used Lightroom Keyboard Shortcuts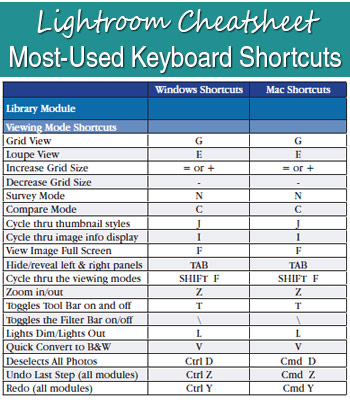 Lightroom has hundreds of time-saving keyboard shortcuts built in that can shave time off your workflow. But if you can't remember what they are, it's not going to help you, is it? So I've compiled a list of the most popular shortcuts for both Windows and Mac into a downloadable PDF that you can print and keep by your computer.

Also, a nice trick to figure out a particular shortcut when you're in Lightroom: if you click on something in the top menu of any module, Lightroom will list the keyboard shortcut for that task, if there is one available. Also, in the Develop Module, when you hover your mouse over an adjustment brush, Lightroom will display the shortcut keystrokes.
Download a PDF with the most frequently used Lightroom Keyboard shortcuts here.
The list includes the most-used shortcuts (50+), not absolutely every available shortcut, because if you have to look through a 10-page list to find the one you want, that's not going to help you speed up your post-processing. But if your favorite shortcut is missing, shoot me an email at info @ digitalphotos101.com and let me know so I can add it to the list.