Adobe Photoshop Lightroom 3 Best in Class
Newer version available - read Lightroom 4 review
Adobe Photoshop Lightroom 3 offers new enhancements to one of the most popular programs for importing, organizing and sharing digital images. Its main strengths are tremendous flexibility and a robust capability for processing RAW images.
Lightroom is suitable for both professional and serious amateur photographers who need to import and process hundreds and perhaps thousands of images. Lightroom manages the organizing and processing of large volumes of photographs and greatly speeds up the time it takes to go through several hundred images and make picks and rejects. If you are a serious photographer you will also appreciate the ability to manage image workflow with Lightroom's dual-monitor support.
New Features:
Accelerated performance—Get your digital photography tasks done fast and have more time to shoot and promote your work. Already quick performance has been dramatically accelerated in Lightroom 3, saving you time from first look to final image.
Superior noise reduction—Achieve amazing, natural-looking results from your high ISO images with all-new state-of-the-art noise reduction technology. You won't need more than what's built into Lightroom 3 to get the cleanest images at any ISO.
Lens correction—Quickly and easily perfect your images by automatically reducing lens defects like geometric distortion, chromatic aberration, and vignetting with single-click profiles. Even images from the best lenses will be improved.
Support for DSLR video files—New support for video files from most digital SLR cameras lets you easily manage and organize both still photographs and video files side-by-side.
Image watermarking—Embed your identity or your brand and logo in your images with more options for customizing their look. The new watermarking tool lets you apply text or graphic watermarks to a photo with adjustable size, position, and opacity.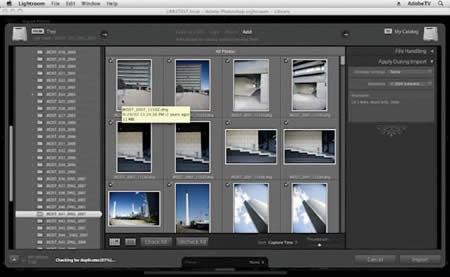 Image importing is very fast in Lightroom 3
Overview of Photoshop Lightroom 3
While some may think that Lightroom is an expanded Adobe Bridge, it's much more than that. The attractive graphite interface features a set of five modules: Library, Develop, Slide show, Print and Web.
Library Mode
The powerful Library Mode is the heart of Lightroom. It features quick and customizable searching, powerful yet flexible sorting, selecting, and organizational tools, robust metadata filters, and a keyword suggester that offers keywords based on keywords you used previously. While the synchronization feature works very well, it can be slow if you have a large number of files to synch.
You can rate and sort images from within Library, Print, or Slide show mode.

Develop Mode
Although many users buy Lightroom for the superb library mode, the Develop mode is excellent. This mode allows you to do most of your editing on the spot. Lightroom supports 190 camera raw file formats, as well as JPEG, TIFF, and PSD files. A key feature is non destructive editing. You can always go back to your original, untouched image, no matter how many changes you've made. Every change you make to an image is automatically tracked, so you can return to any previous state with one click on the history panel.
A favorite tool is the local adjustment brush, which allows adjustments to be applied selectively, i.e. you can paint an area that you want to compensate for an overexposed sky or a dark foreground in landscape photos. Photoshop is tightly integrated into Lightroom (but a separate program) .While Lightroom is not quite as in-depth as Photoshop, most users will find that they will seldom need to go to Photoshop for their editing needs.
Print
The Print mode offers nice pre-sets and customizable layouts for printing images, high-quality contact sheets and picture packages. Everything is highly customizable, which is great for professional photographers who need to make presentations.
Slideshow
Users can create impressive, professional-quality slideshows quickly and easily. Slideshows can be exported as a series of JPG slides or as a PDF slideshow.
Web
Lightroom offers a fast and easy way to create professional web galleries using flash or html without special technical knowledge. It integrates seamlessly with photo sharing sites like Smugmug and Flickr.
Should You Buy or Upgrade?
If you shoot and need to organize and process large numbers of images, in especially RAW format, Lightroom will greatly speed up your workflow. Highly recommended.
Where to Buy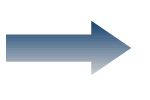 Download Lightroom 3 at Adobe.com

Buy Adobe Photoshop Lightroom 3 at Amazon.com
Books About Adobe Lightroom 3