Creating Printable Greeting Cards, Invitations & Holiday Photo Cards
Stay Connected With Family and Friends
About Printable Greeting Cards
Creating Printable Photo Greeting Cards
Software for Photo Cards
About Printable Greeting Cards
Making your own photo Christmas cards and other personalized holiday greeting photo cards, as well as Valentines Day and Easter cards, Mother's Day, Father's Day, Graduation Day or Wedding photo cards is a lot easier than you think. All you need is your favorite photo or photos to get started. Soon you will have your own customized set of digital photo cards to send off to your family and friends.
Printable greeting cards are a great way to keep in touch with family and friends and show off your digital photos. Most online digital photos services offer customized photo cards, allowing you to create your own photo greeting cards such as birth or wedding announcements, birthdays, photo Christmas cards, invitations, thank-you notes, and more.
Creating Printable Photo Greeting Cards & Invitations
Photo cards are simple and fun to create. Online photo services such as Snapfish where you can choose from over 100 photo card designs, and
Shutterfly
make it easy to design high-quality customized photo cards and invitations using your own digital photos and personal message inside. Typically, photo greeting cards are printed on 5x7 card stock and you can choose from a matte or glossy finish. You just need to upload your digital photo (or photos) to the photo service, choose from a selection of layouts and greetings, and add your personal message. Photo cards usually come in sets of 20 with envelopes for mailing.
Recently the photo book publisher Mixbook started offering photo cards and invitations and they are beautiful. They offer hundreds of customization options for the background, fonts, colors and even embellishments. I made an invitation for my sister's baby shower and I was surprised at all the options I had, and the price was reasonable. You can order personalized cards at Mixbook here.
Photo Stamps
Once you've created your photo card, you can even create personalized postage stamps using your own photo.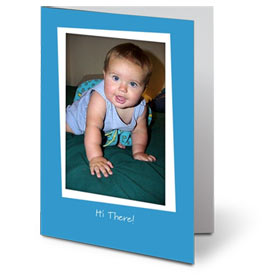 The major online photos services above offer free downloadable software for creating photo cards, books and other photo gifts.
Shutterfly even let you import your addresses from Outlook or your Palm device and they'll address, stamp and mail your photo greeting cards for you. Now isn't that a great way to take care of your photo cards!
Software for Photo Greeting Cards
You can also make your own printable greeting cards using digital photo software. There are several great programs with photo card templates for a variety of occasions. They make it easy to design your own customized Christmas, Valentine's Day and Easter photo cards or other holiday photo cards.
One of my favorite programs for making printable greeting cards at home is Adobe Photoshop Elements. It has templates for a variety of photo greeting cards including Halloween, Christmas, Valentine's Day, and Easter cards and other holiday photo cards.