Walgreens Photo Center Offers Lots of Features
Pros


Same day in-store pick-up, good range of photo products. Easy site navigation, uploading and ordering. New group rooms. Mobile app. Frequent deals. Good customer service.



Cons


Prices are different depending on whether you pick up in-store or have them delivered. No user forum, although there is a blog for inspiration.

Print Price: 19¢

Print Quality:
Ease of Use:
Pricing:
Features:
Customer Service:
Shipping/Turnaround:




Overview
I have never been a big fan of drugstore printing and photo products because I thought they were inferior to online digital photo printing services such as Shutterfly, but I was pleasantly surprised that Walgreens Photo Center does quite a good job. With locations everywhere it certainly is convenient. They do a lot more than merely print your photos. Besides prints and enlargements there is a big array of photo gifts and products you can make and there are options for in-store pickup or home delivery on most items. They also offer frequent coupons and promo codes to help you save.
Main Features
Wide variety of photo gifts from photo books and calendars to home, office and gifts for kids.
Same day pickup on prints, canvas prints, posters, photo books, wall calendars, most photo cards, scrapbook pages, banners and collage prints.
Order prints from your facebook photo album and those of your friends.
Group Room - Your friends with a Walgreens account can upload albums and share photos so you can all enjoy a shot of the winning soccer goal or the bouquet toss at the wedding you attended together.
Photo CDs and DVD transfer service
Frequent sales and coupon codes.
Photo & Video Organizer
Walgreens used to offer a free desktop software application for organizing and managing your photos, but I can no longer find the download on their site. However, while viewing a photo album you can tag faces, mark images as favorites, share, view larger and reorganize images within the album alphabetically, oldest or newest or custom order. If you have friends with accounts you can also see their albums and order prints and creative projects using their images.
Sharing
There are several means of sharing your images and albums with family and friends. You can share them via email (the first time you have to manually enter the addresses but the next time the system will remember and auto-fill). You can also share individual photos or an album via a link which is provided by the photo center. There is also integrated sharing to your social network on Facebook, Twitter, MySpace, Yahoo and Google Plus.
Editing
From within your photo albums you can make basic edits to your images such as rotate, remove red eye, color correct and fill flash. You can also crop and add borders or apply tints.
Mobile App
There is a free mobile phone app that enables you to upload your pictures from your iPhone or Android smart phone. This enables you to order prints and enlargements right from your phone, print photos from Facebook albums and create prints using Facebook photos including likes, comments and tags. There is also an iPad app that offers the same features plus the ability to create photo cards using Walgreen's card templates.
Photo Products & Gifts
Aside from their photo printing services,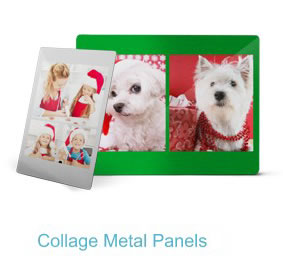 Walgreen's has a surprisingly good range of photo products which include canvas prints, photo books (4.5x6 brag books, 5x7, 8x8, 8.5x11 and 12x12), greeting cards, calendars, and poster prints.
When I procrastinated too long to order Christmas photo cards from one of my favorite online services, I turned to my local Walgreens. Not only did they have a nice selection of 500+ card styles including 4x8 and 5x7 photo paper cards and folded 5x7 cards, the quality was good and I was able to pick them up at the store only a few blocks from home that same day. There are also nice stationery cards for all occasions by Wellwishes, Posh Paper, Designing Finch and other major card designers. Folded cards are a little pricey at $1.99 each for in-store pick-up or mail delivery, but there are some nice designs.
Gifts include baby items, bags and totes, blankets, clothing, crystal, drink ware and mugs, holiday ornaments, home decor and wall decor such as metal wall art and panels, key chains, mouse pads, toys and games. One of the more unusual items is glass prints, which photos are printed on curved, beveled or clean cut glass. There are also gifts for your four-legged friend such as a dog leash and collar.
Pick-up In-store or Home Delivery

Many items can be picked up in the store, but not al all locations. Some items, such as 8x11 photo books are priced the same for in-store and home delivery (plus shipping) but be aware when ordering prints that print prices are higher for pick-up. Standard 4x6 prints cost 19 cents each for in-store pickup and just 12 cents (plus shipping) for mail order. The break-even will depend on the number of prints you are ordering.
Ease of Use
The site is well laid out and easy to use. The image uploader is the same one used by Snapfish (who is also a partner). You can also download the free PictureMover software (again, from Snapfish) to upload photos from camera or memory card directly to the photo center. It also automatically saves a copy to your MyPictures folder on your PC. Creating photo gifts is easy and the site walks you through the process.
Print Quality
In order to do this photo printing review, I sent in a few test images. Overall Walgreens digital photo center did a decent job on prints. Sunsets printed with vibrant color, but black and white prints were a little faded and slightly blue.
Custom Service
The customer service is very good. There was live chat, and it's still mentioned in their help section, but I can no longer find the link on their site (as of Dec 2012). You can contact them via phone 24 hours a day or email and peruse the comprehensive help center.