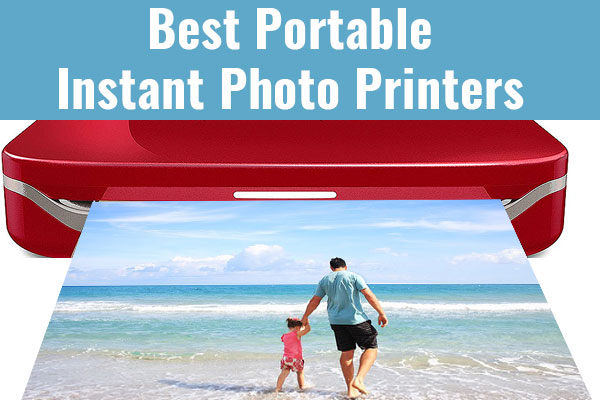 While showing off photos on your smartphone or via email or social media is easy, I still think nothing can beat a print in your hand. People, especially family members, still love to have pictures they can hold and examine and post on the fridge or the wall. And prints today will last many years without fading or changing colors. So why not start printing your photos at home…or at your next party?
With all of the great photo printers on the market, it is getting easier and more convenient to print photos from your digital camera or smartphone at home or anywhere. Dedicated photo printers offer good-quality photos and you don't have to pay a fortune for one. You can find high-quality photo printers for around a hundred bucks. Some of the most popular printers are so small, you can carry them with you in your pocket or bag.
What to Look for When Buying a Portable Photo Printer
Print Sizes
Consider what print size will fit your needs. Do you plan to mostly print 4″x6″ or a variety of sizes? Some printers only print 4″x6″  and there are special pocket printers that you can literally fit in your pocket that produce small 2.3 x 3.4 prints. Stickers are a fun feature you'll find on some new printers. This is photo paper with a sticky backing so you can stick your photos up anywhere.
Some higher-end printers can print wallet size, 4″x6″, 4″x8″, "x7″, 4″x12″ panoramic, and 8.5″x11", but the larger the prints the more likely the printer will need to be stationary.
Does the Printer Offer Wireless Printing
The fastest and easiest way to print is via wifi or an app. Newer printers offer mobile printing from an iPhone, iPad, or Android device. Most full-size printers will have wifi plus a memory card slot and USB port. There are many different types of memory cards so check that the printer you are considering can accept the type of card your digital camera uses. A number of better printers have a variety of memory slots such as SD, XD, CF, and MS to accommodate a variety of cards.
LCD Display
It helps to see what you're printing. If you looking for a regular-size printer as opposed to a pocket printer, you'll find that higher-quality printers usually have a built-in LCD. Look for one at least 3 inches. Some printers even let you edit your pictures right from the printer, allowing you to crop, rotate, brighten, or add borders.
Photo Quality
Pixels (dots) matter. Better photo printers offer up to 4800 x 1200 dots per inch. That means extremely sharp, lab-quality photos. Some printers can automatically remove red-eye as the photos are printed.
My Recommended Portable Photo Printers
HP Sprocket Plus Instant Photo Printer, Print 30% Larger Photos on 2.3×3.4 Sticky-Backed Paper
The HP Sprocket Portable Photo Printer is easy to carry around to parties and events with its handy wrist strap. It comes in red, gold, and black and prints 35 quality photos on one battery charge. The app that comes with it lets you add filters, borders, and emojis and the paper has a sticky back so you can stick your prints wherever you want. One caution: because of the small printer size, the photos are not high resolution so these will not be art prints. Find it at Amazon
Canon SELPHY CP1300 Wireless Compact Photo Printer with AirPrint and Mopria Device Printing
The Canon SELPHY CP1300 Wireless Compact Photo Printer looks quite similar to full-size printers and includes a 3.2-inch LCD screen, yet it has a compact size. You can print with the app or via USB or a card slot. Print a postcard 4×6 inches, L size 3.5 x 4.7 inches, Card size 2.1 x 3.4,  or square label 2.1 x 2.1 on high-quality, long-lasting (up to 100 years) photo paper. While not quite as mobile-friendly, the Canon SELPHY produces very high-quality prints. Buy it at Amazon
Fujifilm INSTAX Share SP-2 Mobile Printer
The tiny Fujifilm INSTAX prints high-quality photos in as little as 10 seconds. You send your images from smartphones and tablets to the printer via the free share app. The printer charges with its built-in micro USB port and it's good for up to 90 minutes, depending on how many pictures you're printing at once. It comes in silver or gold. You'll need to buy the paper separately. Buy it at Amazon.
To help defray my website operating costs I belong to Amazon's affiliate program.  In some instances, I may receive a  small commission for products viewed or purchased via my referral. Opinions are solely my own and I try my best to write honest reviews and only recommend products I would use myself.