Mother's Day is May 12 and if you are reading this you are probably trying to plan a gift for your mom. Flowers are nice but they only last about a week, and a spa treatment is definitely awesome, but once your mom has left the spa, it's done. For years now I have been giving my mom a photo-related gift and she absolutely loves receiving them. It's something personal, permanent, and she can view and enjoy it as often as she wants, plus she can show it off to others. Here are some of my favorite photo-related gift ideas:
Custom Photo Book Using Your Childhood Photos
Recently my sister sent our family some photos and video of my 18-month old niece smearing her face with refried beans – giving herself a "bean facial." She was so serious and methodical about it! It was just hilarious, and reminded our parents of how I smeared my face with blueberries when I was her age (at least refried beans don't stain like blueberries!). They have some cute photos of me in the act. This gave me the idea of looking through old photo albums of myself and my sisters when we were young children, scanning the prints and compiling the highlights into a new photo book. As you have probably discovered, old photos tend to fade, deteriorate and change color as time goes by, and scanning them is a good way to preserve them. I also like the idea of condensing old, bulky, heavy albums into a lightweight, slim photo book that's so pretty to display.
If you want to make a book using your childhood photos, dig out your old albums or or sneak them out of your mom's house and scan your favorite images. I've scanned photos at home in the past, and it's just too time-consuming, so now I outsource them to a company like ScanDigital. They will hand-scan and color-correct them so they will look like new, and return them on a DVD that you can use for creating a photo book or another gift.
Of course, you can also make a photo book using any photos you already have on your computer. Use your imagination and you can create a great, personal gift. if you want to use a Mother's Day theme, I found some cute ones at Mixbook: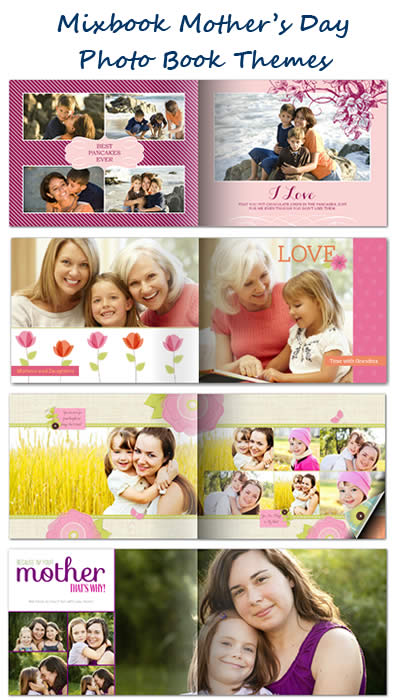 Convert Your Old Family Videos to DVD
As I mentioned, my sister captured my niece's "bean facial" on video as well as with her still camera, so she will have some great memories. But my parents have lots of old 8mm film from our childhood that hasn't seen the light of day in years. You probably have lots of old video or film too. How fun would it be to get those old movies converted to digital format and put on DVD? This would be a great Mother's Day gift, and one your siblings would enjoy as well. There are several companies that do that, including ScanDigital and iMemories.com
. You can read my imemories review here and be sure to use coupon code MOM20
thru 5/12 for 20% off for Mother's Day.
Create a Canvas Print or Wall Art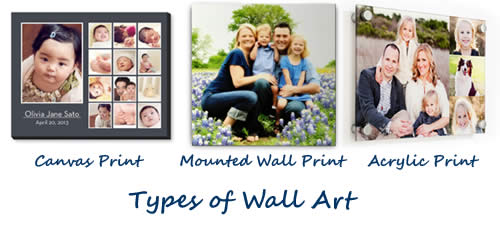 A canvas print would also make an excellent gift for your mom. This is a gallery print that doesn't need a frame and it's very lightweight and easy to hang. A little heavier but just as attractive is mounted wall art. This is a single image or collage of images that is mounted on a firm background, and does not need a frame. Shutterfly is also offering frame-less acrylic prints that float off the wall. These are a bit more expensive than canvas or mounted art, but very attractive and modern looking.
There are numerous services that offer custom wall art, including Shutterfly
, Snapfish
and My Publisher.

Custom Photo Jewelry
I particularly like this idea if you have a new baby or young children and want a unique Mother's day gift for your mom. You can put a photo of your little one in a sterling silver necklace or charm bracelet. I think most grandmother's would love this. I found jewelry photo gifts at Shutterfly
and Snapfish
.
Mother's Day Photo Card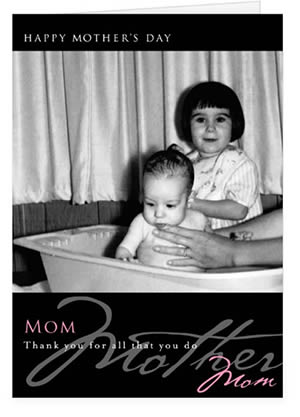 Last but not least is one of my favorites – the photo card. This is an inexpensive way of giving something personal to your mom, especially if you are on a tight budget. And, judging from the price of standard pre-printed greeting cards, which can run close to $5 these days, making a custom card can even cost less — including the shipping. I already made my Mother's Day card at Shutterfly
, using an old photo I found of me "helping" my mom give my baby sister a bath.
So by using these ideas and a little imagination of your own, you can come up with a unique Mother's Day gift that your mom with treasure. To help you save money on your project, be sure to visit my coupons and deals page where I list all the latest promos from major photo services.