As I've expanded my Adobe Photoshop and Lightroom skills over the years I've turned to several educators and learning sites to learn some new techniques. While they're great for seasoned users like me who want to learn new Lightroom and Photoshop tips and tricks, they're also perfect for beginners.
No matter your level of expertise, you can always find something new to learn. Especially with the frequent software updates in Adobe's photography plan, which includes Photoshop and Lightroom. For instance, Lightroom Classic had one of its biggest updates ever a few months ago and it's really been a game-changer. Most users turned to Lightroom tutorials to learn the new features. Here are my favorite go-to experts for learning Lightroom and Photoshop, in no particular order.
Scott Kelby
Scott is known as "the Photoshop Guy" and for good reason. He's perhaps the best-known Photoshop and Lightroom guru and the longtime editor and publisher of Photoshop User magazine. He teaches live seminars and has authored dozens of books on photo software and photography. Several years ago I attend one of his live seminars. Scott has a way of presenting material in a fun, easy-to-understand way that makes it entertaining and non-intimidating. In addition, he's also president and CEO of KelbyOne, an online education site for Photoshop and Lightroom users and photographers in general.
On KelbyOne he's one of many outstanding instructors teaching Photography, Photoshop, and Lightroom classes. This online membership community features classes in every aspect of photography, from macro to landscape, portrait, lighting, and more. Photoshop classes and tutorials run the gamut from an introduction to Photoshop to more advanced courses such as Creating Landscape Composites, Unlocking the Power of Photoshop Layers, and High-end Skin Retouching. Recent Lightroom courses include Unpacking the New Making Features in Lightroom, Mastering Black & White Photography in Lightroom, and Becoming Your Own Best Photo Editor. New courses and tutorials are added frequently so content is always fresh.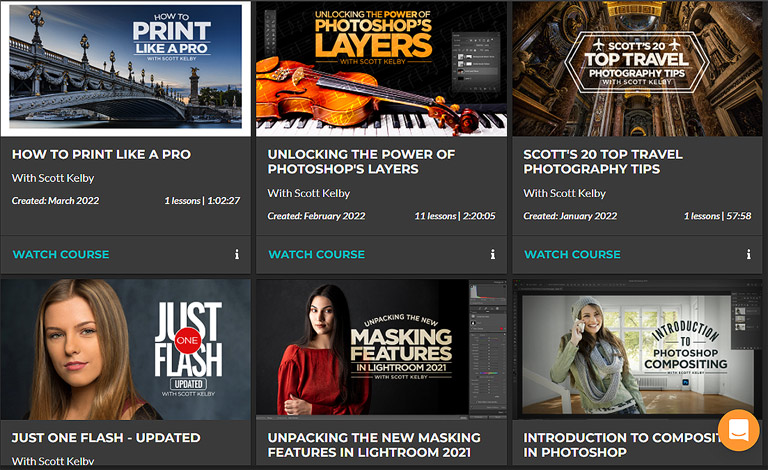 There are several membership levels. There's a free level with close to two dozen free classes. I recommend the KelbyOne Plus Monthly for $9.99/mo. You get access to 400+ courses, guided learning tracks, and the monthly Photoshop User digital magazine. The Pro level offers 900+ courses, brushes and presets, an interactive community, and other benefits for $19.99/month. You can read my much more detailed review of KelbyOne.com here.
Serge Ramelli
French fine art photographer Serge Ramelli is another one of my favorite Lightroom and Photoshop teachers. Serge has an extremely popular YouTube channel with excellent, in-depth tutorials. His style is for dramatic types of photos and his landscapes, particularly of Paris at night, are stunning. On his website Photoserge.com, he offers an array of reasonably-priced digital courses that can be purchased individually or as part of a curriculum. Among them is a Lightroom Universe Masterclass with more than 9 hours of training and a Photoshop for Photographers course that covers all the basics of retouching raw files, panoramas, HDR, and B&W photography. He also has an amazing Landscape Mastercourse for beginners that will help you transform your photos. In this course, Serge takes you through his entire process from shooting to his retouching workflow.
Recently I learned that Scott Kelby was his mentor when Serge was first learning photo retouching. Serge's teaching style is extremely engaging, fun, and quite thorough. His love of creating really cool-looking images shines through all his courses and tutorials and it's quite contagious. Serge makes it fun to learn new techniques. He does most of his retouching in Lightroom and just goes into Photoshop when it's necessary. I highly recommend you check out his courses. If you really want to go all-out, Serge also offers photo walking tours and workshops in Paris and other locales.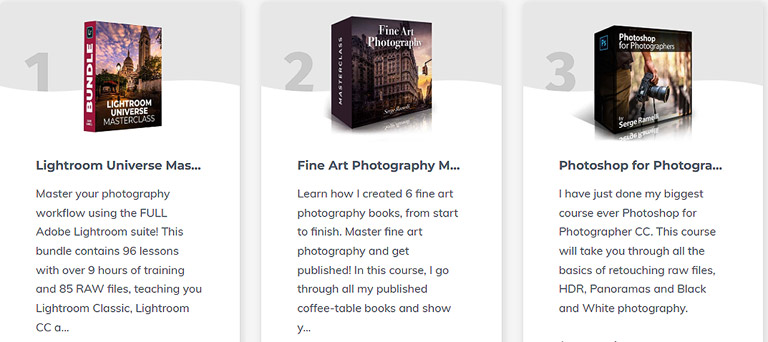 On his site, you'll also find bundles of Presets and Profiles that can really help you with your retouching. I find they make my landscape retouching much faster. They're great for things like retouching sunsets, the golden hour, etc. with one click of a preset.  Serge also has some presets for special effects to create Instagram looks and even to change a daytime photo into looking like a nighttime photo. Check out Serge's courses and presets at Photoserge.com
Matt Kloskowski
Matt Kloskowski is another of my top go-to Photoshop and Lightroom instructors. He's a born educator with an easy, approachable training style. His website mattk.com is dedicated to tutorials, courses, presets, and profiles for Lightroom and Photoshop. I've been a fan of Matt's for years now because he makes even difficult concepts easier to understand. His YouTube videos get millions of views and his collection of more than two dozen paid courses are well worth the money.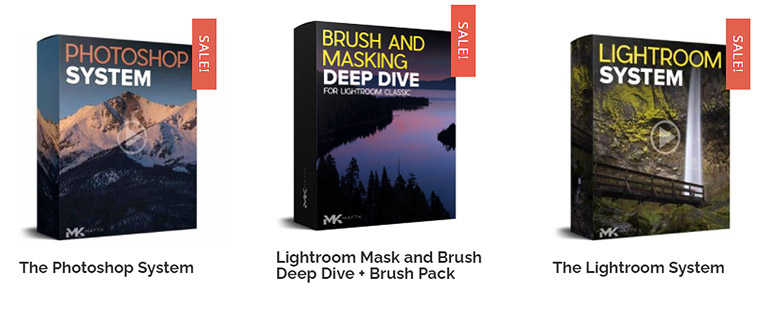 Matt is also great about keeping his courses updated, so his extremely comprehensive Lightroom System course features updates to Lightroom Classic through the present. It's broken down into 11 mini-courses of self-contained sections that cover different areas of Lightroom. You can start anywhere and learn what you wanted to learn. He offers a similar course called the Photoshop System. If you're into wildlife photography, Matt offers several courses including Wildlife Editing Secrets and Matt's Guide to Bird Photography. He also offers a variety of presets including a number of presets for wildlife and landscapes.
Who is your favorite Lightroom or Photoshop instructor or site? Let me know in the comments below.
To help defray my website operating costs I belong to several affiliate programs. In some instances, I may receive a small commission for products viewed or purchased via my referral. Opinions are solely my own and I try my best to write honest reviews and only recommend products I would use myself.