Time to Unearth That Stash of Old Home Movies and Convert Them to DVD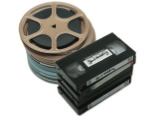 There's nothing like sitting back and going down memory lane as you relive an old family vacation, your kid's sports events or your wedding of years ago. The only problem is, like most of us, you probably have a stash of old videos and home movies sitting in the garage or in a closet or attic, unseen for years because you probably no longer have the right equipment to play them on. What's worse, as the clock ticks, our precious history on film and video is deteriorating due to time, heat, humidity and improper storage.
These days people are finding it's quite simple and not that expensive to send their old movies to a service that will convert their old films and videos to DVD. They'll digitally re-master and transfer them onto archive-quality DVD's so you'll have your memories protected and preserved for many years to come.
Converting your home movies to DVD can restore them to their original quality and will preserve them much better and longer than in their original format. Film has a life span of 30-40 years while video is just 10-15 years.
What Kinds of Formats Can Be Converted
Chances are, you have more than one kind of video or movie format on hand. Beta Max, VHS and 8mm are the typical videotape formats for movies from the recent past. If your home movie collection goes back a generation or so, you probably have reels of film on 8mm, Super 8, and 16mm. Most services will convert all of these and more, even audio tapes
The Conversion Process
Conversion houses will use cutting-edge equipment and technology and film/video experts to digitally re master your movies. Typically they will inspect and clean the film/video, repair splices, make a frame-by-frame conversion and enhance for color, clarity, contrast and lighting.
Why Not Use a Local Provider or Retail Chain
Local providers typically do not have a high level system in place for watching and labeling and tracking your media, so you will have to watch, organize and label your home videos and photos ahead of time, which may be impossible or very difficult. While there are some local retail chains that offer film and video conversion to DVD, most of them offer very basic services and outsource the actual conversion to someone else.