Creating a Digital Scrapbook Layout Can Be as Easy as Drag and Drop
Creating a digital scrapbook page layout is fun and easy plus digital scrapbooking is a lot cheaper, less messy and takes up a lot less space than traditional scrapbooking methods.
Digital Scrapbooking Software
Dedicated scrapbooking software programs like My Memories Suite give you loads of free scrapbook templates, background papers, embellishments, word art, etc. My Memories Suite is my go-to software for creating beautiful scrapbooks because everything I need is already there in one package for me to work with, plus I can download additional scrapbooking theme kits from their web site.
While using a scrapbooking kit is a no-brainer because you basically just have to drop in your photos, it's also simple to create your own layouts.
Other Scrapbooking Options
Snapfish offers Unique Scrapbooking Products
. They're a great resource for photo borders, with over 100 photo borders to choose from, elegant to fun. You also get free online storage so you can share your scrapbook pages with friends and family.
Smilebooks
SmileBooks offers a design service whereby you just have to upload your photos and their design team will create a unique digital scrapbook of your photos for only about $1.00 per page (in addition to the printing cost). I used their service to create a scrapbook of my trip to the Greek Isles and it came out beautifully.
Mixbook
Now, if you want to take the super easy, no-learning curve way, check out Mixbook. This is an online photo book service. They have the most flexible software and there are a myriad of scrapbooking-style backgrounds, embellishments, colors, themes, etc. You can truly make a beautiful scrapbook with them online. It has a powerful editor and there is no software to download, you do it all online.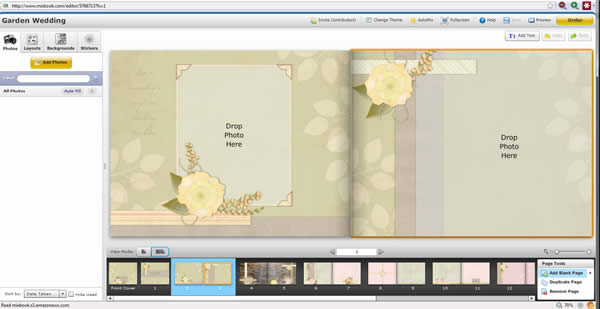 Above is an example of one of the beautiful scrapbook-style themes available at Mixbook. This happens to be the Garden Wedding theme but there are many others to choose from. You can move any element anywhere on the page, change fonts and colors, add embellishments etc., to really make it your own personalized design. I think it's simply awesome for scrapbooking and best of all, you don't have to pay for software!