Digital Scrapbook Software for Creating Your Own Scrapbook Pages
Digital scrapbooking is both a time-saver and money-saver compared to traditional paper scrapbooking. You can create page layouts in minutes without a mess (and we like that idea!). Most dedicated digital scrapbook software programs cost under $40, which makes them a must-have for all of the features you get. Most programs are easy to use and come with lots of built-in templates and layouts, as well as embellishments and backgrounds. You can usually add and use your own digikits as well. Here is a recap of my favorite scrapbooking software:
My Memories Suite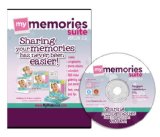 My Memories Suite is excellent digital scrapbooking software with user-friendly tools and editing features and high caliber templates and embellishments. You can choose to print your scrapbook using their online service. The advantage that My Memories Suite has over other photo software programs like Photoshop Elements is that it has the ability to design, add, and arrange all of your pages in a SINGLE workspace. And at under $40 it is a very good deal for the money. My Memories Suite prints professional looking photo books that are beautiful for displaying. The program also allows you to design multi-media slide shows, add video, narration, and music, create calendars, greeting cards and more. Read a full review of My Memories Suite


Scrapbook Factory Deluxe

Scrapbook Factory Deluxe
is best selling scrapbook software that offers endless design options for creating amazing scrapbooks for under $40. In addition to scrapbooks, you can create calendars, photo cards, paper dolls, book covers, t-shirts, journals, trading cards and other crafts.
Top Features:
There are 6,500+ scrapbook templates and customizable projects to choose from
75,000 graphics including watercolors, illustrations, vector drawings, and fine art
1,500 fonts to make your designs truly unique.
6,000+ embellishments including pop-ups, die cuts, shaker boxes, spinners, paper dolls
Photo Editor for editing and enhancing, add special effects, crop photos into unique shapes
Editing Features:
The interface is easy to use for beginners, as it has "drag and drop" design. There are a variety of page layout sizes and options including landscape. There is a photo editor to enhance your images. Features including light and contrast adjustments, cropping flipping, resizing, red-eye removal and flaw removal..
Scrapbook Factory supports traditional 12x12 scrapbook paper as well as 4x8 and 4x6 projects.
Sharing: You can share your scrapbook creations as web photo galleries, slide shows, upload to YouTube, or save them as PDF files. You can also burn CD photo scrapbooks, complete with music.
Scrapbook Factory is compatible with all major printers such as Canon, HP and Lexmark. The publisher, Nova,, also makes the wildly popular Greeting Card Factory Deluxe 9
software.
Adobe Photoshop Elements
Adobe Photoshop Elements
is popular with scrapbookers, who like the Artwork and Effect Palette which allows you to apply, backgrounds, themes, styles, effects, frames and graphics to your project and you can even add your own custom content to the palette. There are also new Flexible Layout Options that you can edit, rearrange, and resize. Select from a blank page to basic frames, or professionally designed themes.
ACDSee Photo Editor
ACDSee Photo Editor has great step-by-step tutorials to help you organize & transform your photos into GREAT scrapbook layouts. You can add special effects such as antique, vignette, and more, as well as text, draw or add text on paths, add embellishments, drop shadows, and transparencies. The Trim to Shape tool will punch out photos or patterned paper into 400 available shapes or you can create your own custom shapes. Photo Editor comes with templates by top digital designers Andrea Gold, Maggie Lamarre and Vicki Stegall.