Digital Scrapbooking: The New Way to Create Memory Books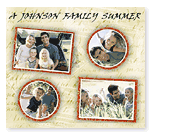 Digital scrapbooking, or computer scrapbooking, is the newest way to preserve your family memories. Using inexpensive, easy-to-use scrap book software, you can create entire scrapbook layouts and add fun fonts and graphics to take your scrapbook project to a new creative level. Some software packages like #1 Rated My Memories Digital Scrapbooking Software come with free scrapbooking templates for creating your book and features a variety of templates and background papers.
Computer scrapbooking has really taken off in the last few years because people are finding it is less expensive, fast and takes up less space (no more taking over the family dining table) to make a computer generated scrapbook versus traditional scrapbooking techniques. Most people already have a computer and digital camera, and once you have a digital scrapbooking program and have scanned your old photos and slides, you're
Printing Your Digital Scrapbook
Shutterfly.com
has a great a printing solution for digital scrappers. Shutterfly enables you to easily place pages into high quality Photo Books and print them with full bleed or die cut window covers. You can create unique book sizes for special memories and occasions—12x12, 8x8, 8.5x11 and 5x7. You can design Baby Books, Wedding Books, Holiday Books, Casual Books and more. It works seamlessly across Windows and Mac OS platforms and there are easy-to-follow specs and guides to help you create unique visuals for your scrapbook.
Viovio offers an amazing selection of photo book sizes, binding and cover options. You can create handsome, professional-quality photo books either by uploading PDF's of scrapbook pages you designed with your own software (such as Photoshop Elements or ACDSee) or by uploading individual images and use Viovio's automatic photo book creator. You can order everything from mini books to 8.5x11, 9x7 and other sizes at nearly half the cost of most other photo book services. Viovio has an extensive online community of forums and book sharing communities and allows you to transfer photos from your Flickr account to your Viovio gallery.
My Memories Suite is excellent software for digital scrapbookers. It provides user-friendly tools and editing features, very high quality templates and professional quality photo book printing. The software can be used for creating calendars and greeting cards, multi-media slide shows. My Memories Suite (Standard Package) only $39.97 ORDER NOW!
Benefits of Creating a Computer Scrapbook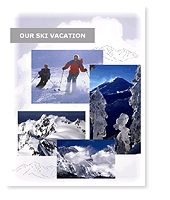 Use scrapbook templates
Several software programs have scrap book software for making your own templates or offer free printable software templates to help you create great looking layouts.
Correct and enhance photos
You can easily color correct images, lighten dark photos, crop out old boyfriends, and even erase scratches from old photos.
Add special effects
Most software programs come with special effects so you can enhance your photos and pages with antique sepia tones, torn or burnt edges, crinkles, soften or fade the edges, add digital picture frames, and much more. (continued below)

Creative fonts and colors
Quickly and easily add text to your pages, and get creative with fonts and colors. Using the eyedropper tool that comes with most programs, you can match your text color to any color in your photo. Much of this is either more difficult or next to impossible with traditional scrapbook methods.
Undo and delete options
If you have ever wasted photos or paper because you messed up your layout or didn't like it, the great advantage of using graphics software to create your layouts is that you can change them as often as you want simply by clicking "undo" -- multiple times if you want -- or simply delete it.
Share albums online
You can choose to keep your computer generated albums in digital form and share them online with your family, or you can print page layouts and put them in your album...the choice is yours, or you can do both.
Recommended Books on Digital Scrapbooking