Creating Your Own Photo Books Online or With Your Own Software
Photo Books come in many sizes and styles and they are quickly replacing traditional photo albums and scrapbooks for creatively displaying photos. A photo book is a terrific way to show off a new baby, your vacation photo or wedding pictures, or create a memento of a family gathering or sports event. Making your own personalized photo book can be as easy as dragging and dropping photos into template pages on online photo sites, or it could be creating your own designs using software like Photoshop Elements or My Memories scrapbooking software.
Make Photo Books Online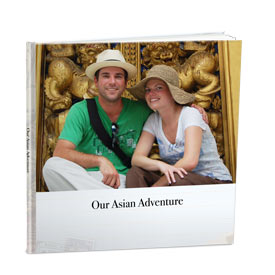 Making a photo book online is fast and easy. There are numerous professional online publishers that make the process simple and relatively inexpensive. Start by uploading your favorite images to a web site such as Snapfish, Shutterfly or my favorite, Mixbook. Choose a size and cover style and if desired, a theme such as birthday, holiday, sports, travel, etc. You can quickly make your photo book by dragging and dropping your photos into the online template and be done in as little as five minutes. Voila, you're ready to order your book for print. You can preview your book online before printing. Most sites will let you re-order your pages, add captions and even add full pages of text. Most online sites offer a variety of page backgrounds and options for number of photos per page.
Another of my favorite sites is Smilebooks because they offer free software that I downloaded to create my photo book, then I used the link to their web site to order it. They have a really nice selection of page backgrounds, templates and fonts and their software offered greater control and more options than regular online sites, yet it was very easy to use. And, if you're completely non-creative or strapped for time, they offer a design service with professional designers who design the book for you; you just have to pick a theme and upload your photos, and add your own text if desired.

One thing I love about using an online service is that most companies offer frequent discounts, often via coupon code. I never pay full price; typically I can save 20-30% on my photo book orders, sometimes get deeper discounts such as 50% off, or even free shipping. Shutterfly even lets you stack coupons so you can get a discount plus free shipping, for example.
Making Photo Books and Scrapbooks Using Your Own Software
If you own imaging software yourself you can create your photo book or scrapbook on your computer. You can use a major online printing service like Shutterfly or Snapfish or Viovio (huge range of sizes, great prices) to print your project. Generally you would create your pages and save each page as a separate JPEG file. Then you upload your jpeg files and drag and drop them into place onto blank full bleed scrapbook pages.
The procedure for creating the photo book pages in your software varies depending on your program. Below is the general procedure for software such as Photoshop Elements and Corel Paint Shop Pro X3.
1. Sequence your images in an album so you know what order you want to use your images.
2. Adjust and enhance any images as necessary.
3. In Photoshop Elements, click "Photo Book." Select the images you want to use then click on the "Create" panel. All photo books will have a title page; by default the first page becomes the title page.
4. You can choose a random photo layout which means Elements chooses the layout and number of photos per page. Or you can manually choose the number of pages and photos.
5. Choose a theme, which is the style of frames and backgrounds for your book. You can also choose to include captions.
6. You can auto-fill the book or manually choose individual images and drag them into the pages.
7. You can view spreads, flip through your book, and rearrange pages, adjust the size of the frame, rotate the frame, adjust the size of the image etc.
8. In the task pane you can add different backgrounds, graphics, text, frames, add embellishments, etc.
9. Save the book and click the order button and your photo book will be professionally printed and hardbound and sent to you.