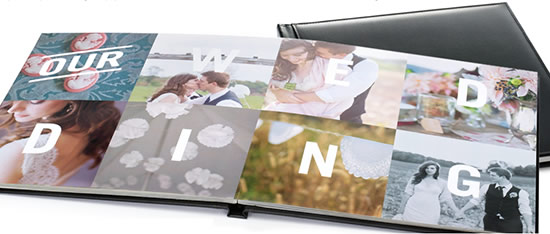 I'm starting to see more photo book services offering books with lay flat pages. This is a good thing; in the past lay flat layouts were extremely expensive and mainly used for custom wedding albums. So what are they, exactly? Well…they have pages that automatically lay flat when opened. They have traditionally been popular for wedding albums because they are a more elegant way of presenting photos, but since the cost was prohibitive they weren't widely used for other occasions. Fortunately, now there are more choices in a variety of price ranges, allowing us the opportunity to use them for more than just that one special book.
What Makes Lay Flat Books Special
Lay flat photo books tend to be  heavy weight books; the paper is thicker and coated for durability. Some companies limit the number of pages to allow for the flat style and thicker pages.  The binding allows images to flow seamlessly across two pages without losing part of the image in the gutter or fold. Photos can be full bleed, meaning they extend all the way to the edges of the page. Typically these books are printed on hinged, heavy paper that lays flat when opened, offering a more upscale feel. Other times you see what is called a flush mount. Aside from the classy, premium look, you don't have to hold down the pages to view them and the pages don't curl. As would be expected, they are typically priced at the high end of the spectrum. However, I have been finding that you can get lay flat books for less than you would expect, sometimes only $15 or $20 more than standard books.

A few select photo book services offer extremely high end, very expensive hand-crafted photo books most suited for wedding albums. These books are printed on ultra-premium paper such as Kodak Endura Silver Halide with gilded edges and rounded corners or custom stamping, and the pages lay completely flat and seamless. Books like this can cost upward of $200-$300 and often much more. But, for a one-of-a-kind occasion that you want to remember, like a wedding, they are well worth the price.
Best Uses of a Lay Flat Book
Weddings, anniversaries, and other special occasions you want to commemorate with a high end look are great times to use a flat bind.
Travel photo books are a natural. They also make two-page panoramic spreads of scenery and landscape photos look spectacular. If you shoot a lot of landscape photos and like to spread them across two pages, this would be a great fit.  I am wishing now that I had used this style of book for my Greek Islands photo book, it would have made the scenery look even more stunning, although the book would have been a little more costly.
Professional portfolios for artists or photographers or others wanting to make a strong impact with potential clients will find that lay flat books will provide the look they want.
Who Offers Lay Flat Photo Books
Here are a few companies offering affordable books in addition to their regular styles that you might want to check out:
My Publisher
My Publisher
recently began offering lay flat pages in their 8.75×11.25 classic hardcover, 11.5×15 deluxe hardcover and even a 5.75×7.75 pocketbook hardcover. They have hinged binding.  All are available from 20 pages on up to 100 pages. The additional charge for this style is $10-15 per book.
Shutterfly
Shutterfly
has three size: 8×8, 8×11 and 12×12 with either a photo or leather cover starting at $54.99 for 20 pages. The paper is double thick premium professional grade with a satin finish.
Smilebooks
Smilebooks offers lay flat photo books in their 12×12 Deluxe size, available with a minimum 26, maximum of 154 pages. The books are printed on thick, lustre photo paper. Smilebooks' lay flat photo books start at $79.95 for 26 pages; additional pages are $14 per 8 pages. Cover choices include hard cover, faux leather and linen.
Snapfish
New 11×14 Lay-Flat Photo Books
are available at Snapfish. These premium books are available for the intro price of $49.99, per Snapfish's website and 8×11 lay flat books are $39.99 for 20 pages. Even better, Snapfish has improved their photo book creator and you can now
Resize, move, and angle your photos
Add text or photo captions anywhere you want
Overlap photos and text