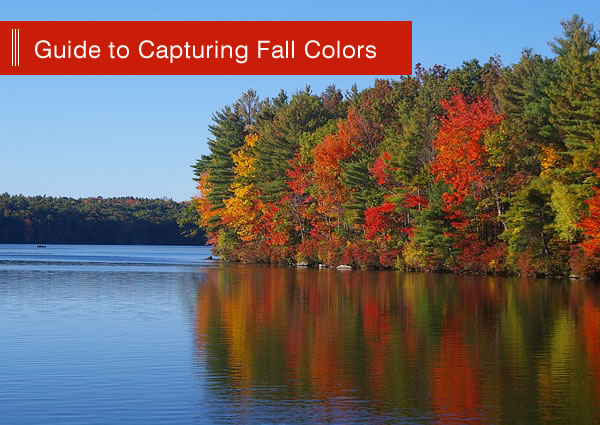 Here it is, mid-September already, and the beginning of prime time for capturing colorful images of those gorgeous reds, yellows, and oranges that paint our great outdoors. Our country will soon be bursting with color! I found some great tips and tutorials from top photographers with suggestions on how to best capture nature in its autumn glory.
1. Autumn (Fall) Photography – Capturing Colours by Darren Rouse
In this Digital Photography School article, Darren Rouse offers tips on fall foliage photography to fully capture its vibrancy. He touches on boosting colors, the best time to shoot, looking for contrast, how to warm up your colors by adjusting the White Balance, and other suggestions. This site is an excellent resource for both beginners and advanced photographers, so check out some of the other articles, too.
2. Classic Fall Color Photo Tips – By Stan Trzoniec
Photographer Stan Trzoniec discusses the merits of shooting on an overcast day, how to shoot waterfalls and rolling streams, the best types of lenses for specific shots, how to use lighting to boost color, and why a tripod is essential for some shots.
3. New England Foliage
Tracking fall color – This website has an interactive map that tells you the current status of fall foliage in various parts of the country. While its main focus is New England, you can also see the rest of the country and zoom in on locals. You can get a weekly foliage report and download a free app. A very helpful site for locating the best color.
4. A Detailed Guide to Photographing Fall Foliage by Christopher O'Donnell
Christopher O'Donnell has some great tips about using weather to your advantage, from overcast and wet mornings to bring out the vibrancy, to the warm tones and shadows, and highlights provided by bright sunlight.
5. Fall Foliage Photography Tips by Nasim Mansurov
You'll get pointers on researching locations, shooting at sunrise,  how to use a polarizing filter, appreciating photo ops in bad weather, and night shooting.
6. 10 Tips for Shooting Autumn Foliage – a Checklist for Great Fall Color Photos by Rod Plank
Learn the keys to location, light, and exposure in this article from Nikon. Plus you'll see some great example images with all of the settings used to capture the images.
7. 12 Tips For Stunning Fall Foliage Photos – by David Molnar
Photography mentor David Molnar provides some great insight on improving your fall foliage photos. He says to experiment with a shallow depth of field for a different perspective. Also, try adding some dramatic backlighting, change your perspective, and get low or up high. Read the rest of his tips here.
8. 7 Fall Foliage Photography Tips from a Pro from the Travel Channel
Learn a few tricks of the trade from top photographer  Jeff Folger. He says don't just wing it, you need to plan. He says talking to the locals will clue you into the prime spots and check out the written info provided by local experts.
9. How to Photograph the Fall Colors – by Itsjustlight.com
In this article, you'll get tips on which types of trees have the best fall colors. Here's a hint: you want to look for cottonwood, aspen, oak, maple, beech, and more. The site also recommends shooting in raw format if you can, especially if you're taking photos on an overcast day.
10. Autumn 15-Minute Photo Challenge: Take and Make Great Photography with Gavin Hoey
My last tip is a video from Adorama. Gavin Hoey takes you on a fall photo shoot and then gives you some pointers on enhancing the fall colors in Photoshop.
So now that you're armed with all this info, plan your route, bundle up, and go shoot some of that gorgeous fall color. You can share your best images on my Facebook page.