Digital scrapbookers can get a free 20-page 6×6 softcover photo book from MyMemories Suite, and if you don't already own the software (which is wonderful, by the way, and cheap at only $39.97) you can download a free trial to make your book! This offer is good through April 30, 2012. This is a great deal for newbies to digital scrapbooking.
With Mother's Day coming up, this is a great opportunity to make a one-of-a-kind gift for your mom. In fact, I love making photo books for my mom. It's so hard to shop for her and flowers die quickly, while the gift of memories will be around forever. It may be a cliche, but it's true! I have done a detailed review of MyMemories Suite, so if you want to learn more about the software be sure to read it.
How to Get Your Free Photo Book
When you use the above link, you will be taken to a screen with a download link for the software free trial. Just download and install the software, then pick a template. You can either use one of the templates that comes with the software, download one of the free templates or buy one of the many inexpensive template kits they have available. Once you have created your masterpiece, upload it to the MyMemories Suite website for printing. There is a $7.99 shipping/handling fee. Here is the link again: Get a free softcover photo book from MyMemories Suite
More Savings: Use the PROMO CODE: Bunny20
to save $5.00 on your next $20.00 purchase! Good through April 30, 2012
How-to Tutorials
If you are new to digital scrapbooking, you may be a bit leery of trying out new software. I own the MyMemories Suite software myself and it is pretty intuitive to use. However, you will find a bunch of tutorials at their website if you need help. In fact, there are video tutorials available for downloading and installing the software, using the software and installing templates, and how to upload your book for printing. There is also a great blog and FAQ.
MyMemories Suite Featured on Lifetime Television
MyMemories is being featured on a Mother's Day Special for Lifetime TV's morning show "The Balancing Act" on April 18. So, as a special promo they are offering this great freebie.
MyMemories Suite Template Kits
My Memories Suite also has some awesome template kits. You can download quite a nice selection of free templates and background papers. You can also buy beautiful template kits at rather nice prices, usually between $4.99 to $9.99. Templates are great because most of the work is done for you, and you just have to insert your photos. The toughest part may be choosing which template to use. Here is a sampling of some of their new ones.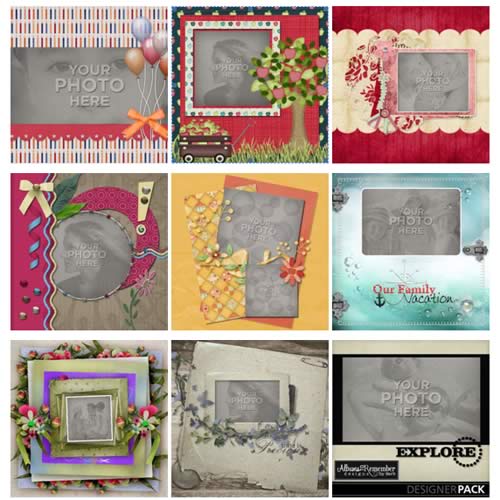 MyMemories Design Club
If you are a frequent scrapbooker, the Design Club might be for you. With membership in the Design Club you get five great new kits each month for $5.99.  That works out to about a buck twenty per kit. The club includes kits from top scrapbook designers. So if you a a scrapbook addict, this is a great deal.