Even though we live in a digital world today, we still have plenty of paper cluttering our lives, from boxes of old photos to ticket stubs from our favorite concerts, to our kid's artwork that we can't bear to part with. It's time to say "I'm not going to take it anymore" and clean up the clutter.  All you need is a scanner and your favorite photo book site (mine is Mixbook photo books) to help you reclaim your house.
Scan Your Old Photos
Get out all those photos you have hiding away in a shoebox and show them off. But forget about the old-style photo albums. Over time the pictures will fade and change color. Your best bet is to scan them, either at home (see my article on how to scan photos to your computer) or using a photo scanning service, then upload them and make a photo scrapbook. Too many random photos and you don't know how to organize them? Make a year in review book. Now you can display pictures of your son's first Little League game, your daughter and her friends in the Halloween costumes or your trip to Hawaii in style.
Save Your Kid's Artworks for Posterity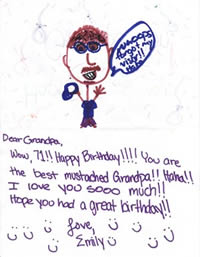 There is only so much room to display finger paintings and drawings on the fridge and then what do you do with them? And what in the world do you do with the 3-D display of  your son's social studies project? The solution is to scan your kids' masterpieces, or in the case of large displays or painted clay bunnies, take a digital photo. Then you can upload all the images to a photo site and make a photo book showcasing your little ones' art treasures. This is a great gift for the grandparents, too. I also like to use the photos in a calendar or on the cover of birthday cards or greeting cards. Best of all, now that you have all the masterpieces digitally preserved, you can toss the originals without feeling guilty.
Clean Out Your Stockpile of Greeting Cards and Old Ticket Stubs
Do you still have all your old wedding cards stashed in a box or keep all your birthday cards or Valentine's Day cards from your spouse? I'm guilty of this. Or maybe you have a cool collection of postcards from past vacations sitting in a file. Why leave them where you will never see them? Scan them and make a memory book, then that's one more box or folder of clutter you can eliminate from your life.
If you have a memento box filled with old concert or sports event ticket stubs, playbills etc., why not go through them, select the ones that still have meaning to you and toss the rest. Scan the keepers and either archive them on your computer, or better yet, create a special events scrapbook and include photos of yourself at the events. When you are done you can throw out all those paper tickets and flyers and you've just eliminated another box of "stuff."
Why Make  Memory Photo Book
By making photo memory books of all your favorite pictures and treasures you will be creating something that takes up much less room, it's something you'll be proud to display on your coffee table, and it will last for years without worrying about yellowing paper, faded photographs or extra clutter. It's a winner any way you look at it.
Related Posts