Cameras Can Break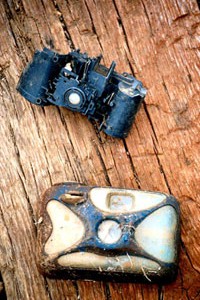 This seems pretty basic, but it is a lesson I had to learn the hard way. A few days ago I was rushing to take a picture of kids goofing around in the pool, pulled my little Canon SD1200 out of its case and took my shot. Then I fumbled. I don't know exactly what happened, but in my rush I didn't loop the camera restraint around my wrist and somehow I dropped it with the zoom lens extended (3x optical zoom) and the camera landed on the concrete patio and dented the lens. So now it won't retract and I get a message that there is a lens error (duh) and I should restart the camera. But that didn't work, so the camera is toast.
My SD1200 was a decent but not great, very convenient little point-and-shoot that fit easily into my pocket or purse. It was much handier to carry around vs. my bigger, heavier camera. The thing that bugged me the most though, was the measly 4x optical zoom. That just isn't enough for me, because I really like to be able to zoom in and it's not always possible to get closer to a subject (unless I wanted to jump in the aforementioned pool with the kids).
The Search for a New Point-and-Shoot with Bigger Zoom
So now, whether I like it or not, I get a re-do. Actually a re-buy. My wish is for a pocket-sized point-and shoot that takes great pictures, is easy to operate, in the $200-range, and has a better zoom capability. Am I dreaming? Maybe not. I have been looking at a few options that seem kind of interesting and they get good reviews.
Four and five times optical zoom seems to be the average for compact digital cameras these days. I want to see if I can do better without sacrificing quality or portability. I found some available with 8X zoom. That is pretty good for a pocket camera. So my search at this point has narrowed to several options:
Panasonic Lumix ZS20 14.1 MP High Sensitivity MOS Digital Camera with 20x Optical Zoom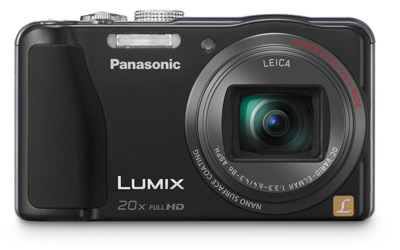 The Panasonic Lumix ZS20
is a pretty nifty point-and-shoot 14.1 MP camera with an amazing 20x optical zoom packed into a body that is only 1.1 inches thick and weighs 7.2 ounces. It has an ultra wide-angle 24mm lens that zooms to 480mm, which is an awesome range for its size. It has very good optical image stabilization called POWER O.I.S., which is important with that kind of zoom. It offers fast shooting performance and good low-light image quality. It has semi-manual and manual shooting modes and GPS. It records full HD 1,920 x 1,080 30p (NTSC) videos in MP4 format. You can even use the full 20x zoom while recording video.
It has a nice  3.0-inch, 460K-dot Smart Touch-screen, but if you use the touch screen a lot it eats battery.  The one other thing I am not crazy about is that the battery must be charged while in the camera via a USB cable to a wall charger. Why Panasonic made this change, I don't know. However, I have another Panasonic camera and apparently I can use the old dedicated charger with this camera. I like having a separate charging dock so I can keep a spare: drop in a fully charged battery and use the camera while I recharge the other one.
Sturdily Built
This camera seems pretty sturdy. In fact, one Amazon reviewer said they dropped the camera from five stories and it still worked. Seeing as I have a history of dropping things, that's my kind of camera. It's only available in black and silver (so what, for a good camera I will sacrifice not having a "fun" color). And the price? I saw it on Amazon
for about $249 recently. While it is a little higher than I had wanted to pay, this is a serious contender.
Canon Powershot Elph 310 HS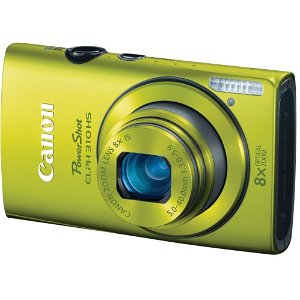 The Canon PowerShot ELPH 310 HS
12mp camera is a good option, but it is a little pricier than my budget, at about $250-300 through Amazon. What I like about it is the small size, the 8x optical zoom that has a 28-244mm (35mm equivalent) field of view, excellent image quality and its ability to capture HD video at 1080p. It's a speedy camera with good low-light performance. It also has a bright 3-inch screen. While I have read some great reviews from users who love it, others have said it is "cheap and disappointing" with bad shutter lag. Hmm. It got the Editor's Choice from PC Mag, and they said test shots produced "very respectable" shutter lag of 0.3 seconds.  There is a newer model of this camera available, but they have downgraded the zoom to 5x and added wi-fi.
Canon Powershot A4000 IS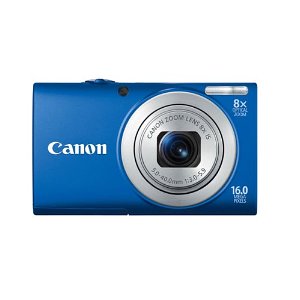 You can pick up this baby at Walmart or Amazon for as little as $159. That's a good deal. The Canon PowerShot A4000 IS
16mp camera has an 8x zoom lens and according to reviews takes sharp photos. It does have a couple of issues, though, it is a bit slow to start up and at high ISOs in order to keep noise low you lose quite a bit of image detail. It has a 3-inch LCD with 230 dots, which is ok but not great viewing resolution. Still, if you are on a budget this is a good little camera.
So, here are three possibilities. I haven't made my decision yet but at this point I am leaning toward the Panasonic. Stay tuned and I will update you on my decision.