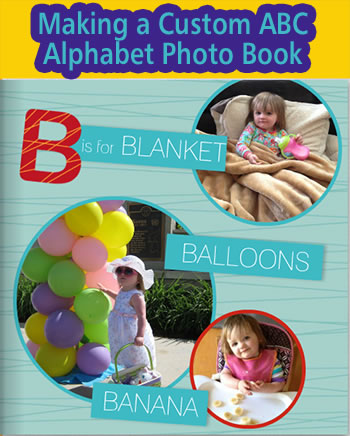 With the holidays coming I was trying to think of a unique gift for my niece and came up with the idea of a personalized ABC alphabet photo book using family pictures. I must admit, this is the most fun I've had making a photo book.
While Madison loves to sing the alphabet song and knows her letters, she's only two and this is good reinforcement. So I made the book colorful, with cute stickers and big letters, so it will keep her attention. Plus, it's filled with photos of her and her favorite people, so it is bound to be something she will enjoy.
A book like this is very easy to make, it only took me a few hours, thanks to a sister who sent me oodles of photos via Dropbox. I've mentioned this before, but I'll say it again. Using a free cloud sharing account makes sharing photos super fast and easy. You can read my full review on various photo sharing sites here.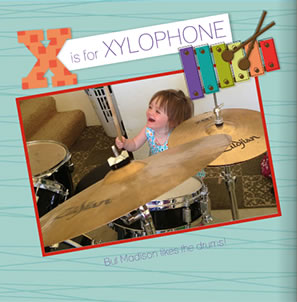 The other thing that made this project easy was using a template. I used the ABC Alphabet template from Mixbook that was styled with cute alphabet letters and stickers. All I had to do was find appropriate photos to go with the alphabet. I wanted to use family photos to depict each letter. For example, I designated "F" is for "Family" so I used photos of her parents and grandparents. "S" is for "Slide," so I used a picture of Madison going down a slide.
I was a little worried at first that I wouldn't be able to find enough photos to go with all the letters, but it was easier than I thought – I just had to be creative. I was stumped for "X" so I went with the sticker of the xylophone that Mixbook already had in the template. I added a fun picture of Madison playing the drums with a caption "X is for xylophone, but Madison prefers the drums."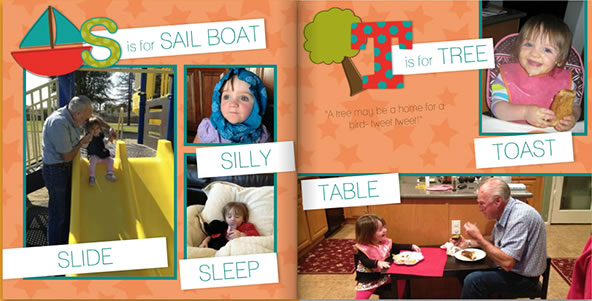 To make the project go faster (I have tons of photo gifts to make this year), I made a quick spreadsheet with the letters of the alphabet and thought of simple words that went with each letter. This helped me get a good start, though I did improvise as I went through my photos. Then I put all appropriate images into one folder and renamed them with what they represented, such as "balloon," before uploading them to Mixbook. After that it was a fairly simple matter of dragging and dropping them into place.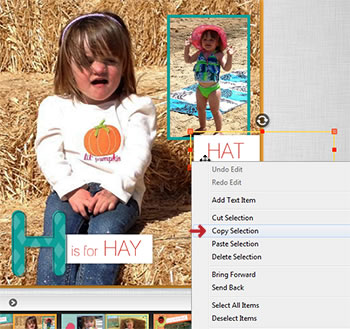 I did do a little re-arranging because there were times where I wanted to use several photos to illustrate different letters. For example, "D" is for "daddy" and "dog" and "dance."  Fortunately, Mixbook makes this super easy, because you can move, resize, add or delete anything you want.  By clicking on a text box I could copy it by right clicking and then paste the text into a new spot and type over it so I would automatically have the same font, color and size.
Things to keep in mind:
Use bright colors to help grab your child's attention, but keep the design simple so it's not distracting.
Make the font for the alphabet plain and the letters large, about two inches tall. A sans-serif font works best because many of the serif fonts have funny curves and shapes that could be confusing to young children.
For the same reason, use large non-serif fonts for the words you are using to describe the alphabet letters. In the book I made, I used Lane Narrow, but Arial, Helvetica, or Century Gothic would also work well.
Use objects around the house, like your kids toys, to represent letters of the alphabet. For example, a toy car or truck, stuffed bear, etc. You could even walk around the house or neighborhood with your child and have them point out things, then you can photograph them.
Incorporate family photos you've taken, such as "G" is for "Grandparents." You child will love seeing the familiar faces.
Before printing your book, check out my photo deals page for the latest coupon code so you can save some money. Using a coupon from  Mixbook, I'm saving 30% plus getting free shipping. This deal is good for the next couple of days, but if you are reading this sometime later, I will have the latest promo codes posted.
Here are some of Mixbook's Children's Themes: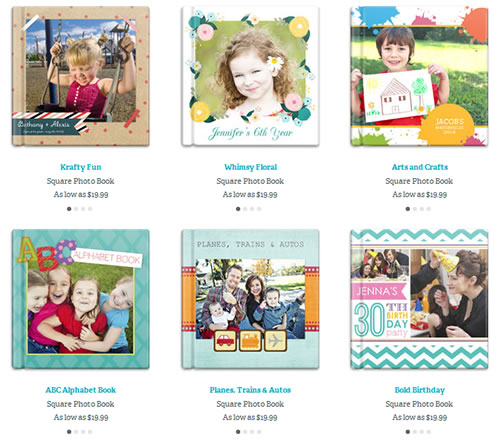 Shutterfly
also has a cute ABC Book theme: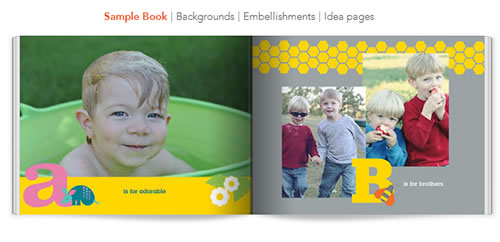 I'm so excited about Madison's ABC book and it will definitely be one of the most unique presents under the Christmas tree this year!