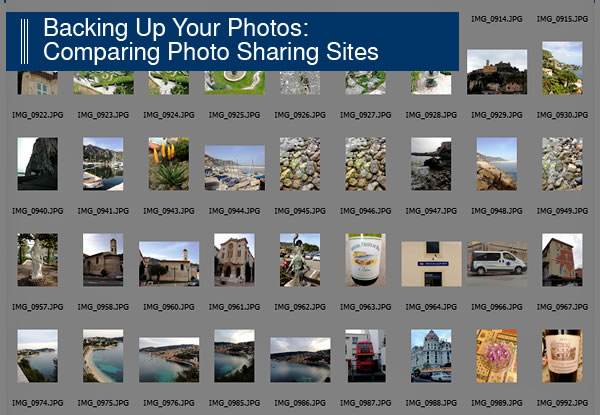 In today's digital photography world, our computers and SD cards have become the virtual "shoebox" for our unprinted pictures. Because it's so easy and cheap to take a lot of digital images, we tend to take far more than we end up printing. As our computers get more advanced and storage capacity grows, it's easy to just leave them on our PC or Mac, but you're living dangerously if you don't have a backup system. We all know we should be backing up our photos, but do you? And how often? What system should you use?
You can back them up on CD/DVD (two copies is best) and/or put them on an external backup drive, but you have to remember to do it and you need to keep a copy of everything off-site in case of theft or natural disaster. Some people use Facebook, but you can't search for images, there are ongoing privacy concerns and they are automatically re-sized. An increasingly popular alternative is using an online photo-sharing site for photo hosting and backup. It's hard to talk about photo storage without talking about sharing, as the two are often intertwined, so that's what we're going to explore here. The good news is there are many photo-sharing services that offer both free and paid storage plans, so there will be something to fit your needs.
Why should you consider using an online photo-sharing service? Well, there are lots of reasons:
All offer safe online storage so you can recover your images if need be
Most sites have robust organizing features with tagging, searching, and multi-level folders and albums
Most sites have online photo editors, many with special effects filters and enhancements like teeth whitening
Sites have customizable privacy settings
Some allow you to order prints and photo gifts.
Some websites offer free storage in addition to paid plans
Some sites enable you to make a website for free
Several sites have pro features and galleries for branding and selling images
Cons
Some sites may limit the size of the photos uploaded
Many sites do not support RAW files or there is an extra charge
Some photo sites do not offer download of the full-size original images, or you have to upgrade to get this feature
While some sites offer free storage, you may need to upgrade to a payment plan to get the features you need
I did some research and put together a list of what I think are the best photo-sharing and storage websites available. Some are entirely free, others offer free as well as paid plans. The chart below will give you an overview, and below it, I go into more detailed reviews of each service.
Photo Website
Photobucket
Flickr
Slickpic
Smugmug
Snapfish
Shutterfly
Cost
Basic: Free; *Pro: tiered starts at $29.99

Basic: Free; Ad-free: $49.99/yr; Doublr: $499.99/yr

Basic: free;

Plus:$24.95, Pro: $99.95 yr

$40-$300 yr. No free plan

Free for images

Free for images. Premium video plan $49.99/yr

Storage
2GB free; Pro 20GB and up*

1 Terabyte free and Ad-Free; 2 terabytes Doublr

Unlimited but only Pro is stored at original resolution

Unlimited
Unlimited

Video subscription unlimited storage

Unlimited

File Size Limits

none

200MB, video 1GB

50MB

50MB

Video 3GB

Images none

Video 1GB

none

File Types

gif, jpg, png, bmp

JPG, GIF, PNG

gif, jpg, png ; RAW in Pro only

JPG, GIF, PNG;
Smugvault: RAW,
TIFF, PSD, PDF
JPG

JPG

Image Editing

Yes – 1-click enhance, teeth whiten, draw

Yes – enhance, filters, stickers, draw, text

Yes, option for expert to enhance images, plugins for Lightroom, Aperture, iPhoto

Yes, via PicMonkey

Yes – basic crop, rotate, contrast, red-eye

Yes – basic crop, rotate, contrast, red-eye

Personal web space

Yes

Yes

Yes in paid version
Yes with custom themes

Yes
Yes
Make Prints or Gifts

Yes
Yes via Snapfish
No
Yes
Yes
Yes
Notes

*Plans from 20GB to 500GB. upload/ download original resolution

Unlimited bandwidth, upload/ download original resolution

Download originals paid versions only.

Download full res originals. Watermarks
only in higher level
plans. Full ecommerce support. Smugvault stores other file types ($0.09/mo per GB)

Must purchase 1 print/year min.
Currently does not offer download of original resolution images. Will never delete images, no purchase required.

Photo Sharing Service Reviews
There are two main categories: dedicated photo storage and sharing sites and full-featured sites that focus on photo printing/gifts but also offer storage and sharing.
Dedicated Storage and Sharing Sites
Note: when I refer to full-resolution downloads it means your original photos when uploaded from your computer or camera, without downsizing or compression.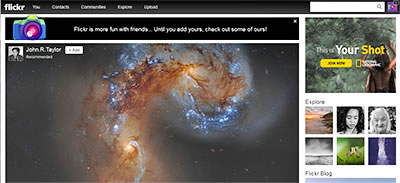 Flickr
Flickr is favored by many for its extensive organizing options including groups, collections, tagging, commenting, and geotagging, as well as its custom privacy settings to control who sees your images. It also has multiple options for sharing including via blog, Facebook, Twitter, your own Flickr website address, HTML embed, email, and link. There are apps for mobile devices and desktops and you get a variety of upload options: batch, individual, and via email. They offer web-based image editing via their partner, Aviary, and you can use filters, and effects, fix blemishes, and more. There is a large community of users and you can create groups to share your images.  Flickr recently revamped its plans. Now even the basic plan offers a terabyte of free storage for images and video, but you will see ads in your browser. The paid accounts offer even more storage and are ad-free. Even with a free account you get unlimited bandwidth and can upload/download the full original resolution images. That's pretty awesome. The only downside I see at the moment is that there is no support for RAW.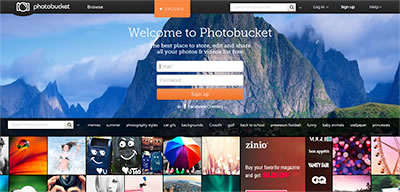 Photobucket
Another very popular sharing website is Photobucket, which is easy to use and offers unlimited photo and video storage and integration with social media sites. You can even embed slideshows on other websites. Photobucket has excellent organizing capabilities and you can sort your images into albums and use titles, keywords, or tags. There is an online photo editor with enhancing tools, filters, and special effects.
There is a free bulk upload and backup program and after you install it it will automatically back up images. There are mobile apps for Android and iPhone for viewing, searching, editing, and sharing and you can create your own web page for sharing. One negative is that while there is a robust online community, it is easy to get bogged down with too many social features. The free account is good enough for small users but it's limited to 2GB a month and 5MB per image limit, so it's insufficient for large hi-res images. There are tiered pro accounts starting at $29.99 with 20GB and unmetered bandwidth on up to plans for 500GB of space and the ability to upload/download full-resolution images. There is no support for RAW and you can only download one image at a time, although the bulk download is coming, according to the site.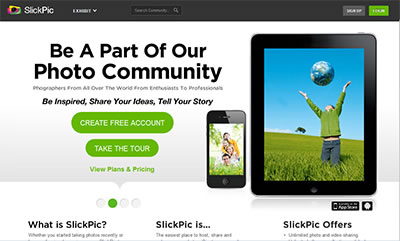 Slickpic
Until I started researching, I wasn't familiar with Slickpic, but it has some nice features. It offers basic unlimited storage for free, but images are stored at 1600×1200 pixels and you'll see some ads. You have to upgrade to a Pro account  ($99.95/year) for images stored at full resolution, and while everyone gets Public, Unlisted, or Private security options for Albums and Collections, for settings like hide EXIF details and disable right click you need a paid account. They have easy drag and drop for creating collections or albums and uploading via computer or email.
Slickpic has a unique feature: you can get a professional to enhance your images (by using credits you purchase). They also have plugins for Lightroom, Aperture,  iPhoto, and Windows Gallery as well as iPhone and Android apps for uploading and sharing. You can even add images to your eBay auction listing from within Slickpic. You can organize your images into albums, and collections, add tags and share via email, social networks, or via links. There is an online community and you can enable comments on your images, create a photo blog, vote on other people's images, and view statistics.  You can share amongst groups, but there are no private groups. The Pro account offers personal web space and RAW file storage and the ability to download original photos.
Full-featured sites that offer storage, sharing and photo printing/gifts: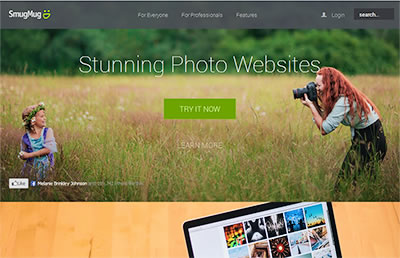 Smugmug
Smugmug offers a wide feature set for the average user as well as the professional wanting to brand, market, and sell online. Although there is no free plan, their basic plan ($40/year) offers a free custom website, ad-free, unlimited photo uploads (max 50MB each) including the ability to add from Lightroom, Aperture, and iPhoto, a simple interface for easy uploading via your computer or drag-and-drop, easy to navigate, and folder/galleries up to five levels deep. You can sort by date, caption, tag, and geo-tag. All images are backed up with Amazon Web Services and you can access full-resolution images at any time. You can create password-protected galleries that you can keep private or make public, share via social media, publish photos to a Facebook album, embed slideshows, create private share groups, and there is a whole e-commerce set-up for pros.
Smugmug uses PicMonkey as their online photo editor, enabling you to make everything from basic edits to advanced tools like curves as well as filters and special effects. You can also order prints and a full array of photo gifts – cards, books, mounted prints, wrapped canvas and more.
While Smugmug has some great features, it's one of a few without a free option and the online community isn't as advanced or robust as others such as Flickr. But for a reasonable yearly fee, you get great backup, full-resolution downloads, and some fun features.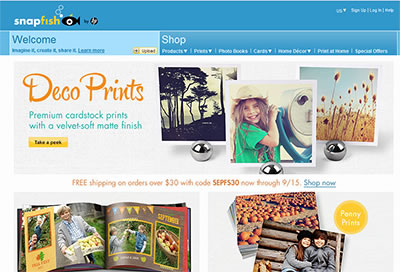 Snapfish
Snapfish
is primarily known as a photo service for making prints and gifts, but it also offers its customers unlimited free online storage as long as they make one purchase (as little as one print) per year. Unlike competitor Shutterfly, you can download your original images. The photo storage feature is very easy to use and you can organize your images into online photo albums, add face and event tags and set favorites, but it doesn't have the depth or robust organizing of Flickr or Smugmug. You can set privacy levels to share with only whom you specify via link or Facebook and create group rooms to share images with your friends, i.e. for a wedding, school, team, or event. Your images are all private and password protected and won't be seen publicly, only shared with the people you specify. You can upload images from Facebook and other social networks and blogs using Autoshare. There are basic editing functions but they are not as sophisticated as with other photo-sharing and storage sites and the interface isn't as slick as Flickr or Photobucket. There is a big focus on making products with your images, which can be a plus or minus depending on your outlook.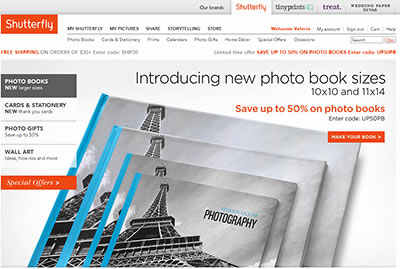 Shutterfly
Like Snapfish, you get unlimited free online photo storage, but Shutterfly
will host your images forever, even if you don't make a purchase. You can organize your images into folders and albums, share albums via email, Facebook, blogs, and other social networks and create your own private website for sharing. Editing is very basic – crop, redeye, saturate, b&W, soft focus, sepia. No fancy filters or blemish fixers. There are Android, iPhone, iPad, and Roku apps for uploading and viewing your images. Unfortunately, you can't download full-resolution images of something you uploaded, but you can request your originals be sent to you on CD. I see Shutterfly as a secondary backup, not a primary, because of this. Of course, since Shutterfly is a full-service photo site, you can also order a myriad of gifts as well as prints.
What about video?
All of the sites mentioned above also offer online video storage. There are different limits for each site, and the details are best left for another post. I have made brief notes about video sharing and storage in the chart above.
So Which One Should You Use?
I have to say that Flickr, with its 1 terabyte of free storage and great organizing and sharing features, is my pick, although there are things I like about all the services. I also really like Smugmug because they offer a comprehensive feature set and the reasonably priced $40/year plan is suitable for almost everyone except pros, who will want the higher-level plans to market their images. If you don't have zillions of images and just want somewhere safe to keep a copy and you're already using Snapfish
or Shutterfly
, that may be all you need for photo backup. The main thing is that you need to keep a copy of all your images in a safe place that is not where your computer is located in the event of disaster or theft. In another post, I will explore Cloud options.
How do you back up your photos? I would love to hear your comments.
I've made every effort to ensure the info I've provided is accurate, but these services sometimes change features, plans, and prices, so be sure to check carefully before you sign up. These opinions are my own, based on my own comparison research.
Related Posts:
Backing Up Your Photos II: Cloud Storage vs Online Backup Service