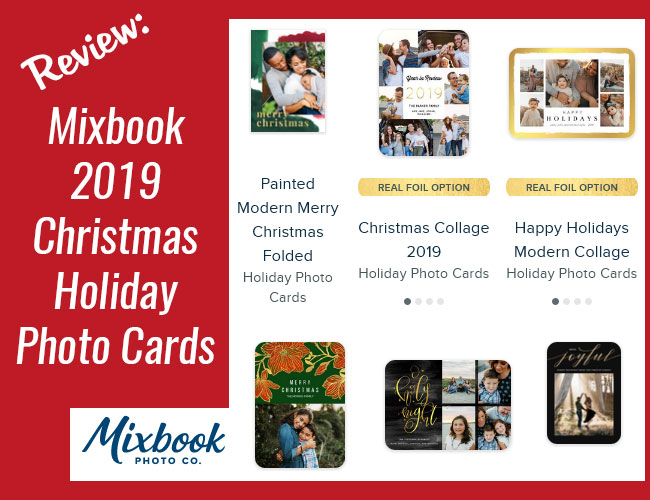 Rather than sending a generic Christmas card out every year, my husband and I like to send a Christmas holiday photo card to our family and friends. It's a nice way to add a personal touch and to make sure long-distance friends still recognize us! Pretty much every year I make our Christmas photo cards at Mixbook. I've found they have a huge assortment of attractive designs at reasonable prices and they're easy to create and customize.
Here's my latest experience making Christmas photo cards at Mixbook.
Use Filters to Find Your Favorite Designs
With Mixbook's 1,000+ template themes including Christmas, holiday, and Hannukah, I knew I needed to narrow down my card design. Luckily, Mixbook enabled me to sort them in a variety of ways:  by the number of photos, whether they were flat or folded cards, and even whether they folded from the side or top. There are also filters for the choice of 6 trim options and five sizes, from 3.5 x 5 to 5×7 inches, as well as by whether you want foil accented cards (a big trend this year), the dominant color, orientation, and style. This was all a big help to me to try to find the design and layout I was looking for.
Fast and Easy Layouts
One issue I ran into that was my own fault: the photo I was using was very vertical and a lot of designs, regardless of what photo service you use, seem to work best where the subjects fit into a fairly square area. (Note to self for next year!) So I really needed a design with a strongish vertical frame for my photo. Since I could filter the design themes by one photo with a portrait orientation, it helped a lot in finding layouts with photo frames that would work. I also filtered by flat 5×7 card with square trim, no foil,  and red as the dominant color.
Once I decided on a Christmas photo card template, all I had to do was insert my image (from a computer, phone, Facebook, Instagram, Google Photos or Smugmug) and add my text.
Here is my Christmas 2019 photo card and I think it came out beautifully. The color reproduction was very good and the Signature Matte cardstock I chose has a smooth finish and feels sturdy enough to where the corners won't bend up easily. While I could have chosen rounded or scalloped trim edges I went with the square edge because of the geometric design of the template. The Mixbook template I used is called "Joyful Geometric" and it's quite different from the fairly traditional themes I usually pick.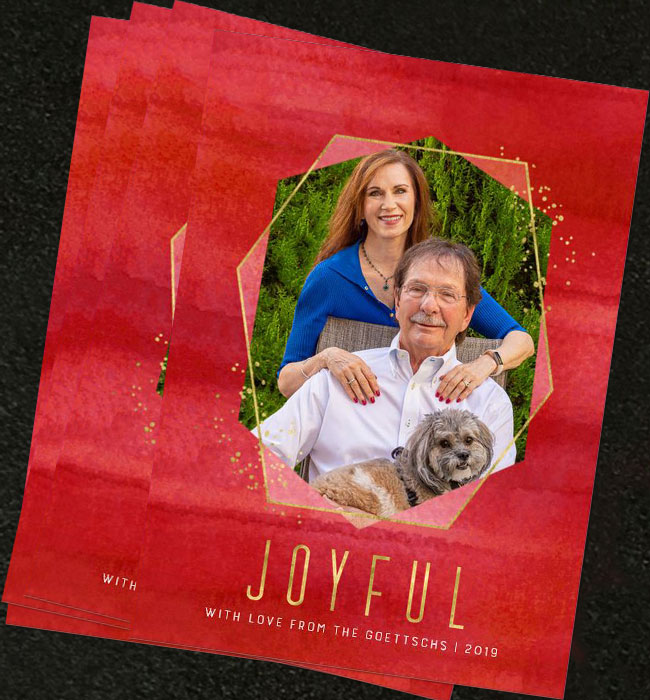 Customize Literally Everything
I've always appreciated the ability to customize everything with Mixbook, and they came through for me again. After positioning my photo in the frame, I found that the gold specks in the bottom corners were covering my dog's face and it was really bugging me. So in the editor, I selected the outer layer that had the red background with the gold flecks and clicked on the "Flip" icon in the pop-up menu, and voila! Fixed it. Here's a look at before and after: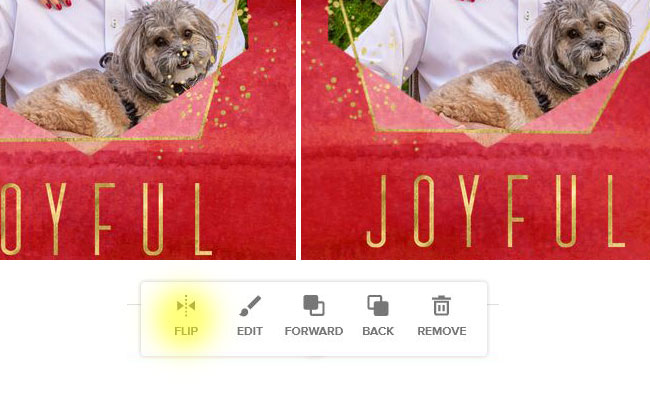 That's not the only thing you can customize, you can choose from dozens of font faces and endless font colors as well as background colors.  The "Joyful" text is a sticker and you can change that, as well. For instance, I found a "Merry Christmas" sticker that I could have used in its place. The layout and background can also be changed. You can pretty much make any change you want, including starting with a blank white card.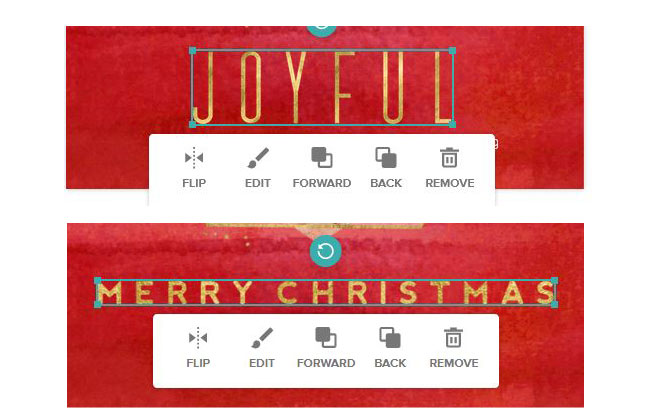 On the back, I went with the recommended background and added my own text. There are pre-set backgrounds for your card and theme or you can choose one of the other recommended backgrounds.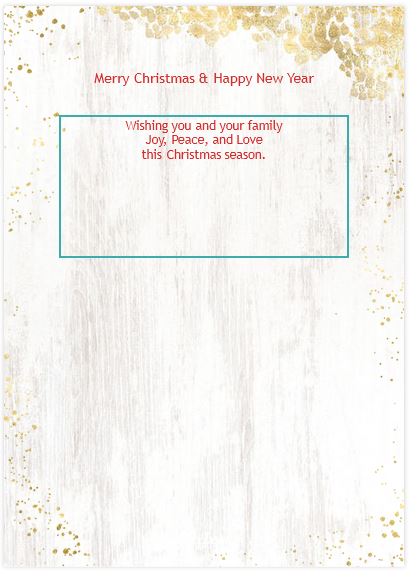 Paper Card Stock
The final decision you have to make is the type of cardstock. Mixbook offers six paper finishes:
Satin, which is a flexible card stock with a slight satin sheen and is the basic paper;
Signature Matte with a smooth finish – this is the default paper choice and it's a quality paper;
Pearl with a shimmer finish that adds a bit of lustre;
Premium Matte which is a thicker cardstock;
Cotton Texture with a subtle textured finish; and
Luxe Board which is thick and heavy with a matte finish.
Of course, the different finishes are at varying price points with Satin the least expensive and Luxe Board the priciest. I chose the Signature Matte with blank envelopes (all envelopes are premium Mohawk 70 lb white envelopes).  For an extra 25 cents each, you can opt to have return and/or recipient addresses printed on them.
Shipping
While the shipping information said the expected delivery date for my cards was Nov 29, they arrived a whole week earlier! This is consistent with my prior experiences; my photo items always arrive earlier than expected, which is great.
Mixbook's Christmas Holiday Photo Card Prices
I thought the cost of my cards was pretty reasonable and in line with most online photo services. The price for 30 cards was $61.20 ($2.04 each) but with Mixbook's current coupon code, it brought the price down to $39.90 ($1.33 each). So that's considerable savings! Mixbook offers weekly coupon codes. To get the most current deal, click here to get to their Deal's page.
What I like about Mixbook is the quality and variety of their designs and the ability to completely customize them — and their fast delivery.
Have you tried Mixbook? What was your experience? Please tell me in the comments below.
To help defray my website operating costs I belong to several affiliate programs.  In some instances, I may receive a  small commission for products viewed or purchased via my referral. Opinions are solely my own and I try my best to write honest reviews and only recommend products I would use myself.