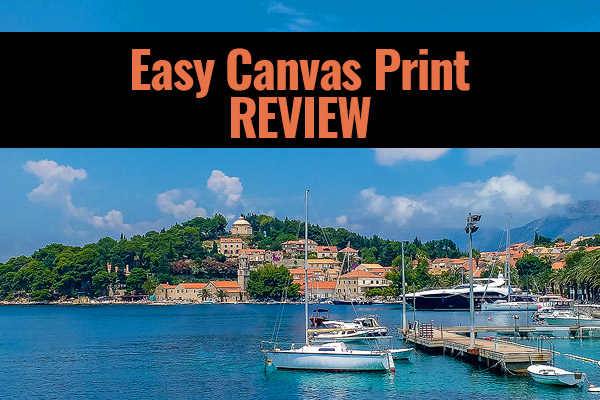 Lately, I've become kind of addicted to making canvas prints because they add such a great spot of color to my house without costing a fortune. My home office sports a canvas featuring the Croatian island of Hvar, and next on my agenda was a canvas picture for our family room. We now have a beautiful custom-size canvas hanging on our wall from Easy Canvas Prints, reviewed below.
Custom Dimensions
The screensaver on my cellphone is of a photo I took in Cavtat, Croatia, near Dubrovnik. I just love the picture and kept thinking it would look great on the narrow wall of our family room/dining area. But it's a strong vertical and most of the canvas printers I looked at didn't offer a size that would work without chopping off the top or bottom. So I did some more searching for canvas wall art that offered custom dimensions. I stumbled on Easy Canvas Prints, based in Austin, TX, which offers a good variety of standard sizes as well as custom measurements at reasonable prices.
Rich Colors
My print is amazing. I was a touch dubious because the prices are deeply discounted (about 87% off the "regular" price). My 30″ x 18″ canvas with 1.5″ mirror gallery wrap was $54.55 plus tax and shipping ($9.99). This was a custom size; if you choose the most popular size, 16×20, a canvas would cost about $34 plus tax/shipping including 1.5″ gallery wrap and dust cover.
I was happy to find that my canvas arrived in about a week and it came out great with rich, saturated colors and tight canvas and corners. The canvas has a semi-gloss finish and the color reproduction looks just like what I saw on my computer screen.
Canvas Options
The ordering process was fast, I just uploaded my JPEG and typed in my custom dimensions. You have a choice of a standard wrap .75″ wrap or 1.5″ gallery wrap, which I highly recommend because it looks more "arty" and finished. If you plan to frame it, the regular .75″ is fine. There are also several frame options you can add on.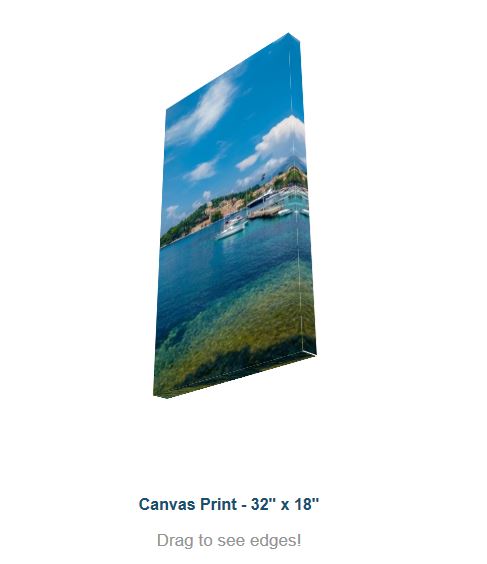 Easy Canvas Prints only offers a mirror wrap, which is where the image reflects like a mirror as it wraps around the edges. This is usually a good thing because about 2 inches of the edge of your photo is duplicated and wrapped around the sides of the canvas so you don't lose any part of your photo on the front. If you don't want mirror wrap, you can choose black, white or grey borders. Dust covers are available for a small extra charge. You can also create photo collages and multi-canvas wall displays.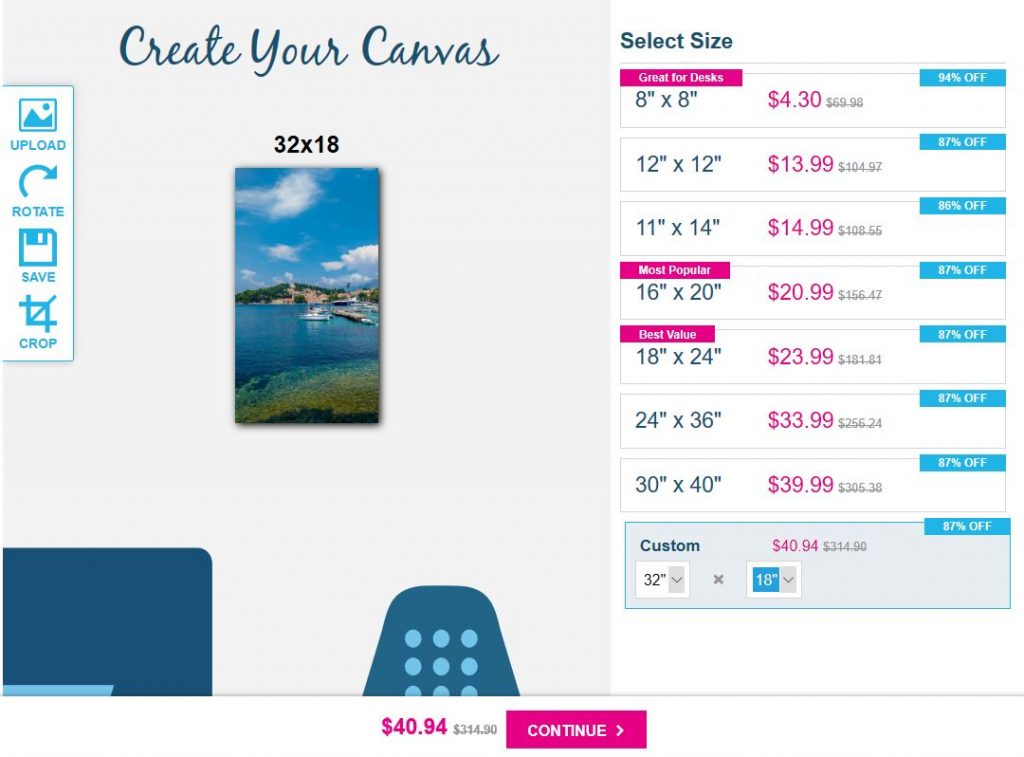 Canvas Sizes
If you're wanting to create a very large canvas, perhaps for above your sofa, you're in luck. Easy Canvas offers custom sizes including very large canvases up to 60″ x 40." Standard prints are available in the following dimensions:
8″x8″
12″x12″
11″x14″
16″x20″
18″x24″
24″x36″
30″x40″
The company also offers metal prints, although I feel Mixbook offers great quality at better prices on their metal prints. You can read my metal print review here.
Little Quibbles
Overall the website was easy to navigate. I was a tad confused about the hanging hardware, mainly because it wasn't immediately clear what was included. During the ordering process, I was given the option of a hook to put in the wall or a "wall hanging system." I didn't want either one so I wasn't sure what the default was or if it came totally bare. What I received was a canvas with a saw-tooth hanger already mounted, which was actually just what I wanted. It was probably just me being dense, as I did find mounting info later on their pricing page.
You won't find frills like a photo editor, special filters and effects (other than B&W or Sepia), or retouching services. But what you will get is a high-quality canvas at a very good price.
With a fast turnaround, reasonable prices, and quality, I would definitely use Easy Canvas Prints again. It's a great way to decorate your home or office on a budget.