Mixbook is My Top Pick for Birth Announcement, Baby & Wedding Shower Invitation Cards
Heads above the rest in customization options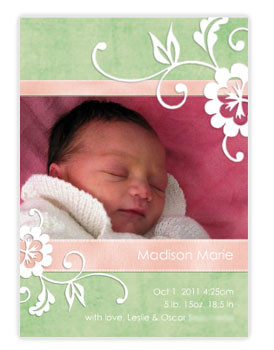 My sister just had her first baby, and she asked me, as the owner of a digital photos website that researches and reviews online photo services, to suggest which company she should use to print her birth announcement photo cards. The first company that came to mind was Mixbook, the company I used to design and print her baby shower invitations. They have a great selection, offer unbelievable flexibility and the prices are quite reasonable.
Now, Mixbook has been a favorite of mine for photo books and calendars as well, so I confess I didn't do much price comparison with other major online photo card companies, but I was very happy with quality and the price. So for the sake of comparison and to not rule out other photo card printers, I decided to review the major companies and compare their quality, variety of styles, customization opportunities and of course the prices.
Most companies offer a variety of sizes, both flat cards and folded cards, so to keep it simple I decided to base my comparison on 5×7 flat cards printed on stationery paper, which are popular choices for birth announcements, wedding and baby showers, and parties and even wedding save-the-date cards.
So here, in alphabetical order, are my photo card reviews for the major sites. More will be forthcoming and I also want to cover Christmas holiday cards, as that is a biggie this time of year.
Kodak Gallery
(update: Kodak closed in May 2012 and all customer photos were transferred to Shutterfly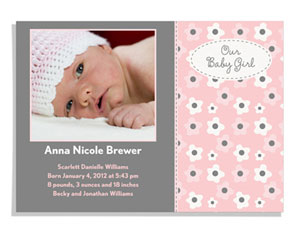 Kodak Gallery offers 5×7 photo paper cards as well as fine stationery cards. They also have 4×8 paper photo cards, folded cards, 5×5 tri-fold and accordion fold cards. They offer 23 choices of 5×7 fine stationery cards encompassing boy birth announcements, girl birth announcements and neutral announcements. Cards start at $1.69 and are sold in sets of 10. The card designs are cute  and colorful and range from single photo to collage. They also feature designs by Simpon+Kabuki.
Highlights:
5 x 7″ flat card, printed on both sides
Can choose alternate layout
Personalized text throughout, 16 font choices
Printed on premium cardstock
Sold in sets of 10, envelopes included
Fingerprint resistant coating
Creating the card was easy, after uploading your photo(s) just drag and drop into the layout, add your text and order. Most cards had two to three layout options for each style. However, you were limited to the background color and pattern of the main layout. Photos could be changed to black and white or sepia and you can zoom or flip the image. If you want to change design you have to start over. There are 16 fonts and black was the only font color. Kodak Gallery offers 100% money back guarantee if you are not completely satisfied, or they offer replacement for free.
Mixbook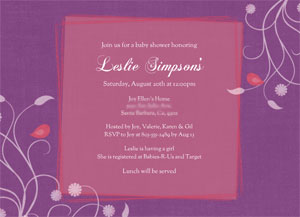 Mixbook is the most customizable site I have found. You can:
move photos or text
change the layout or the background color
make photos, text or embellishments transparent
add drop shadows and reflections,
resize, add  or delete embellishments, add frames, and more.
There are 38 fonts and unlimited font colors (you can use a dropper to select a color from a photo or use the color picker). You can crop your photos with shapes and upload your own embellishments. You can have photos/text on both sides. There were some interesting options for backgrounds. In addition to solid colors there are textures and grunge styles as well as some geometrics. If you change your mind there is multiple undo. You can even start with a blank card and create your own design. No other site offers all of these options. The only thing you can't do is edit the images, other than change to black and white or sepia.
Card Stock and Sizes
There are three card stock choices:
Budget: 100 lb, 10 pt, FSC Certified priced at an average of 78 cents each for 20 cards.
Classic Coated: 111# 14 pt silk paper stock. FSC certified. This is a heavy card stock with a semi-gloss silk finish, suitable for printing cards with photos such as holiday cards, graduation announcements and birthday invitations. These cost an average of $1.57 each for 20 cards.
Premium Matte is an eco-friendly 130# 16 pt matte paper stock starting at $2.04 each. This is a good option for wedding cards, birth announcements and other special occasions when you want a rich matte finish.
Mixbook uses papers that are ethically sourced from sustainable forests and certified by the Forest Stewardship Council and the Rainforest Alliance.  Only drawback: Like most companies, the Mixbook logo is rather prominent in the lower center of the back, or the left side, depending on the layout.  Learn more about personalized cards at Mixbook and get the latest discounts and promo codes at my Mixbook Review page.
My Publisher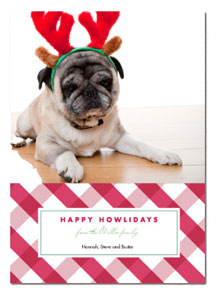 My Publisher is the newest entry into the photo card field. The company recently branched out into offering photo cards, just in time for the Christmas holiday. Their cards are printed on thick stationary paper and will make your photos really stand out. Right now they are just featuring holiday cards and plan to extend their offerings to wedding, baby, invitations and other styles.
What I like about them is that you have quite a few customization options, though still not as many as Mixbook. You can select from a choice of colors (3-4 depending on the card style) and select an alternate layout of photos and text.
Card Features:
Exclusive designs
Printed on extra thick, 130lb card stock
Free envelope liners
Free return address printing.
Card Stock and Sizes
The cards are printed in satin, matte or linen on extra thick and heavy paper in ecru or white. The envelopes are extra heavy and available in white or ecru, cotton, vellum or linen paper. The price of a 5×7 flat card starts at $1.39.
Special offer:
5 Free Cards + Free Shipping. No purchase necessary. +, 25% off the rest. Ends Nov 23.
Shutterfly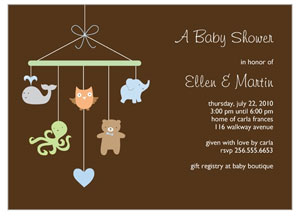 Shutterfly offers a very nice variety of 5×7 announcements printed on premium card stock. You can sort designs by gender, card size, number of photos and and color. There are 155 girl baby announcements, 155 boy announcements, and 30 cards for twin births.
The creation process is simple, drag and drop your photo into the layout and enter the text in the designated boxes. After you fill in the blanks you can click on the edit tab and change the text or the photos. The colors/backgound design are not editable. There are more than 50 font choices but the colors are limited to the particular card design. For instance the card I chose had a choice of black, white or pink font, which didn't totally make sense because the unchangeable background was black. You can also add text or a photo on the back of the cards. Unfortunately the Shutterfly logo is rather prominent on the lower center of the back.  Nice option: If you decide you don't like the card design you can choose another card without starting all over.
Card Stock and Sizes
There are also 4×5, 4×8 and 5×5 cards, plus 5×7 cards printed on photo paper as well as 5×7 folded cards. Prices for 5×7 flat cards printed on premium card stock are $2.09 per card for 21-24 cards; prices a little higher or lower for other quantities.
Shutterfly offers a special service that would be a help to busy new moms: they will stamp and mail any quantity of cards for an additional 99 cents per card (domestic). Get more  info on Shutterfly's
customized cards. Get the latest coupons and deals from my Shutterfly Coupon page.
Snapfish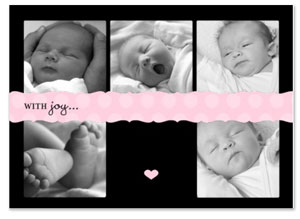 You will find over 900 5×7 card styles for birth announcements, and to help you narrow down your choices you can sort through the designs by color, gender, number of photos, card format and orientation. The card creation process is similar to Kodak, just drag and drop your photo(s) into the layout then you can resize if desired. In the preview pane you can enlarge the screen to make it easier to check for typos. You can also change the current design without starting over.
Card Stock and Sizes
There are flat 4×8 cards and folded cards. Sticking with the flat 5×7, cards are printed on your choice of matte or glossy photo paper or 100lb matte finish card stock. Minimum order is 20 cards, on average $1.60 per card ($32.04 per set of 20). If you choose photo stock you can pick them up at Walmart or Walgreens, but card stock photos are mail-order only.
The site was slow to load and I had a little trouble loading the photos from my Snapfish album at first and then things went smoothly. See Snapfish's photo card designs here
. You can get the latest discount codes from my Snapfish Review and Coupon page.
Walmart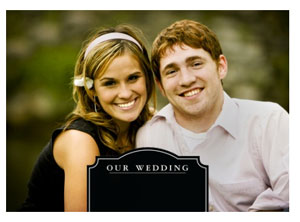 Walmart uses the Snapfish interface. There is a choice of 16 fonts and numerous colors. You must stick with the card design, there is no customization other than the text you type in. You can add text to the back of the cards, but you cannot put a photo on the back.
The images can be changed to black & white, sepia or other colors such as blue or pink and you can adjust the lighting or remove red-eye, rotate or zoom image. 5×7 stationery cards are a very reasonable 87 cents each and can be ordered individually in any quantity. You can use from 1-12 photos per card, depending on the layout you choose.
Card Stock and Sizes
Walmart offers a choice of Glossy Photo Paper (cheapest), Matte Photo Paper and Stationery Paper. 5×7 and 4×8 cards are available. The stationary paper is 100lb, which is decent but lighter than what is offered by other companies, but at 87 cents per card the price is certainly right. Get more info at Walmart.com Photo Center.
You can also read my Walmart Photo Center Review here and get the latest coupon codes.